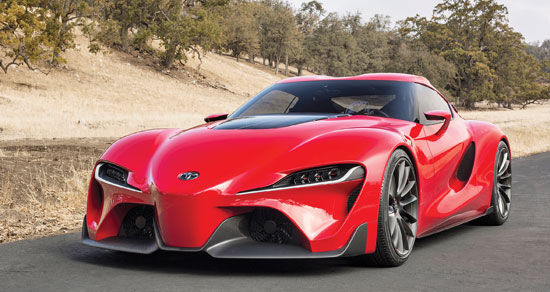 While there's no shortage of production metal at an auto show, the real draw for the journalists and members of the public who crowd the many halls and stands aren't the cars they can buy today or several months from now, but the one-off concepts that shine a light into the distant future of motoring. These outlandish, exquisite, over-the-top models showcase every piece of a manufacturer's technological and engineering marvel in one four-wheeled design, as well as helping give subtle or overt clues as to the future of either the marque as a whole, or just one specific model.
Take Toyota's FT-1 concept, for instance. Let's start by agreeing: It's an absolute beast — a mass of low-slung, sculpted, bulging metal, with sports-car signatures of a long hood, oversized wheels and gaping exhausts. It screams power, speed and dynamics and is everything you want in a concept car — a cloying tease that begs to be driven, but will never actually welcome an average Joe into its finely honed cockpit.
From the huge, Formula 1-style nose, with its LED lights and gaping air-intakes, to the flat, creased, wing-dominated rear, the FT-1 is a textbook example of borrowing ideas and massaging them into one excellent whole. There's Bugatti Veyron in the headlights, TVR Sagaris and Lexus IFA in the rear, and a sloping profile that could have been lifted from any number of great sports cars, but Toyota has blended it all into something that manages to retain a unique identity. Step inside and it's brushed metal, a race-inspired steering wheel, a projection-display in place of dials or an LCD and a bespoke, chiseled dash. If it weren't for the familiar Toyota badge, this could be from any number of established luxury marques.
Indeed, the whole thing feels like a fantasy study in car design, which is because that's exactly what it is. The FT-1 will apparently never see day as a production model, being crafted — much like Mercedes's Vision GT Concept and Citroën's GT by Citroën — specifically for use in a racing game. As such, if you want to get your (virtual) hands on it, the FT-1 is now available as a download in Sony's PlayStation game Gran Turismo 6. If you want one in the real world, it might be time to start planning that bank robbery before you cut Toyota a check.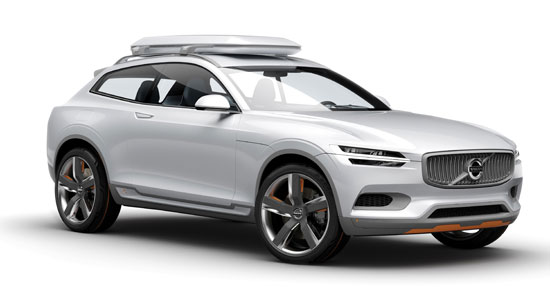 If you want a concept that more directly translates to a production model, try Volvo's Concept XC Coupe. I know, I know…. Volvo. Memories of safe, sedate wagons and sedans abound, but the Swedish manufacturer has been venturing through something of a design revolution in recent years. That all culminates in its XC Coupe, which offers the biggest hint yet as to the next generation of Volvo's XC90 SUV. After proving immensely popular with moms everywhere for its safety and practicality, that decade-old car is looking immensely long-in-the-tooth.
Enter, then, this ice-white whippersnapper, which seeks to put a fresh face on Volvo's largest car. That bold grille, the stylized LED lighting, the long hood — they'll all be making an appearance on the XC90 before trickling down in some form to the other models in Volvo's range. The shoulder-padded taillights will also be on the new SUV, inspired by similar lamps on the C30 coupe. Of course, the racy concept here is much lower and sportier than will be final design — which debuts in gay Paris in the fall — with the finished car featuring five doors and a finished interior, unlike the rather barren XC Coupe on display in Detroit. 
If the XC90 that makes it to showrooms draws more than a light inspiration from the sleek, purposeful Concept XC Coupe, Volvo could very easily find its rather middle-aged past to be, well, a thing of the past.