Virginia Del. Mark Sickles (D-Fairfax Co.) came out as gay in a Feb. 21 column in The Washington Post, making him the third out gay candidate running in a crowded field to replace retiring U.S. Rep. Jim Moran (D-Va.) in the state's heavily Democratic-leaning 8th Congressional District.
Sickles's announcement makes him the second openly gay member of the Virginia General Assembly and the only out gay House delegate. The Assembly's other openly gay member, Sen. Adam Ebbin (D-Alexandria, Arlington, Fairfax counties) announced his candidacy for the congressional seat last month. The gay talk-radio host and pundit Mark Levine, who bills himself as an "aggressive progressive," announced his entry into the race last week.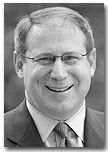 Del. Mark D. Sickles
(Photo via Va. House of Delegates website)
In his Post column, Sickles said he was motivated to come out because of the recent decision by U.S. District Judge Arenda L. Wright Allen determining that Virginia's ban on same-sex marriage is unconstitutional and what he described as "caustic" remarks from other House members, most notably anti-gay firebrand Del. Bob Marshall (R-Manassas Park, Prince William Co.). Sickles said he was a "proud, gay man" who has lived "openly with my neighbors, friends and family, lived a full life and never regretted the way I was born."
"What effect do such insults have on bullied high school students in Salem, Chesapeake, Harrisonburg or Culpeper who are questioning their sexuality, afraid of how classmates or family members might react if they come out?" Sickles wrote about the effects of Marshall's comments. "How will Virginians a generation from now look back at the codified discrimination and virulent rhetoric that has characterized the gay marriage debate in this state? Will they be proud that the laws – and lawmakers – of the commonwealth once again stood in the way of progress, compassion and full equality under the law?"
This is not the first time Sickles's sexual orientation has been given attention. In 2005, during a re-election campaign, Sickles's opponent attacked him for a mailer from his campaign that showed a picture of Sickles cradling a toddler, saying Sickles was "misleading the voters" because "Mark Sickles does not have a child or a family." His opponent's campaign manager then made statements that implied Sickles was dishonest and told The Washington Post that the delegate's sexual orientation was "a mystery to us." A few local right-wing blogs had also speculated about Sickles being gay.
"Our successors will not believe we once had hundreds of federal rights and benefits denied to a sizeable minority of our citizens because of whom they love and choose to share their lives with," Sickles concluded in his Post column. "I am fully convinced that this month's ruling will help strengthen all marriages in the commonwealth. As Judge Allen succinctly wrote: 'This is consistent with our nation's traditions of freedoms."'