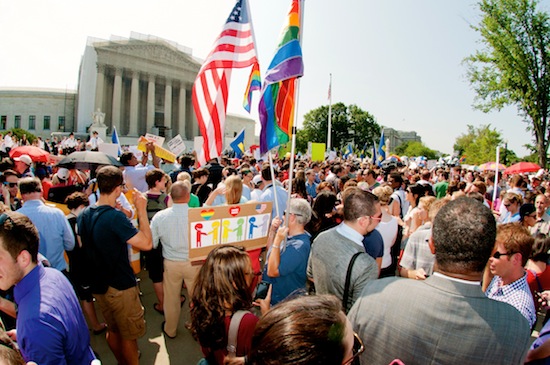 A federal judge Wednesday struck down Kentucky's ban on recognizing same-sex marriages performed in other jurisdictions in a ruling that labeled the ban as unconstitutional.
"[T]he Court concludes that Kentucky's denial of recognition for valid same-sex marriages violates the United States Constitution's guarantee of equal protection under the law, even under the most deferential standard of review. Accordingly, Kentucky's statutes and constitutional amendment that mandate this denial are unconstitutional," U.S. District Court Judge John G. Heyburn II wrote in a 23-page ruling.
Citing a number of gay rights cases that have come before the Supreme Court, including June's decision in Windsor striking down Section 3 of the Defense of Marriage Act (DOMA), Heyburn wrote the nation's highest court has established "the framework of cases from which district judges now draw wisdom and inspiration."
"Each of these small steps has led to this place and this time, where the right of same-sex spouses to the state-conferred benefits of marriage is virtually compelled," Heyburn concluded.
Although the District Court's decision does not strike down Kentucky's same-sex marriage ban, it concurs with nine other state and federal court decisions striking down bans on recognition of legally married same-sex couples. Kentucky voters approved a constitutional amendment in 2004 defining marriage as between a man and a woman and prohibiting recognition of same-sex marriages performed in other states.
"What this opinion does, however, is make real the promise of equal protection under the law. It will profoundly affect validly married same-sex couples' experience of living in the Commonwealth and elevate their marriage to an equal status in the eyes of state law," Heyburn wrote.
Heyburn was recommended to the federal bench by Republican Sen. Mitch McConnell and nominated by President George H. W. Bush in 1992.
[Photo: U.S. Supreme Court. Credit: Todd Franson/Metro Weekly.]
GREGORY BOURKE, et al. V. STEVE BESHEAR, et al.