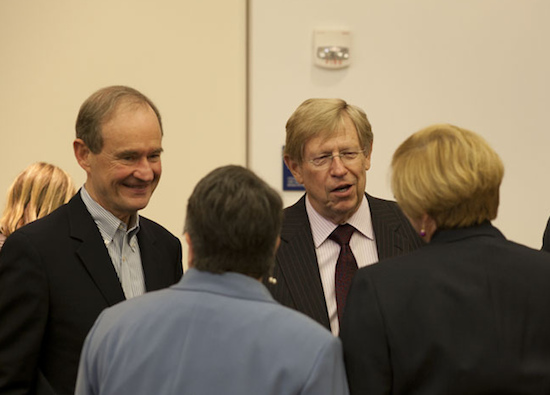 U.S. District Court Judge Arenda L. Wright Allen today told parties in the case of Bostic v. Rainey, which is challenging Virginia's constitutional amendment banning recognition of marriage and any other form of relationship or contract between same-sex couples, that she will issue a ruling "soon," after hearing arguments in the case in U.S. District Court for the Eastern District of Virginia, in Norfolk, this morning.
The two sets of plaintiffs, Timothy Bostic and Tony London, of Norfolk, and Carol Schall and Mary Townley, of Richmond, are challenging the existing ban, known as the Marshall-Newman Amendment, which was passed by the General Assembly and approved by voters in 2006. Assisted by the American Foundation for Equal Rights (AFER), the plaintiffs' attorneys, including the legal duo of Ted Olson and David Boies who successfully argued in favor of overturning California's Proposition 8 before the U.S. Supreme Court last year, have argued that Virginia's ban deprives their plaintiffs of the fundamental right of marriage and discriminates against them on the basis of sexual orientation, denying them equal protection under the law as guaranteed by the 14th Amendment of the U.S. Constitution.
According to those present in the courtroom, Allen took copious notes and asked few questions as she listened to arguments. Olson, in a conference call following the hearing, said he had heard "nothing new" in the arguments put forth by those maintaining that the ban should stay in place, saying he had not heard "any convincing or rational argument" for denying same-sex couples the right to marry.
"We went through the evidence that we've presented to the court, that demonstrated that gay and lesbian citizens who are deprived of the right to marry in Virginia are seriously harmed, and that harm extends to the children they're raising," Boies said during the call. "We demonstrated that there's no advantage to anyone, no advantage to heterosexual marriage, no legitimate state interest in continuing this harm, and we asked the court to end this discrimination. Just as the United States Supreme Court, in 1967, ended Virginia's ban on interracial marriage, we asked this court today to end the Virginia ban on same-sex marriage so that gay and lesbian citizens, like every other citizen, will be able to marry the person they love and raise children in a stable environment."
Tuesday's hearing also featured Virginia Solicitor General Stuart Raphael, who argued the new position of the commonwealth as determined by Attorney General Mark Herring (D), who has found that the ban is unconstitutional and announced last month that his office will not defend it in court.
"I'm proud to say that today the commonwealth of Virginia stood on the right side of the law and the right side of history, in opposing this discriminatory ban," Herring said during the call. "This case is fundamentally about whether Virginia can treat same-sex couples as second-class citizens, or whether the U.S. Constitution clearly guarantees equality under the law. It is also more than an abstract legal debate. The debate affects the lives of thousands of Virginians who are our friends, our neighbors, co-workers, parishioners at church, our brothers and sisters, and they deserve to be treated exactly the same as all other Virginians."
Herring characterized this morning's court date as a "significant day" for the commonwealth, saying the state "got it right" in its arguments against the ban, contrasting its new position with previous positions that sought to enforce discrimination in schooling, in interracial marriage, and based on gender in cases such as Brown v. Board of Education (1954), Loving v. Virginia (1967), and United States v. Virginia (1996), while vowing that the same type of injustice "will not be repeated this time."
Olson said that once Allen issues a ruling in the case, there will likely be a repeal regardless of the outcome, and that the plaintiffs' legal team will ask the Fourth Circuit Court of Appeals for an expedited decision. Asked when same-sex couples in Virginia might be able to wed, Olson answered that it was "not possible or prudent to speculate," noting that Allen could choose a number of different options, including overturning the ban completely or staying her opinion as an appeal to the circuit court is pending.
Olson also declined to speculate what impact the Bostic case could have on a separate case being heard in U.S. District Court for the Western District of Virginia, Harris v. McDonnell, which is also challenging the marriage ban, choosing only to praise the legal team in that case as "very, very fine lawyers."
UPDATED: Opponents of marriage equality expressed confidence that Judge Allen would rule to uphold the existing ban.
"At today's hearing, the court was advised of the undisputed fact that the welfare of children is enhanced when raised by their married mothers and fathers," said Byron Babione, senior counsel with Alliance Defending Freedom, one of the groups assisting the defendants in arguing the ban to be maintained. "This is backed by the common experience of Virginians, the most reliable social science, and the vast majority of state and federal courts to consider this issue. Marriage is the fundamental building block for all of human civilization. Marriage between one man and one woman naturally builds family – mom, dad, and children – and provides stability and freedom for themselves and future generations."
Meanwhile, AFER, as the sole sponsor of the Bostic case, expressed optimism that Allen would rule in favor of the plaintiffs.
"Everyone – in Virginia and every other state – should have the freedom to dedicate their life to the person they love, and every state should recognize that right equally among all Americans," AFER Executive Director Adam Umhoefer said in a statement. "We have presented a strong case for marriage equality, and believe that the court will rule on the side of justice."
The plaintiffs also expressed hope that a favorable decision would be handed down soon. London, speaking on behalf of himself and Bostic, said they were looking forward to the results of today's hearing, adding that they hope to get married and have that marriage recognized by the state.
"It's important to us, as Virginians, that we get married in the state that we love and the state we've called home for so long," he said. "We feel as though we've earned this right."
Townley, speaking on behalf of her family, expressed similar sentiments.
"We were very grateful this morning to have the opportunity to present our case before the court, and show why marriage is important to our family," she said. "Carol, Emily and I are just like any other family: We own a home in the suburbs, we go to basketball games, we shop at Target, just like every other family. … The one thing that's different is, because of Virginia's current marriage laws, Carol is not recognized as my wife."
"Although we were married in California in 2008, Virginia does not recognize our marriage, nor can we get married in our home state," Townley continued. "As parents, we want the best for our daughter, Emily, and it would mean a lot to her if our family was treated just like every other family. We want that for all Virginians, no matter who they are or who they love."
[Photo: David Boies (left) and Ted Olson with plaintiffs Carol Schall and Mary Townley. Credit: Diana Walker/ American Foundation for Equal Rights.]