The Maryland Senate's Judicial Proceedings Committee passed along a party-line vote Thursday a nondiscrimination bill that would extend protections in employment, housing, credit and public accommodations to all of Maryland's transgender residents, capping an eight-year struggle to prohibit discrimination based on a person's gender identity or expression.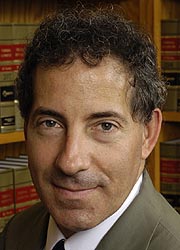 The bill, SB 212, is similar in scope to bills that have passed at the county level in Baltimore City and Montgomery, Howard and Baltimore counties. Currently, under those county laws, almost half of the state's population lives in a jurisdiction where such discrimination is prohibited. The bill currently has the support of Gov. Martin O'Malley, Senate President Thomas V. "Mike" Miller (D-Calvert, Prince George's counties), House Speaker Michael Busch (D-Anne Arundel Co.) and all three major Democratic candidates for governor. So far, 25 of 47 senators have signed on as cosponsors of the legislation.
Previous versions of the bill had stalled in the Senate, often failing to pass the Judicial Proceedings Committee, with the exception being 2011, when the committee voted 6-5 to approve a bill that did not include public accommodations. That bill was later sent back to committee by a vote of the full upper chamber after behind-the-scenes wrangling and pressure from Senate leadership. Last year, the bill stalled largely because of the reticence of three Democrats: James Brochin (D-Baltimore Co.), C. Anthony Muse (D-Prince George's Co.), and Norm Stone (D-Baltimore Co.).
Some issues that had led to the impasse on the Judicial Proceedings Committee were concerns over public accommodations and religious exemptions, both of which were resolved by amendments offered by various committee members. A religious exemption amendment, similar to the one that helped pass the marriage equality bill in 2012, put forth by Muse passed with the support of most of the committee's Democrats.
A second amendment, offered by Sen. Jamie Raskin (D-Montgomery Co.), that dealt with provisions for public accommodations also passed with seven votes. Raskin offered the amendment to try and assuage the fears of Brochin, who had previously balked over the inclusion of public accommodations. Raskin also personally lobbied Brochin and his other reticent colleagues behind the scenes to support the bill, just as he had in 2011 when the Senate first passed marriage equality.
Raskin's amendment allows places of public accommodations, such as those with gender-specific locker rooms, to make available equivalent private space for transgender people, provided that the space is "functionally equivalent" to facilities provided to others. The amendment only applies to accommodations designed to be used by more than one person at a time, and does not apply to places that have unisex or single-stall facilities.
A third amendment, offered by Sen. Christopher Shank (R-Washington Co.), adopted language offered in an amendment last year by Committee Chairman Brian Frosh (D-Montgomery Co.) that amended the bill to pertain to a person's "bona fide and persistent" gender identity or expression. That amendment passed with seven votes, even garnering support from Republicans on the committee. A fourth amendment, offered by Sen. Stephen Hershey (R-Queen Anne's, Caroline, Cecil, Kent counties), that attempted to gut some of the protections for employment failed.
After the three amendments were adopted, the bill passed 8-3, with Brochin, Muse and Stone voting with their Democratic colleagues to move the measure to the Senate floor for a vote by the full chamber. The bill is expected to receive a vote in the upcoming week. If it passes, it will then head to the House of Delegates, where it currently enjoys the support of 61 cosponsors, just 10 votes shy of the number needed for passage.
"I am thrilled that Senator Raskin was willing to come off the bench to obtain the sixth vote we've needed in the Judicial Proceedings Committee the past two years," Dana Beyer, the executive director of Gender Rights Maryland, said in a statement. "Working with Gender Rights Maryland – in particular, attorney Jonathan Shurberg – he was able to expertly craft language to move the bill to the floor of the Senate. I thank Senators Brochin, Muse and Stone for joining with their Democratic colleagues and taking a stand for fairness and decency today. It is much appreciated."
The state's LGBT-rights organization Equality Maryland also celebrated the committee's vote.
"Today marks such a huge milestone," Equality Maryland Executive Director Carrie Evans told Metro Weekly. "Everyone knows that Judicial Proceedings has been a roadblock for this bill…All the Democrats on the committee voted for this bill, and we expect it to pass out of the Senate and head over to the House of Delegates. We're looking forward to getting our 71 votes and sending it to the governor's desk."
Spokespeople for the Family Research Council, Maryland Citizens for Responsible Government, and the Maryland Catholic Conference, all of which had opposed SB 212, were not immediately available for comment.
[Photo: Sen. Jamie Raskin (courtesy of the Maryland General Assembly).]