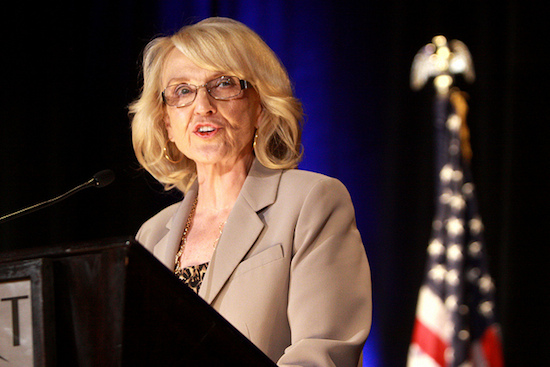 Both of Arizona's U.S. senators have voiced their opposition to a controversial state bill that critics say would provide businesses with a "license for discrimination."
Sens. John McCain and Jeff Flake, who are both Republicans, urged Arizona Gov. Jan Brewer (R) to veto legislation that is awaiting her signature in nearly identical statements on Twitter.
I hope Governor Brewer vetoes SB 1062

— Jeff Flake (@JeffFlake) February 22, 2014
I hope Governor Brewer will veto #SB1062

— John McCain (@SenJohnMcCain) February 24, 2014
Senate Bill 1062, known as the "Religious Freedom Restoration Act," was approved by the Arizona House with a 33-27 vote last Thursday and by the Arizona Senate with a 17-13 vote earlier this month. While supporters of the bill argue it would expand religious freedom and protections, opponents — and in particular LGBT-rights groups — have said the bill's broad language would allow any individual, corporation, institution or business organization to refuse service to LGBT people by claiming a religious belief.
"Religious groups have a long established first amendment ability to operate according to their own beliefs. However, when individuals or businesses go out into the commercial market, they must abide by legal non-discrimination provisions," Human Rights Campaign President Chad Griffin said in a statement. "When providing a service to the public, a business owner shouldn't pick and choose who they want to provide a service to and who they want to deny. Instead of protecting religious liberty, this bill gives license for discrimination to run rampant across the state."
Calls from McCain and Flake for Brewer to veto the bill come as a number of business groups, including CEOs of the Arizona Chamber of Commerce and Industry, the Greater Phoenix Chamber of Commerce, Greater Phoenix Leadership and the Southern Arizona Leadership Council, have voiced their opposition to the bill. At least three state senators who voted for the bill have now urged Brewer to veto the legislation.
"This bill is bad for business, bad for the LGBT community and bad for all Arizonans," Griffin added. "Governor Brewer, who herself described it as very controversial, must veto it and send a strong message that legally sanctioned discrimination has no place in Arizona."
Brewer has not yet indicated whether she will veto the legislation.
[Photo: Jan Brewer. Credit: Gage Skidmore.]