"It's not your regular old Oscar party," Michael Fowler says of Glamour, Glitter & Gold. "It's The DC Center's Oscar party – but on hyper-drive."
The "hyper" speed, it turns out, comes courtesy of local drag act Team Peaches. "It's going to be the first year that we actually have a live performance," says Fowler, new chair of the board of directors for The DC Center, Washington's LGBT community center. "The Team Peaches performance during the show is going to be out of this world."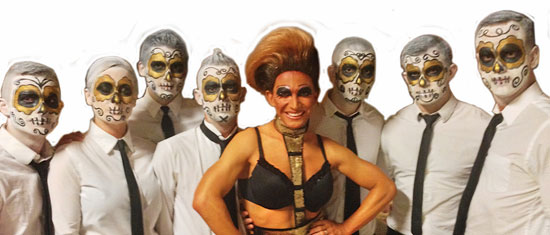 Team Peaches
Fowler is working with Ian Smith on this year's Glamour, Glitter & Gold, the Oscar-watch party taking place Sunday, March 2, at Town Danceboutique. Besides Team Peaches, Metro Weekly Editor-in-Chief Randy Shulman and local standup comedian Paul Tupper host the segment between the live broadcast of the 86th Annual Academy Awards. Glamour, Glitter & Gold sponsors have also contributed prizes to be awarded throughout the night in a silent auction and a raffle, including tickets to Rufus Wainwright at The Lincoln Theatre and to Sideshow, this summer at the Kennedy Center.
"This has always been one of our marquee events to raise funds for The DC Center," Fowler says. The money will cover general programming funds at the center, as well as provide a cushion for future growth. "We have had very robust usage of the current space," Fowler says of The DC Center's new offices in the Reeves Center at 14th and U Streets NW. The DC Center settled into the space last fall, but already "we are getting to the point where we are finding ourselves without space sometimes."
A move to a new location is from two-to-five years away, Fowler says, adding: "We want to make sure we have strong reserves so that we can sustain the center into the future."
Glamour Glitter & Gold is Sunday, March 2, starting at 7 p.m. at Town Danceboutique, 2009 8th NW. Tickets are $15 general admission, or $45 for VIP, which includes special seating, hors d'oeuvres and a swag bag. Call 202-234-TOWN or visit towndc.com or thedccenter.org.