Someone you know is a sex worker.
Historian Melinda Chateauvert cites that slogan, from a San Francisco health and advocacy organization, in her new book Sex Workers Unite! A History of the Movement from Stonewall to SlutWalk.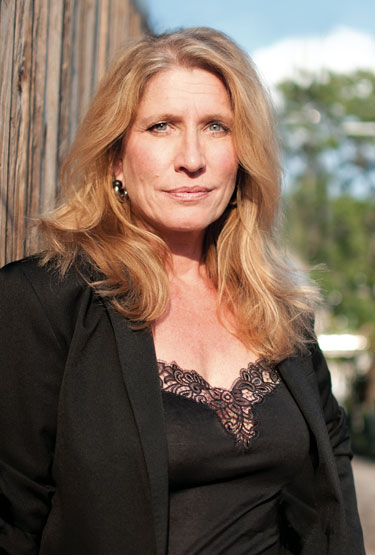 Mindy Chateauvert
(Photo by Todd Franson)
Chateauvert's book is a well-researched examination of a sector of society and the U.S. labor market that has grown from its legendary status as the world's oldest — yet most maligned — profession, to becoming all-but mainstream, though certainly still underappreciated and disrespected.
It's definitely not just about prostitutes anymore. "Sex workers are laborers who earn money to perform sexual services or who provide erotic entertainment to clients individually or collectively," Chateauvert writes. From prostitutes to escorts, from porn stars and webcam performers to go-go boys and strippers — and all the non-sex workers who support and promote them — the sex sector is no longer confined to a big city's red-light district or "bad" part of town. Its services are essentially available anywhere, to anyone with Internet access or at least the means to travel.
Chateauvert, a longtime D.C. resident who is now a research fellow at the University of Pennsylvania, didn't write Sex Workers Unite! merely to shine an overdue light on the sex-worker movement. She intends it as something of a call to action to fight oppression, criminalization and especially violence against sex workers. More than 3,000 women have died in the last four decades in the line of sex work in the U.S., and law enforcement agencies, from the Department of Justice to local police departments, have been slow to investigate crimes against sex workers, from rape to murder. They've also continually shown little respect for those employed in the business, Chateauvert argues.
Meanwhile, organizations in the LGBT community have only recently started to advocate for sex workers. And other activists on the left and right have generally only talked about sex workers in terms of being powerless victims, forced into a form of modern-day slavery.
"I would say a miniscule number of people are coerced into doing sex work," Chateauvert asserts. Instead, she says, the vast majority of sex workers do it by choice or circumstance.
Chateauvert may be known to many for her involvement in the leather community, whether as a member of Centaur MC, the group that puts on the annual Mid-Atlantic Leather Weekend, or serving on the board of the Chicago-based Leather Archives and Museum. But she's also served on the boards of the D.C.-based HIPS, or Helping Individual Prostitutes Survive, and the Baltimore-based National Coalition for Sexual Freedom, where a decade ago she ran an emergency crisis line.
The Iowa City, Iowa, native credits her mother for her "lifelong interest" in social justice. Says the youthful 55-year-old: "I've been involved in social justice movements since I was a young girl, with my mother dragging me off to various Vietnam War protests."
To turn a phrase, you can take the woman out of Iowa, but you can't take Iowa out of the woman.
METRO WEEKLY: Beyond your lifelong activism for social justice, was there something specific that triggered you to write this book, or triggered your obvious passion on this topic?
MELINDA CHATEAUVERT: I think the main impetus, maybe the germination of what this book eventually became, was actually the Millennium March, and all the controversy around the faith and family theme that was being promoted for that march in 2000.
I was very much involved with groups that were challenging that theme. We felt that it was repressive, because it failed to acknowledge that some of us don't give two cents — I'm substituting a printable word — for marriage. We're not religious. We don't find a need to be involved in faith issues or faith organizing. And it was very repressive, or dismissive, of transgender people — people who didn't conform to a heteronormative lifestyle. That was where I really plunged into these issues about what it meant to be marginalized, what it meant to be "respectable."
MW: Especially in D.C., many people know you for your involvement in the leather community. That's tied to the Millennium March and your advocacy for sex work too?
CHATEAUVERT: Many people involved in that Millennium March that I got involved with were coming from the leather community. And they were feeling that this was definitely a slap in the face to people who weren't interested in monogamous, heteronormative marriages and picket fences. So that was one thing about the leather community, in terms of getting involved for me: seeing how politics looks differently if you are not part of a mainstream.
The leather community is also really important in this because a lot of work and a lot of the funding, a lot of the activism around some of these issues, has come from the leather community, particularly the gay and lesbian leather community. I think there's a lot of overlap in the issues that folks in the leather community deal with, in terms of stigmatization.
MW: The subtitle of your book references Stonewall. What I found interesting is that Stonewall in popular conception is about the various gay men at the Stonewall Inn, but also the drag queens who in fact led the protest against the police. Which, as you detail in your book, is still not fully capturing the people that were there — including transgender people and sex workers.
CHATEAUVERT: That's not just popular opinion, but the view of most historians too. Let's be really clear here. Those "drag queens" were transgender sex workers. [Laughs.]
MW: And when we refer to them simply as drag queens, it's kind of dressing up the naked truth.
CHATEAUVERT: [Laughs.] Let's just call it a lie, okay? It's ironic. Yeah, it's changing their representation into something that's acceptable, in a sort of camp way. Not being totally dismissive — acknowledging that they were there.
But drag can sometimes be a very different performance lifestyle, if you will, than being transgender. And to lump those into the same category is, I think, not particularly useful.
MW: I know it's been around a few decades, but is the term "sex worker" in common usage now?
CHATEAUVERT: It's actually the preferred use in UNAIDS and other kinds of outreach work around the world. It's not accepted in the AP Style Manual, but the United Nations recognizes it.