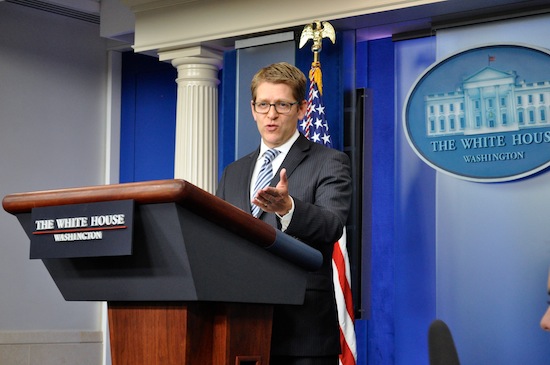 Following comments from a senior adviser to President Barack Obama that executive action prohibiting federal contractors from LGBT workplace discrimination is "under consideration," the president's spokesman would not deny Thursday that the White House is re-evaluating its position on the long-sought executive order.
"We look at and consider a lot of things," White House press secretary Jay Carney said in response to questioning from Metro Weekly. "Our focus is on getting Congress to pass something that is comprehensive, that represents the president's view that we need to extend equal rights to the LGBT community. And we are working with Congress to move that issue forward. I don't have any updates on that hypothetical [executive order]. I can tell you we strongly support action by the House in keeping with what the Senate did to get Employment Non-Discrimination Act passed into law."
During a Friday interview with Bloomberg News, White House counselor John Podesta, who is believed to be a primary architect behind Obama's recent push on executive action, indicated that the White House could be reconsidering its opposition to an executive order pushed for by advocates for years. According to Podesta, that order is "under consideration" at the White House. "We're looking at that," he said.
Asked what argument there is for not signing the executive order, Podesta said, "There is no real argument against non-discrimination in the workplace."
"I think the question is — and we've been putting forward the effort to try to get a comprehensive ENDA through the Congress. We'll see whether that's possible," he continued. "If it's not, I think we'll have to take a look at whether we do it in the federal workforce."
The renewed focus on an executive order has increased in recent weeks, particularly after Obama came under fire from LGBT-rights advocates for his failure to so much as allude to ENDA, which would prohibit most employers from discrimination on the basis of sexual orientation and gender identity, during his Jan. 28 State of the Union address. ENDA received its first vote in the Senate since 1996 this past November, where it was approved with a bipartisan 64-32 vote. However, the bill hit a wall in the Republican-controlled House of Representatives, where Speaker John Boehner indicated he is unlikely to bring it up for a vote.
While ENDA remains stalled in the House, advocates insist Obama could act now to protect more than 16 million workers from LGBT workplace discrimination.
Indeed, after vowing last month to take executive action on key issues if Congress won't act, the White House announced shortly before the State of the Union that Obama would sign an executive order raising the minimum wage to $10.10 for federal contractors. While part of his broader push to combat income inequality, the move has heightened attention on Obama's failure to fulfill a campaign promise he made while running for president in 2008 to enact the nondiscrimination policy for federal contractors.
Obama's new push for executive action — particularly when it concerns federal contractors, as in the case of the executive order announced late last month — has frustrated advocates who have long been puzzled by the White House's decision to just push for ENDA and not protect some workers from discrimination today with only the flick of the president's pen.
Asked today why sign an executive order raising the minimum wage for federal contractors if the strategy is comprehensive federal legislation, Carney responded simply, "I take your point."
"What I can tell you is that our position on this hasn't changed. I don't have any update for you on other potential or hypothetical [executive orders]," Carney said.
Speaking on ENDA, Carney added that the tide is turning on LGBT rights and the White House hopes to see action in the House. "As I've said again and again, history is moving on this issue in the right direction and opposing these kind of things means finding yourself on the wrong side of history. And I don't think ultimately that any member of Congress wants to be on the wrong side of history," Carney said. "Hopefully we'll see progress."
[Photo: Jay Carney. Credit: Todd Franson/Metro Weekly.]