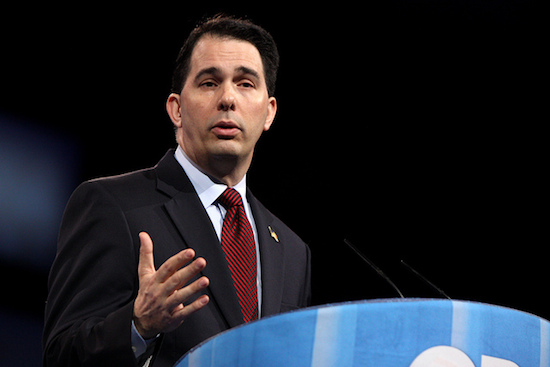 Wisconsin's same-sex marriage ban is facing a challenge in federal court after four same-sex couples filed a lawsuit in a U.S. District Court Monday.
Joining the ranks of dozens of similar lawsuits filed in more than 20 other states, the complaint filed Monday alleges that Wisconsin's same-sex marriage ban violates the equal protection and due process clauses of the U.S. Constitution. The American Civil Liberties Union, the ACLU of Wisconsin and the law firm of Mayer Brown are representing the plaintiffs in the case.
"Wisconsin's marriage ban is one of the most restrictive bans on marriage for same-sex couples in the nation," the complaint states. "On its face, it expressly bars both marriage between two people of the same sex and the recognition of any legal status substantially similar to marriage."
Wisconsin voters approved a constitutional amendment barring recognition of same-sex marriage and civil unions by a 59 percent margin in 2006. Moreover, as the lawsuit states, "Wisconsin law makes it a criminal offense to go outside the State to contract a marriage prohibited under the laws of Wisconsin. A violation bears penalties of up to $10,000 in fines and nine months in prison."
Although Wisconsin lawmakers passed a domestic-partnership bill in 2009, affording same-sex couples some benefits and protections, today's lawsuit insists it does not go far enough. (The domestic-partnership law is currently being reviewed by the Wisconsin Supreme Court following a challenge alleging the law violates the state's same-sex marriage ban by creating legal unions that imitate marriage.)
"These families simply want the security and recognition that only marriage provides," said Larry Dupuis, legal director of the ACLU of Wisconsin, in a statement. "They have built their lives and raised children here. It is wrong for the state to treat these loving and committed couples as second-class citizens, and it is cruel to place them in a catch-22 where they can't even travel elsewhere to obtain federal protections without their marriage being labeled a crime."
Republican Gov. Scott Walker and Attorney General J.B. Van Hollen, who are both named in the lawsuit, have not yet responded the complaint. During an interview with Bloomberg TV last November, Walker said Wisconsin's same-sex marriage ban strikes a "healthy balance" with the state's prohibition on workplace discrimination on the basis of sexual orientation. (Wisconsin became the first state to enact such workplace protections in 1982.) During a breakfast hosted by the Christian Science Monitor that same month, Walker told reporters he supported the 2006 same-sex marriage ban, but that it "is not a focal point" in Wisconsin and "there has not been a lot of debate about it" since it was approved.
[Photo: Scott Walker. Credit: Gage Skidmore.]