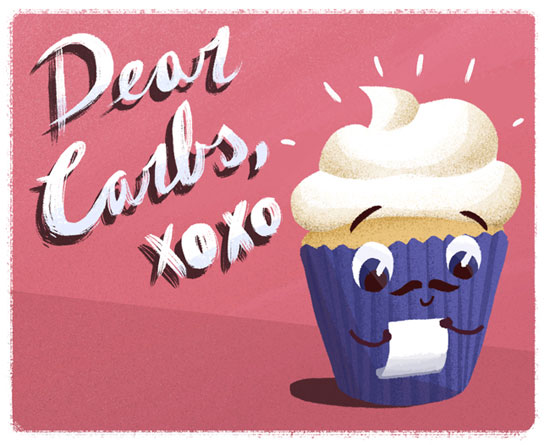 Dear Carbohydrates,
I was just sitting around thinking about you the other day and wanted to write. I know it's been a while. I have been pretty good, but it seems like I can't go a day without seeing you around. Every restaurant I go to reminds me how much everyone loves you — it's what everyone starts every meal with. And it makes me do a lot of thinking. In fact, I was just reminiscing about all the different ways you used to dress. There were all the bright colors of fruit you always wore: the reds of the strawberries, and the orange and yellow of citrus. I didn't mind the earthy tones, either. Wheat was always your go-to if you had a long day ahead. Nothing will top my favorite though: the sugar white that went well with just about everything else in your wardrobe. You were always the best-dressed. Sorry for losing myself traveling down memory lane — I just can't help it.
How have you been? I know you've been having a rough go of it lately, with all of those people trying to live Paleo, or listening to that Atkins guy. Never mind those other people who have sworn you off completely in favor of Fat. (He's a nice guy and important friend, but come on!) Everyone gets those ups and downs, but they'll realize after a while how important you are.
Speaking of ups and downs, we had quite a few together. Do you remember that time I wanted to set that personal record on the bench press? I still stand by the fact that you're the only reason I was able to do it. We spent so much time together that day, leading up to my attempt that you definitely helped me execute with ease. It was pretty amazing how much energy I had when we were together. And boy did I hate it when we were apart. Not much different than that Snickers commercial — I really was not a pleasant person to be around when we were separated for too long. On the other side of things, it seemed like every time I got more than a little taste of you, my energy and mood would spike! I could feel the rush, a high of sorts, for several hours.
I know now what it takes to make both of our lives complete, and I hope you can hear me out on this. Before I lift, and especially in the morning, I don't think we should be together. I know it's going to be tough — especially for me. I can't stand the way I feel when we're apart. It's especially tough because of how available you are in the morning. Donuts, pancakes, waffles, toast — but I know it's the best thing for my body fat to keep my distance then, even if I'm tired.
That's not to say I'm not going to look forward to the times when we can be together. Come afternoon, especially right before I head to the gym, I plan to get straight down-and-dirty with you. Sugar, bread and fiber, every single type of you. We're going to move some serious weight and cover some serious ground together, you and I. We'll be a powerhouse of movement, if you will. We will be glorious together, at least when we are together. Until then, I'm going to be stuck craving you for hours, missing your sweet taste and hunger-staving qualities. With every fiber of my being, I look forward to our next rendezvous.
One of Your Many Loves,
Brandon
["We Love Carbs," Illustration by Christopher Cunetto]