Councilmember David Catania (I-At Large) filed papers with the D.C. Office of Campaign Finance Wednesday morning declaring his intent to seek the city's mayoralty in the November general election.
In a conference with reporters outside the city's Reeves Center Municipal Building, Catania tamped down speculation that he was prompted to enter the race due to news that broke on Monday regarding the guilty plea of Jeffrey E. Thompson, a local businessman accused of funneling illegal contributions to various political campaigns, including incumbent Mayor Vincent Gray's 2010 campaign. Catania told reporters that in January he'd made the decision to file on March 12, and that his timing was not in any way associated with the Thompson plea.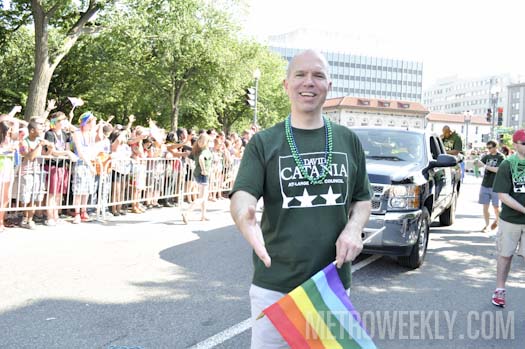 Councilmember David Catania (I-At Large) at the 2013 Pride Parade
(Photo by Metro Weekly / File Photo)
"I made my feelings known about the mayor's shadow campaign once it was first disclosed nearly two years ago," Catania said, his voice strained from the effects of a cold. "I said he should have resigned then, and I believe that today."
However, Catania said, he is running because he believes he has the "values and the vision and the tenacity to tackle the challenges facing the city," as well as a strong record from his more than 16 years on the Council, following his upset of interim incumbent Councilmember Arrington Dixon (D) in a 1997 special election.
During the press conference, Catania fielded questions on a host of issues, ranging from the political to the personal, including inquiries about his party affiliation being a detriment in a Democrat-dominated city, his race, sexual orientation, his affiliation as a Republican prior to 2004, his previous job with integrated systems and engineering firm M.C. Dean Inc. while serving as councilmember, and even his temperament, which detractors have said is hostile and aggressive and has left him with a reputation for being "difficult."
If elected, Catania would not only become the District's first openly gay mayor, but its first white mayor since the Home Rule Act allowing the District to form its own local government was enacted in 1973.
"I would be delighted to put my record up against any of those who have 'Democrat' by their name," Catania said in response to concerns about his party affiliation. "As it relates to Democratic values, I think my record more embodies Democratic values than the field of candidates running as Democrats. If you look at what I've done on marriage equality, medical marijuana, smoke-free D.C., cutting the number of uninsured children and adults in this city by half, my work on HIV – and most recently my work with respect to education, including the fair-funding bill, which is finally going to give the resources for poor kids to catch up. And, so, labels are fine, but I think people are looking for a leader who's actually delivered."
Addressing concerns related to his temperament, Catania dismissed his critics, saying, "We're not cutting the crusts off of cucumber sandwiches here. This is not a garden party."
"This is about running a $12 billion organization, where the lives of 640,000 people depend on someone being honest, having values and a vision, and being faithful to those values and those visions," Catania said. "And so I'm not going to apologize for the passion that I take to this job. I think most residents are outraged when they have fire and EMS officials standing by while our citizens are in harm's way. I think most of our citizens are outraged when they see half our African-American males not graduate on time from high school. I think most of our citizens are outraged when they see our homeless living in rec centers. And so I'm not going to apologize for that outrage, I'm not going to apologize for the passion. It's exactly that passion that's helped me get through some of the toughest measures in the past 15, 16 years on the Council."
Catania also lobbed criticism at Gray over the issues of education and economic development. Catania specifically criticized Gray's most touted economic success of recruiting tech companies to settle in the District, saying that Gray has simply embraced a bill Catania authored in 2000, the New Economy Transformation Act, that provides the tax incentives for those businesses.
"I think our city is growing in spite of the mayor, not because of the mayor. One thing is certain about our city: We have incredible fundamentals in terms of our economy and in terms of our shared values. This city can survive just about anything, and this is an illustration of it. But I think we have more of an administrator than a leader. The mayor has tended a garden that was planted by those before him. I don't believe any of these cranes are traced to the work of Vincent Gray."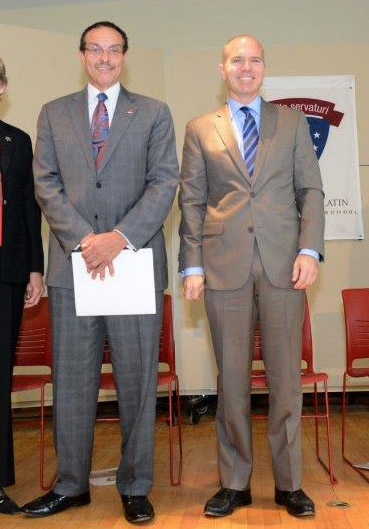 Vincent Gray and David Catania in Sept. 2013, at the Grand Opening of the Latin Public Charter School
(Photo via Mayor Gray's Flickr)
Asked about a recent report by the Anti-Defamation League looking into how the Metropolitan Police Department (MPD) deals with hate crimes and charges from members of the LGBT community that MPD Chief Cathy Lanier has prevented the Gay and Lesbian Liaison Unit (GLLU) from operating effectively, Catania defended Lanier's performance, but also acknowledged there was room for improvement on how MPD responds to hate crimes. He declined to say whether he would ask Lanier to stay on, saying he would not discuss personnel decisions, something he reiterated when asked about Schools Chancellor Kaya Henderson. The one exception Catania did make was saying he would fire Kenneth Ellerbe, chief of the District's Fire and EMS Department.
Catania also acknowledged that he may not receive the full support of the District's LGBT community, particularly because almost all the Democrats running for mayor, and Gray in particular, have portrayed themselves as strong allies of the community. But he also included a dig at the Democrats, some of whom he said are engaging in "revisionist history" when it comes to the strength of their support for LGBT issues.
"I think people are going to vote their interests," Catania said. "And I hope we can refrain from having constituency voting blocs. I don't think that's good for anybody. … I hear in these forums of how everyone takes responsibility and credit for same-sex marriage. But I was there – I know the members who never showed up for hearings, and never said a word on the dais. … So whether it's having been the first openly gay member of the Council, from championing HIV education and treatment to same-sex marriage to adoption to transgender rights, I'll put my record against anyone's."