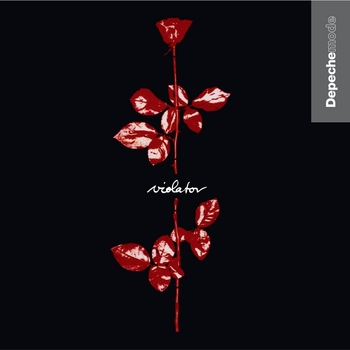 Twenty-four years ago this week, on March 19, 1990, British synth-pop titans Depeche Mode released the most successful and acclaimed album of their career: Violator. Depeche Mode had been scoring Top 10 singles in their native UK since their debut album Speak and Spell in 1981, but in America they were largely relegated to college radio and, in some cases, the dance floor. They did manage to break through with "People are People," which rose all the way to #13 on the Billboard Hot 100 in 1984, but they were unable to capitalize on that momentum. Despite their lack of mainstream success, Depeche Mode's American fan-base grew slowly but steadily, and after their outstanding 1987 album Music for the Masses reached #35 on the Billboard Top 200 Album Chart, and several singles from it became major hits on college radio and in the dance clubs ("Strangelove," "Never Let Me Down Again," and "Behind the Wheel"), Depeche Mode seemed poised for a big breakthrough if they could deliver the right album — and deliver it, they did.
First, in March, 1989, the double live album 101 arrived. 101 documented the band's successful Music for the Masses tour, which culminated with a show at the Rose Bowl in Pasadena, California on June 18, 1988 where they played for over 60,000 fans. 101 did very well for a double live album, reaching #45 in America, and the stage was set for them to reach a new level of success. The stakes were high for their next album, but fortunately Depeche Mode was at their creative peak, and they came through in a huge way by delivering their finest work at the most pivotal point of their career.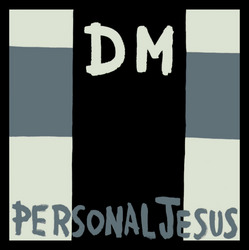 The first taste arrived with the release of the "Personal Jesus" maxi-single on August 29, 1989. Depeche Mode's most daring single yet, "Personal Jesus" is a brilliant composition by Martin Gore with evocative lyrics that are open to wide interpretation. The track is built on a bold and repetitive blues-guitar riff buttressed by recurring waves of synthesizers and anchored by a heavy electronic beat. "Personal Jesus" rocketed into the Top 10 of the American Dance and Modern Rock charts, and despite some paranoia and unease about its possible meaning (anything with the word "Jesus" in it that might offer even the slightest hint of controversy tends to be treated cautiously by radio programmers, it seems), "Personal Jesus" became the band's first crossover Top 40 hit in America since "People Are People," reaching #28. The single proved so popular, and stoked such anticipation for their upcoming album, that even the B-side, "Dangerous," garnered enough airplay to reach #13 on the Modern Rock chart. It's a testament to the high quality of Violator that three of its B-sides, "Dangerous," along with "Happiest Girl" and "Sea of Sin," were all strong enough to have been included on the album itself had there been room (and they were indeed included, along with three instrumental B-sides, on the expanded re-issue of Violator released in 2006).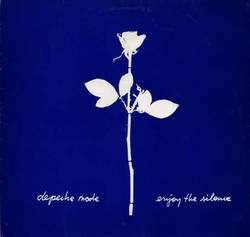 The recording of Violator wrapped up early the next year, and the next single, "Enjoy the Silence," appeared shortly thereafter, on February 5, 1990. Solemn and mysterious but also genuinely catchy, "Enjoy the Silence" was greeted with enthusiasm by fans, MTV, alternative radio and even mainstream radio. It hit #1 on the Modern Rock chart and became the biggest pop hit of Depeche Mode's career in America, rising all the way to #8. Violator finally appeared a month and a half later — nearly six months since the release of "Personal Jesus" — and it was met with widespread critical acclaim. Fans snatched it up in droves, and it reached #7 on the Billboard Top 200. It was by far Depeche Mode's highest placing yet, and to this date Violator remains the biggest-selling album of the band's impressive 30+ year career, with over 15 million copies sold world-wide, and counting. Violator was the high watermark of Depeche Mode's career, both artistically and commercially, and had major cultural impact. Depeche Mode was everywhere during the spring and summer of 1990 — for a time they were arguably the coolest and most popular "alternative" band in the world.
Violator is a tight, 9-track album with no wasted space. Co-produced by the band with Flood, who had previously worked with Erasure, U2 and Nine Inch Nails, Violator has a dark and mysterious stripped-down vibe (in contrast with the dense wall of sound on prior singles like "Never Let Me Down Again" or the busy arrangements on tracks like "Everything Counts" and "Black Celebration") that is strongly cohesive. All of the tracks work in tandem to create a complete and compelling listening experience. The stark musical backdrop leaves plenty of space for Dave Gahan's trademark baritone (or Martin Gore's tremulous tenor on "Sweetest Perfection" and "Blue Dress") to carry the strong melodies boldly over the sweeping synthesizer riffs and deftly-arranged electronic beats.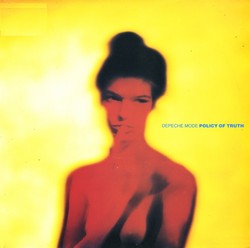 The third single taken from the album, "Policy of Truth," rode the band's momentum to #1 on the Modern Rock chart and #15 on the Hot 100. A mid-tempo track with a dominant synthesizer hook, "Policy of Truth" is one of the more straightforward lyrics on the album — that brutal honesty can sometimes carry a steep price. The fourth and final single, "World in My Eyes," fared less successfully on the US pop charts (stalling at #52), but it did receive plenty of airplay on college radio and reached #17 on the Modern Rock chart. The album's opening track, "World in My Eyes" starts with a simple keyboard pattern which repeats until the electronic beats start and Gahan seductively invites the listener into his dark, mysterious world… "Let me take you on a trip around the world and back, and you won't have to move, you just sit still." The synthesizers and electronic beats are arranged to perfection throughout the album, and nowhere is that more evident than during the thrilling chorus of "World in My Eyes."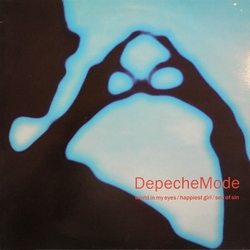 The non-single album tracks are every bit as strong as the singles — there is no filler to be found on Violator. "Sweetest Perfection" is a dramatic, slow-burning epic featuring an earnest vocal by Martin Gore, who alternates between near-desperation in the verses to coldly robotic during the choruses. The vocals escalate and become increasingly layered as the intensity is amped up for the song's dramatic climax. The captivating "Halo" is perhaps the strongest track on the album. Although it was never released as a commercial single, "Halo" received enough airplay on college radio for it to claw to #21 on the Modern Rock chart. Goldfrapp's captivating remix of the track was the high point of the band's 2004 collection Remixes 81-04. The ascending waves of synth provide a perfect counterpoint to Gahan's urgent vocal performance, especially during the increasingly intense repetition of the chorus. Depeche Mode is never afraid to turn on the high drama and ride it for all its worth.
The hypnotic and ethereal "Waiting for the Night" is made for listening to in the dark. The crystal clean production that is a trademark of the entire album is particularly welcome here. If you listen to it on a good pair of headphones, the pulsing synth that forms the basis of the song beguilingly slithers its way around your brain and transports you directly into the dark world that these songs inhabit. It's a mesmerizing listening experience. "Blue Dress," Martin Gore's second vocal on the album, is a dark and dreamily beautiful track with another set of enigmatic lyrics. It could be about treating a woman as a possession whose only purpose is to please, or it could be about how simple things can make people happy and it's really the "small stuff" that "makes the world go 'round;" or, it could be about something completely different. The vibe on "Blue Dress" is faintly ominous and sinister, like most of the album, so one perhaps naturally dwells on the darker, obsessive interpretation.
The album closes with the slow, stark "Clean," which features a bass-line strongly redolent of Pink Floyd's "One of These Days" from their 1971 album Meddle. As with most of Martin Gore's compositions, the lyrics are cryptic — is it about breaking free of drugs? A personal renewal following the ending of a relationship? The meaning may be unclear, but like all of the tracks on Violator, "Clean" has a vivid potency no matter how one interprets the lyrics. It's a strong conclusion to one of the greatest synth-pop albums ever released.
Unlike some of their earlier material which sounds hopelessly dated and has aged poorly (although the perky "Just Can't Get Enough" remains a charming artifact of the early '80s new wave era), Violator is still potent and immediate nearly a quarter-century since its release. It's the album on which everything came together perfectly for Depeche Mode, and they haven't been able to come close to matching it since. They've continued with a string of albums that have achieved varying degrees of artistic and commercial success (their 2013 release Delta Machine was a ponderous dud), but Violator is the one that stands up strongly as their most iconic and essential work. It is the album (along with its excellent predecessor Music for the Masses) for which Depeche Mode will always be remembered.