At least two of the region's major orchestras will perform a toast to the 150th birthday of German composer Richard Strauss, while two local Bach-focused ensembles are toasting the 300th birthday of C.P.E. Bach, the son of the great German Johann Sebastian. But this season in classical music-rich Washington, several organizations are toasting American-grown composers, from Barber to Bernstein to Bayolo, including the Capital City Symphony at Atlas, the National Chamber Ensemble at Artisphere and the Choral Arts Society at the Kennedy Center. But of course no spring and summer would be complete without classical takes on movie music — and musicals — led by the Gay Men's Chorus and especially the National Symphony Orchestra Pops's starry sounds, under starry skies, outside at Wolf Trap.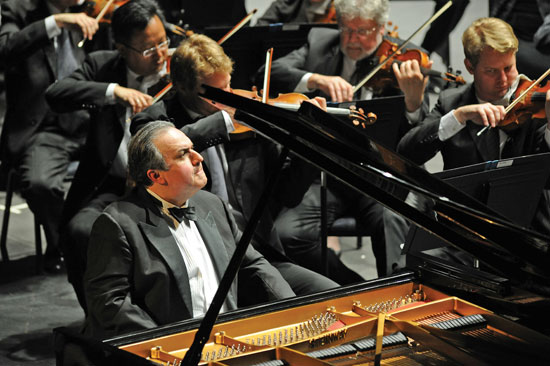 Yefim Bronfman
(Photo by Frank Stewart)
THE ALDEN
McLean Community Center
1234 Ingleside Ave.
Mclean, Va.
703-790-0123
aldentheatre.org
· Pro Musica Washington – Husband-and-wife duo Hidetaro Suzuki on violin and Zeyda Ruga Suzuki on piano perform with guest artists a recital co-sponsored by the Music Friends of the Fairfax County Public Library (4/13)
· Young Soloists Recital – Co-sponsored by the Music Friends of the Fairfax County Public Library, a performance featuring violinist Kenneth Ryu Naito, and pianists David DiMeglio, Eric Lin, Ann Liu and Miyabi Saito (5/25)
· McLean Symphony — Forty-three-year-old, all-volunteer chamber orchestra presents its fourth and final concert of the season, "Ultimate Mix: Palette Pleasers," including pieces by Weber, Tchaikovsky, M. Arnold and Enesco (5/31)
· John Eaton and Tommy Cecil — Selections from the Great American Songbook by this pianist/professor and bassist (6/21)
ARTISPHERE
1101 Wilson Blvd.
Arlington
703-875-1100
artisphere.com
· National Chamber Ensemble: Mother's Day Concert – American Classics – Pianist Burnett Thompson joins to perform American jazz standards, in a season-finale program that also includes a toast to the best of America's classical composers. (5/10)
ATLAS PERFORMING ARTS CENTER
1333 H St. NE
202-399-7993
atlasarts.org
· Congressional Chorus – New York, New York: An American Cabaret features music that has captured the spirit of the Empire City for centuries, including songs by Leonard Bernstein, Cole Porter, Stephen Sondheim and Jay-Z and Alicia Keys. (3/20-23)
· Capital City Symphony – "American MusicFest Part I" features works by Scott Pander, Jennifer Higdon, Steven Gerber and Howard Hanson (3/23)
· Andriessen75 – Five D.C. area organizations, including the National Gallery of Art and Strahtmore, have teamed up for a week-long festival celebrating the music of 75-year-old Dutch composer Louis Andriessen. Armando Baylo, founder of the Great Noise Ensemble and new music curator at the Atlas, developed the festival, which features the Brad Linde Ensemble and Bang on a Can All-Stars, among other performers (4/6-13)
· So Percussion – Brooklyn-based quartet, called an "experimental powerhouse" by Village Voice, performs Where do we live?, an interactive composition incorporating video, paintning and dance (4/26)
· Capital City Symphony – "American MusicFest Part II" features Barber's Adagioa for Strings and Knoxville, Summer of 1915 plus Brahms's Symphony No. 2 (5/4)
BACH SINFONIA
Cultural Arts Center at Silver Spring
Montgomery College
Silver Spring
301-362-6525
bachsinfonia.org
· C.P.E. Bach's Sensitive Side – Douglas Poplin on violoncello and Adam Pearl on harpsichord join the Bach Sinfonia in an exploration of the wide-ranging, unpredictable and intense "sensitive style," in honor of the 300th birthday of Carl Philipp Emanuel Bach (4/5)
· Mozart's Journey from Prague to Jupiter – Paul Hopkins on baroque horn joins the Sinfonia for a rare performance on period instruments of some of Mozart's best and moved love symphonic works (5/10)
BALTIMORE SYMPHONY ORCHESTRA
410-783-8000
bsomusic.org
· Bach's Brandenburgs — All six of Bach's supreme Brandenburg Concertos with soloists from the BSO (3/13-14, Meyerhoff Symphony Hall; 3/15, Strathmore)
· Baltimore Symphony Youth Orchestras (3/16, Carver Center; 3/17, Meyerhoff)
· Mendelssohn's Violin Concerto – Yan Pascal Tortelier conducts violinist Baiba Skride (3/21, 3/23, Meyerhoff; 3/22, Strathmore)
· BSO SuperPops: Stayin' Alive: One Night of the Bee Gees (3/27, Strathmore; 3/28-30, Meyerhoff)
· Schubert & Mendelssohn (3/28, Weinberg Center)
· Bugs! (3/29, Meyerhoff; 4/5, Strathmore)
· Andre Watts Returns! – Star pianist returns to the BSO to perform Grieg's Piano Concerto conducted by Jakub Hrusa(4/3-4, Meyerhoff; Strathmore, 4/5)
· Itzhak Perlman (4/10, Strathmore, 4/12-13, Meyerhoff)
· Mahler's Titan (4/24, 4/27, Meyerhoff)
· Yefim Bronfman – Marin Alsop conducts this pianist in Beethoven's Piano Concerto No. 5 (5/2, 5/4, Meyerhoff; 5/3, Strathmore)
· BSO SuperPops: All That Jazz: A Symphonic Celebration of Kander and Ebb (5/15, Strathmore; 5/16-18, Meyerhoff)
· Tchaikovsky's Violin Concerto (5/22-23, Meyerhoff; 5/24, Strathmore)
· A Midsummer Night's Dream – A Concert – Maestro Alsop leads the BSO, the Baltimore Choral Arts Society and actors in Edward Berkeley's concert adaptation of Shakespeare's popular magical comedy with incidental music by Felix Mendelssohn (5/29, Strathmore; 5/30-6/1, Meyerhoff)
· Beethoven's Ninth (6/5-6/6, 6/8, Meyerhoff; 6/7, Strathmore)
· Casablanca – Movie and Music – Emil de Cou conducts the BSO in a performance of Max Steiner's soundtrack as one of the greatest films of all time screens (6/12-13, Meyerhoff, 6/14, Strathmore)
BARNS AT WOLF TRAP
1635 Trap Road
Vienna
877-WOLFTRAP
wolftrap.org
· Brentano Quartet – A Late Quartet, part of Wolf Trap's Discovery Series (3/28)
· Pamela Frank, Nobuko Imal and Clemens Hagen — Violinist, viola player and cellist perform The Goldberg Variations as part of Wolf Trap's Discovery Series (4/11)
· Wolf Trap Opera Company: Handel's Giulio Cesare (6/27, 6/29, 7/1)
· Wolf Trap Opera Company's Aria Jukebox — Company director Kim Witman accompanies singers performing favorite opera highlights selected by the audience (7/13)
· Steven Blier with Wolf Trap Opera Company — A Houseful of Song recital led by New York Festival of Song director (7/19-20)
· Wolf Trap Opera Company: Les Six – Fine Tuning recital (7/27)
· Wolf Trap Opera Company – Milhaud's Le pouvre matelot, Poulenc's Les mamelles de Tiresias (8/8, 8/10, 8/16)
CLARICE SMITH PERFORMING ARTS CENTER
University of Maryland
College Park
301-405-ARTS
claricesmithcenter.umd.edu
· Annual Men's Chorus Invitational (3/28)
· American Youth Philharmonic Orchestras (3/30)
· Cantare: Baroque and More (3/30)
· UMD Chamber Singers: A Celebration of Benjamin Britten (4/4)
· Evelyn Elsing – This faculty artist gives a recital playing cello (4/5)
· Maryland Opera Studio – Die Fledermaus (4/11, 4/13, 4/19)
· University Chorale: Spring Concert (4/11)
· Maryland Opera Studio – A Night in Old Vienna (4/12, 4/15)
· Robert DiLutis – This faculty artist gives a recital playing clarinet (4/13)
· Chamber Music Showcase (4/15)
· Excelsa Quartet: Classic to Contemporary – Exploring more modern works for string quartet in conjunction with the classics (4/16)
· Korean Percussion Ensemble (4/19)
· UMD Repertoire Orchestra: In The Hall of the Mountain King (4/23)
· UMD Japanese Koto Ensemble (4/27)
· UMD Men's Chorus & UMD Women's Chorus: An American Portrait (4/27)
· Tempo (4/28)
· UMD Wind Orchestra: Contrasts (5/2)
· The Left Bank Quartet – A program of Haydn, Beethoven and Webern from this Maryland ensemble. (5/3)
· Annual Pops Concert UMD Wind Ensemble, University Band, Community Band team up for this 38th annual audience favorite (5/3)
· UMD Symphony Orchestra: Appalachian Spring (5/4)
· Bach Cantata Series (5/8)
· PostClassical Ensemble: Mexican Revolution (5/10)
· Prince George's Philharmonic (5/17)
· National Festival Orchestra Pops Concert (5/31)
· National Festival Chamber Orchestra (6/7)
· Chamber Music Marathon Concerts (6/8)
· Annual Pops Concert –(5/4)
· Prince George's Philharmonic (5/11)
· National Orchestral Institute and Festival — Selected talented young musicians from around the country partake in a month of professional development and music-making, culminating in several concerts, including: James Ross conducting Beethoven's Fifth Symphony (6/14); Christopher Seaman conducting Holst's The Planets (6/21); and Leonard Slatkin conducting Shostakovich's Fifth Symphony (6/28)
CHORAL ARTS SOCIETY
202-244-3669
choralarts.org
· Tango! Soul and Heart: A Celebration of Argentine Music and Dance – Scott Tucker leads the vocal ensemble and accompanists in the Pan American Symphony Orchestra in traditional and classic Tango songs and dance (4/27, Kennedy Center)
· Made in America: Three Generations of Master and Emerging American Composers – A concert version of Leonard Bernstein's Mass is on the bill as is the world-premiere performance of a commission by Great Noise Ensemble's Armando Bayolo, all part of the Kennedy Center's festival Voices of Our Nation: Celebrating the Choral Tradition and including the Washington Chorus and the Children's Chorus of Washington (6/11, Kennedy Center)
THE CITY CHOIR OF WASHINGTON
202-495-1613
thecitychoirofwashington.org
· Defiant Requiem: Verdi at Terezin – Murry Sidlin leads the City Choir of Washington and soloists in a multimedia performance of Verdi featuring video testimonials to the courageous Jewish prisoners in the World War II Theresienstadt Concentration Camp (5/1, Strathmore)
· Mozart: Grand Mass in C Minor (5/18, National Presbyterian Church)
COOLIDGE AUDITORIUM AT THE LIBRARY OF CONGRESS
Thomas Jefferson Building
10 First St. SE
202-707-8000
loc.gov/concerts
· Scharoun Ensemble Berlin (3/15)
· Kwuon/Smirnoff/Robinson/Babayan (3/21)
· Mahan Esfahani (4/4)
· The Chamber Music Society of Lincoln Center (4/10)
· "The President's Own" United States Marine Band (4/12)
· Daniel Muller-Schott and Simon Trpceski (4/24)
D.C.'S DIFFERENT DRUMMERS
202-269-4868
dcdd.org
· Capital Pride Symphonic Band Spring Concert: Dances — The Capitol Pride Symphonic Band offers a festive, upbeat performance, and the last for its director of the past six years Joe Bello (3/29, Columbia Heights Education Campus)
· DC Swing! Spring Concert (5/25)
· Marching Band: Capital Pride Parade (6/14)
· DC Swing!: Capital Pride (6/15)
· Marching Band: Baltimore Pride Parade (6/21)
· Marching Band Palisades Parade (7/4)
· Marching Band Monumorial Tour (7/14)
THE EMBASSY SERIES
202-625-2361
embassyseries.org
This 20-year-old series offers public access to foreign embassies and diplomatic homes in D.C. via classical concerts, followed by receptions, aimed at "uniting people through musical diplomacy"
· Claudia Galli, Gregory Moulin – Luxembourg-born soprano opera star performs Schumann, Strauss, Brahms, Wolf, Zemlinsky and Berg with piano accompaniment (3/22, Embassy of Luxembourg)
· Adrian Daurov, Di Wu – St. Petersburg-born, New York-based cellist, who regularly performs with pop stars including Alicia Keys, the Roots and Sigur Ros, performs a classical program with paino accompaniment (3/28, Embassy of the Russian Federation)
· Mendelssohn Piano Trio – Multi-cultural group is currently the Ensemble-in-Residence for the Embassy Series as well as Messiah College and the Chamber Music in Grantham summer festival (4/25, Embassy of Slovenia)
· Operetta Evenings: Michael Heim, Krisztina David – The Embassy Series revives its popular operetta series with the Austrian tenor and Hungarian soprano featuring works by Austro-Hungarian composers such as Kalman, Lehar and Strauss (5/15, Embassy of Austria; 5/16, Embassy of Hungary)
· The Arabella String Quartet – New quartet formed in Boston that has created a stir through performances in the Northeast and D.C. (5/20, European Union Ambassador's Residence)
· Ann Schein, Earl Carlyss, Darret Adkins: Chamber Music of Ravel & Debussy – A recital featuring the trio of a pianist, violinist and cellist (5/22, Embassy of France)
· Bergthor Palsson – An American-educated baritone who mainly sings with the Icelandic Opera (6/6, Icelandic Ambassador's Residence)
· Avguste Antonov, piano (6/12, Bulgarian Ambassador's Residence)
· A Tribute to Nelson Mandela – Music from South Africa, with artists to be announced, in a gorgeously renovated residence (6/20, Residence of the South African Ambassador)
FAIRFAX SYMPHONY ORCHESTRA
703-563-1990
fairfaxsymphony.org
· Shostakovich's Chamber Symphony in D Major – Christopher Zimmerman conducts the orchestra and tenor William Hite in a program that also includes Varese, Britten and Mozart (3/22-23)
· Mahler's Fifth Symphony (4/26)
· Orff's Carmina Burana – Zimmerman closes out the season leading the FSO, violinist Guillermo Figueroa and the Fairfax Choral Society in a program of Orff's masterpiece that also includes Piazzolla's The Four Seasons of Buenos Aires (5/10)
FOLGER CONSORT
Folger Elizabethan Theatre
201 East Capitol St. SE
202-544-7077
folger.edu
· Le Jardin Chinois: Music of 18th-Century France – Exploring the allure of China in the musical imagination of Rameau, Marias and others (3/21-23)
· A Polish Renaissance: Music of Poland's Golden Age – Accompanied by vocal ensemble the Western Wind, a performance of the rarely heard, extraordinary musical art of what was then Europe's largest kingdom (4/11-13)
GAY MEN'S CHORUS OF WASHINGTON, D.C.
202-293-1548
gmcw.org
· Von Trapped – A gay parody of The Sound of Music (3/14-16, Lisner)
· Forte: Potomac Fever and Rock Creek Singers – The chorus's two stellar select vocal ensembles are showcased (4/11, New York Avenue Presbyterian Church; 4/19, Arena Stage's Kogod Cradle)
· A Gay Man's Guide to Broadway w/Laura Benanti – Everything you need to know about Broadway musicals courtesy of the chorus and this Tony Award winner for Gypsy, most recently seen on NBC's live The Sound of Music (5/18, Kennedy Center)
KENNEDY CENTER
202-467-4600
kennedy-center.org
· The Nash Ensemble of London – A Fortas Chamber Music Concert focused on one of music literature's timeless cornerstones, Brahms's Clarinet Quintet (4/1)
· 35th Young Concert Artist Series: Cicely Parnas, cello (4/7)
· Augustin Hadelich, Joyce Yang & Pablo Villegas: Tango, Song and Dance – A violinist, pianist and guitarist join forces for this Fortas Chamber Music Concert, a multimedia recital featuring wide-ranging works by Previn, Rodrigo, Falla, Piazzolla and Villa-Lobos (4/21)
· Carlo Grante – HH Promotions London LLC presents this pianist, one of today's most active and popular recording artists (5/14)
· Marc-Andre Hamelin with the Pacifica Quartet – Quartet makes its Fortas Chamber Music Concert debut performing Leo Ornstein's rhythmically engaging Piano Quintet with this acclaimed pianist (5/20)
· Organ Recital: Iveta Apkalna – the NSO presents this Latvian organist, a leading performer steeped in the traditions of Eastern Europe (5/21)
· Kennedy Center Chamber Players – Musicians of the National Symphony Orchestra perform J.S. Bach's Goldberg Variations arranged for string trio (6/1)
·
NATIONAL PHILHARMONIC
Music Center at Strathmore
5301 Tuckerman Lane
North Bethesda
301-493-9283
nationalphilharmonic.org
· Bach Mass in B Minor – Stan Engebretson conducts the Chorale and Orchestra and four outstanding soloists in a concert to thrill listeners with its lofty design, scope and expression, one week before Easter (4/12-13)
· Sarah Chang Plays Vivaldi's Four Seasons – Piotr Gajewski leads the orchestra and Chang in a program that also includes Strauss's Metamorphosen (5/17-18)
· Strauss Masterpieces – Maestro Gajewski leads a toast to Strauss in this, the 150th anniversary of his birth (5/31)
NATIONAL SYMPHONY ORCHESTRA
Kennedy Center Concert Hall
202-467-4600
kennedy-center.org
· Danill Triffonov plays Rachmaninoff, Kelly O'Connor sings Falla – Pianist performs Rhapsody on a Theme of Paganini and mezzo-soprano offers El amor brujo in a program led by Rafael Fruhbeck de Burgos (3/13-15)
· Celebrating Richard Strauss at 150 – Soprano Irene Theorin and bass-baritone John Relyea join Christoph Eschenbach and the NSO in this salute to Strauss that includes selections from Don Juan, Elektra and Salome (3/20-24)
· NSO Pops with rapper Nas – Steven Reineke leads the NSO in an unusual venture into hip-hop, celebrating the 20th anniversary of Nas's debut album Illmatic as part of the Kennedy Center's weeklong celebration One Mic: Hip-Hop Culture Worldwide (3/28-29)
· Gil Shaham plays Korngold – Violinist with what the New York Times calls "flawless precision and gleeful command" plays Korngold's Violin Concerto on a program led by renowned conductor James Conlon and includes masterpieces by Brahms and Zemiinsky (4/10-12)
· Nikolai Lugansky plays Prokofiev – Russian pianist performs the Piano Concerto No. 3 in a program helmed by young Cornelius Meister in his NSO debut (4/17-19)
· Mendelssohn's "Italian" Symphony – Renowned conductor Osmo Vanska leads Mendelssohn's Symphony No. 4 in a program that also includes Sibelius's Symphony No. 3 and Aho's Clarinet Concerto featuring the NSO debut of Martin Frost (4/24-26)
· NSO Pops: Rajaton: The Music of ABBA – The genre-crossing Finnish ensemble Rajaton joins the NSO Pops in a tribute to ABBA (5/30-31)
· Tchaikovsky's "Pathetique" – Maestro Eschenbach leads the NSO in a performance of Tchaikovsky's classic symphony plus Brahms's famed Double Concerto featuring two rising young stars, violinist Nicola Benedetti and cellist Leonard Eischenbroich (6/5-7)
· Bruckner's Symphony No. 8 – Maestro Eschenbach concludes the NSO's classical season with the titanic and awe-inspiring Symphony No. 8 (6/12-14)
· NSO Pops: The Midtown Men – The four original stars of Broadway's Jersey Boys showcase their trademark sounds, choreography and chemistry in this grand finale to the NSO Pops season (6/27-28)
SIXTH & I HISTORIC SYNAGOGUE
600 I St. NW
202-408-3100
sixthandi.org
· A Winged Victory for the Sullen w/the American Contemporary Music Ensemble – A neo-classical collaboration between composer Dustin O'Halloran and Stars of the Lid's Adam Wiltzie. (3/19)
STRATHMORE
5301 Tuckerman Lane
North Bethesda
301-581-5100
strathmore.org
· Escolania de Montserrat – Spain's premiere boys' choir and one of its oldest music schools in Europe performs in the U.S. for the first time in its history (3/16)
· Peter Minkler & Jeremy Gill – Baltimore Symphony Orchestra violist performs works by Gill, who will accompany at the piano (3/30)
· Parker Quartet – One of the preeminent new ensembles offer a program including the Washington premiere of Jeremy Gill's Capriccio (3/31)
· Avi Avital – German-based Israeli mandolin player returns to the area. (4/3)
· Piotr Pakhomkin – Russian-American guitarist performs acrobatic works by Paganini and Mertz (4/9, 4/23)
· Trio Cloisonne – A trio of Baltimore Symphony musicians perform music by Ravel and American composers Robert Paterson and Jan Bach (5/1)
· Moscow Virtuosi Chamber Orchestra – Vladimir Spivakov, one of the world's most prominent violinists and conductors, leads this orchestra, returning to Strathmore to celebrate the orchestra's 35th anniversary (5/10)
· Aaron Grad & Gus Mercante (5/15)
· Evermay Chamber – Based at the D.C. mansion that gives it its name, this marks the first engagement outside Evermay of this exciting new nine-member ensemble assembled by violinist Tamaki Kawakubo (6/5)
· Denis Matsuev (6/17)
WASHINGTON BACH CONSORT
National Presbyterian Church
4101 Nebraska Ave. NW
202-429-2121
bachconsort.org
· The St. John Passion – One of Bach's works based on the four gospels, long overshadowed by the monumental St. Matthew Passion (3/16)
· Revolution & Evolution: The Music of C.P.E. Bach – Celebrating the birth of Bach's most famous son, whose "sensitive style" dazzled the courts of Europe (5/4)
WASHINGTON NATIONAL OPERA
Kennedy Center Opera House
202-295-2400
dc-opera.org
· The Elixir of Love – Donizetti's loveable comic opera (3/20-29)
· An Evening with Paul Appleby and Joshua Hopkins – A chance to hear the American tenor and Canadian baritone, with piano accompaniment, before they make their Washington National Opera debuts in Mozart's The Magic Flute (4/6)
· The Magic Flute – Mozart's final opera in what the San Francisco Chronicle calls a "zesty and imaginative new production" (5/3-18)
· An American Soldier – The second season of the American Opera Initiative continues with this hour-long, world-premiere opera composed by Huang Ruo with a libretto by David Henry Hwang (6/13-14)
WASHINGTON PERFORMING ARTS SOCIETY
202-833-9800
wpas.org
· Los Angeles Philharmonic – Gustavo Dudamel directs (3/18, Kennedy Center)
· Israel Philharmonic Orchestra – Gianandrea Noseda conducts (3/30, Kennedy Center)
· Minguet Quartett – German ensemble takes its name from the 18th-Century Spanish philosopher Pablo Minguet, who tried in his writings to make the fine arts accessible to the masses (4/2, Kennedy Center)
· Louis Lortie – French-Canadian pianist appears as part of the Piano Masters series (4/11, Kennedy Center)
· Of Thee We Sing: The Marian Anderson 75th Anniversary Celebration (4/12, DAR Constitution Hall)
· Hilary Hahn (4/23, Strathmore)
· Benjamin Grosvenor – The youngest-ever winner of the Keyboard section of the BBC's Young Musician of the Year in 2004 – at the age of 11 (4/29, Kennedy Center)
· Martin Helmchen – This young German artist is a rapidly rising star in the piano world, presented as part of the Hayes Piano Series (5/10, Kennedy Center)
· Stefan Jackiw and Anna Polonsky – A recital by this star violinist and pianist (5/21, Kennedy Center)
· Chris Botti (5/22, Kennedy Center)
· Sam Haywood (5/31, Kennedy Center)
WOLF TRAP
1645 Trap Road
Vienna, Va.
703-255-1900
wolf-trap.org
· Il Volo (6/13)
· NSO @ Wolf Trap: Pixar in Concert (6/20)
· The Philadelphia Orchestra: Beethoven's Ninth Symphony (6/28)
· NSO @ Wolf Trap: Matthew Morrison (7/10)
· NSO @ Wolf Trap: Fantasia (7/11-12)
· NSO @ Wolf Trap: Jean-Yves Thibaudet, piano (7/18)
· NSO @ Wolf Trap: 2001: A Space Odyssey (7/19)
· NSO @ Wolf Trap: Bizet's Carmen – The Wolf Trap Opera Company kicks off its season with one of the genre's most popular (7/25)
· NSO @ Wolf Trap: Mary Chapin Carpenter (8/1)
· NSO @ Wolf Trap: Yo-Yo Ma (8/2)
· Josh Groban (8/19-20)
Find more venues and listings at metroweekly.com.
Spring Arts Preview 2014