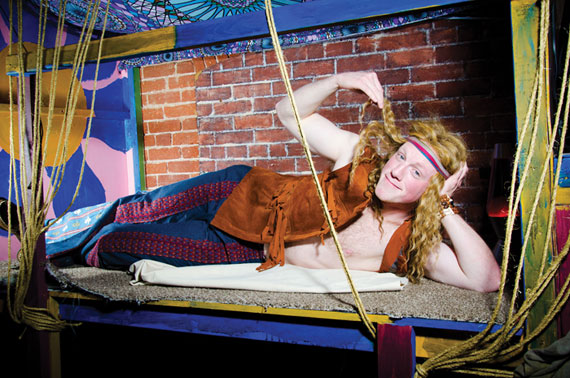 Cast of "Hair" at Andrew Keegan Theatre
(Photo by Julian Vankim)
In that respect, Hair is a departure from the typical show at Keegan Theatre, which has chiefly made its name staging classic dramas, heavy in plot and thought. Then again, when Mark Rhea started Keegan with a couple colleagues in the late 1990s, the focus was much more on presenting Irish plays and playwrights. And musicals were almost out of the question for staging in the basement of the Mount Olive United Methodist Church in Arlington.
But since the Church Street Theater became a home for Keegan in 2009, the company has more than doubled the number of productions it puts on, roughly eight a season. Per the company's mission, roughly two are always Irish. These days the company sometimes even stages two musicals in a season — but always one big one.
"It's just been a byproduct of realizing how much we can do," says Susan Rhea, who met her husband Mark when they were both acting together in a show at another company.
But Keegan, which has launched a $4 million capital campaign to renovate and slightly expand its old brownstone venue, doesn't stage just any musical. "One of the reasons we love our venue so much," she says, "is that I think it reflects our personality as a company, which is strong and tough and kind of scrappy. A little edgier, and not this pristine, perfect place." Generally that translates to staging gritty, lively, rock-oriented types of shows, from Rent to Spring Awakening to Hair.
And it's the passioncontained within Hair that especially hooked Susan, who works part-time as a Web manager for the liberal support nonprofit the Alliance for Justice. "The desire for change and people actually doing something about it even if they weren't wildly effectual, the coming together of human beings saying this isn't right — that just gives me goosebumps. We haven't seen anything like it [since]."