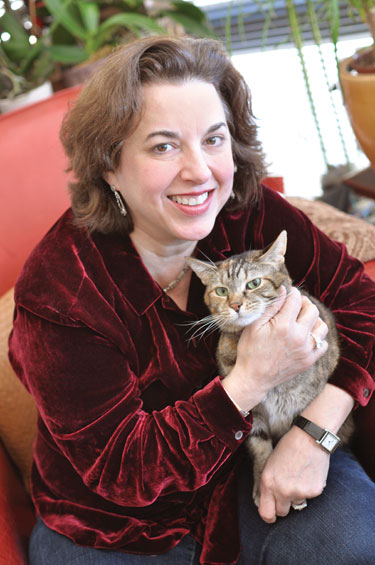 Chris Svoboda
(Photo by Todd Franson)
MW: But when did you become self-aware of your sexual orientation? Some people know at 5, some at 35.
SVOBODA: It was something that you didn't really know what it was. Yeah, you had a crush on that teacher or that friend or whatever, but there wasn't anything out there to relate to. And there was no one you could talk to about it. That didn't exist.
What there was, there were dance clubs. The guys — at this point I didn't know they were gay guys — we all liked to hang out, all liked to go dancing. We'd go to the "bad" section of town. I don't remember where we told our parents we were going, but we ended up at these nightclubs. They had drag shows and it was so much fun. We had a blast.
MW: Where did you go after high school? Where did you get that math/computer-science degree?
SVOBODA: I went to Sweet Briar. That was a wonderful, wonderful place. I had the dearest friends from both high school and college. My professors from both high school and college are in my life. I've lived a very blessed life with the people and opportunities that have been presented to me.
I did a sort of minor study in studio art. I wanted to go into architecture. I'd always done work on the stage, lighting and sound systems. I created a computer program that would trigger lights and sound.
But then everything exploded in my life. The day after I graduated, my dad had a seizure and they found two brain tumors. Everything was put on hold. I stayed in Richmond and helped my mom take care of him until we figured out what was going on. Then I went off to work in the film business, a year later.
MW: In L.A.?
SVOBODA: No, in North Carolina. Dino De Laurentiis had some film studios down there.
MW: Did you have connections from school?
SVOBODA: No, I just wrote a letter that elicited a response within about three days from the studio manager. She set up some interviews for me. [Laughs.] I can't even remember what I wrote. I had a couple interviews and got a job. I packed some stuff, took my dog and went down there and worked on a bunch of different projects.
We had a summer home down there and I had a place to stay. It was a good place to go that allowed me to just figure out what I wanted to do. And in the film business there are just so many aspects of it. It was the behind-the-scenes financing, the putting things together; and the creative stuff of the writing and the acting. In school, at summer camp, I'd done theater so I enjoyed all that stuff. All the different pieces of my life could come together. I had a nice opportunity down there to work on a bunch of different projects and sort of get away.
After a couple years down there, I met a French producer. He was working on a project and was going to hire a bunch of American actors, and he wanted a liaison. He hired me to be associate producer and I moved to Paris. I lived there and we shot the film in Madrid. I was there for about a year.
MW: What was the film?
SVOBODA: It was only released in Europe. I don't even remember what it ended up being called over there. But I came back here, moved to L.A. and was there for about 16 years.
MW: Was there an opportunity waiting for you in L.A.?
SVOBODA: No, but I had a friend who was willing to drive cross-country with me, and I had a number of friends I'd made in North Carolina who were L.A. natives, so I had places to stay. I actually got my first job within the first week, because I was sitting in a hot tub at a party and somebody said, "Hey, if anybody knows somebody, we're looking for somebody to help us with distribution on some of our little movies." And I went to work for Direct Cinema Limited, which was distributing all the tiny, cute films this guy named John Lasseter was making with his little animated company called Pixar.
MW: The hats you've worn just in the film industry —
SVOBODA: — are insanely crazy, yep.
MW: You must have good celebrity stories.
SVOBODA: Not really, no. I'd rather stay away from celebrity stuff. I've worked with a lot of really fun, interesting, amazing people. But they're just people.
MW: Do you miss L.A.?
SVOBODA: To a certain extent. I've made some really fantastic friends out there, but it's really messed up a lot of people. People who were wonderful going into it, and then as fame and fortune came into their lives…. I had some dear friends who are still dear friends, and some dear friends who just completely changed.