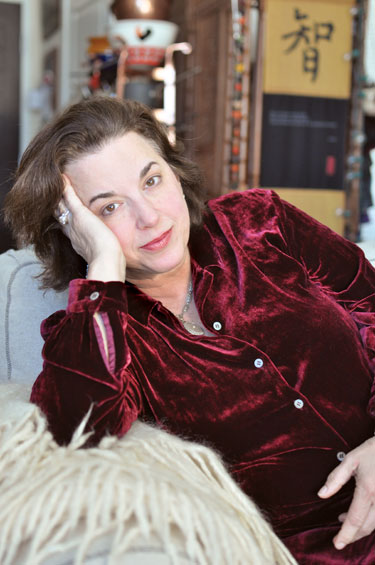 Chris Svoboda
(Photo by Todd Franson)
MW: What are all the steps involved? We all see the finished product, but few of us see how things like this come together.
SVOBODA: I got a Facebook IM from one of my best buddies who said, "Hey, my friend Michael is doing this thing and needs help, and I know that you used to do this kind of stuff." That was Thursday, one week before the shoot. I'd never met Michael, and he was in L.A. We got on the phone later that night and talked for two hours about the idea. I asked him to send me what he had on a budget, what he had on a breakdown of concept, what he had set up as far as crew and equipment, and what he needed, what was missing. After I got off the phone with him I shot out, I don't know, 40 emails. I spent the rest of that night doing emails, phone calls, Facebook, trying to find the people that I needed to put into place. We hit the ground running on Friday morning.
MW: How did Michael sell you on it? Why did you want to be involved?
SVOBODA: Last summer, I had been invited by some friends of mine who have really dedicated their lives to LGBT rights, nationally and internationally, to be a co-host for a function.
MW: Is this an organization? Is there a name?
SVOBODA: It's a group of concerned people working behind the scenes, but this whole thing happened sort of off the record. It was a truly behind-the-scenes event, so I can't give you any particulars. But at that point, a lot of stuff was happening on the international scene, not just Russia. LGBT violence was escalating and these laws were coming into play, while we were in the midst of all this stuff with the Supreme Court here. I heard the reality of what was happening from the victims. When you hear it firsthand, it's even more real than when it's in print, in the news.
I have always felt that we have to speak for those who do not have the ability to speak for themselves, to tell the stories of those who can't tell their own stories. This was an opportunity, working with Michael on this project, to do that.
MW: When was that first phone call?
SVOBODA: When were the Olympics? We posted the video the Thursday before the opening ceremonies, shot it the Friday before. Basically, we didn't sleep for a couple weeks. I'm serious. We had to have it posted before the Olympics, so everything had to be done.
We would've liked to have had another editor, a second set of eyes, but we couldn't afford to hire another editor and we couldn't find one who'd do it for free. So Michael and I sat on the phone going back and forth, little by little, because we started with something that was about four-and-a-half minutes and we knew that we had to have it under two. Michael and I were on the phone going, "Okay, 1:06 to 1:08 can be cut out." We literally went through like that for hours.
Then we needed to work on the music. He wasn't happy with the music, and I'd messed around with songs in college and I had a friend who'd messed around and we were on the phone humming things back and forth. We were writing music and lyrics that Sunday night, trying to get it together. Then, at the 11th hour, King Avriel gave us that song. Gave it to us. We didn't have to pay anything, because she's supportive of what we were doing. We had reached out to music supervisors we knew, friends of friends, but we knew that if we didn't get that, we had to have something. Everybody jumped on board to do whatever they could do.
MW: Another piece of your activism, another example of putting things together, is serving as co-chair of this year's Mautner gala. What's your history with Mautner?
SVOBODA: I was introduced to Mautner about a year and a half ago by some friends who were on the board. I'd had a conversation with them at one of their fundraising cocktail parties. I asked someone on the board, "Why aren't the men more involved?" And it was, like, because they're doing their own thing. I know Mautner had the "Men of Mautner," the one event a year. I said, "Why don't we do that more often?" So they tasked me. I pulled in my "gay husband," Hudson, tapped him to help me coordinate Men of Mautner. We've had a couple dinners to try to get the guys more involved. He's co-hosting the Mautner gala with me, Deb Dubois and Linda Spooner.
That's sort of how I ended up with Mautner. And working with HRC for years. HRC has always been, to me, a very insular organization. I want to see it integrated more than insular. We did a thing about a year and a half ago to get the women of HRC and women of Mautner together to do a happy hour. It was great, because it wasn't just the women — the guys came. That's where we ended up getting the Friday night comedy night. It's going to be a joint HRC-Mautner event. What's even more exciting is that Lambda Legal is sponsoring. To me, Lambda Legal is really the one that's the unsung hero in all our fights over the last 40 years. They're the ones filing the lawsuits and carrying the lawsuits through. HRC does this great job of lobbying and they've got the membership. Lambda Legal isn't a membership organization. They're more my mentality of behind the scenes. But, man, the work that they're doing is insanely awesome. Lambda Legal is the unsung hero in so much of our battle.
MW: What else might you be working on?
SVOBODA: I'm one of the founding board members of the Virginia Equality Bar Association. We just started that in October.
And almost 20 years ago I was one of the founding board members of an organization called Colors United. It was comprised of students, mostly African-American and Latino, Bloods and Crips. It was an afterschool program to keep the kids off the streets and to help socialize the two opposing gangs. There was a documentary about 15 years ago all about the kids and the program that was nominated for an Academy Award. They want to do another documentary about themselves and where they are 20 years later. Michael and I had actually talked about that. I just got a Facebook IM from a couple of them. I said, "What interesting timing, because Michael and I started talking about that a couple weeks ago."
MW: Seems you're not just plugged into a network, but into the universe.
SVOBODA: It's being open, I guess. Being in the moment, being in the now. This moment right now is all we have.
MW: With turning 50 giving you a sort of new drive, where do you want that momentum to take you? Where do you want it to take others?
SVOBODA: I want a world that's fair. I want people to work toward change, toward change that makes the world fair. I think Heather [Mizeur] is working towards that. I've been volunteering on her campaign, since the beginning. She is, to me, what a politician should be. She's all about fairness. She's absolutely awesome.
I think Michael and I, with the stuff we want to do, we want it to be powerful and thought-provoking content. Michael and I were talking about climate change. We were talking about homelessness and hunger. There are so many issues. Michael and I are very excited going forward.
I feel a lot more settled now. I'm comfortable in my life. I'm still frenetic, but it's controlled freneticism. I've learned patience. That was a big thing. I used to be very impatient. Now I'm an extremely patient person. I'm in a really good place.
The Mautner Project Gala & Dance is Saturday, March 8, from 6 p.m to midnight, at the JW Marriott, 1331 Pennsylvania Ave. NW. For tickets, $250, visit whitman-walker.org/mautnerprojectgala.
Ladies & Laughter, benefiting the Mautner Project and the Human Rights Campaign, is Friday, March 7, at 7 p.m., at Artisphere, 1101 Wilson Blvd., Arlington. For tickets, $75, visit whitman-walker.org/comedynight.