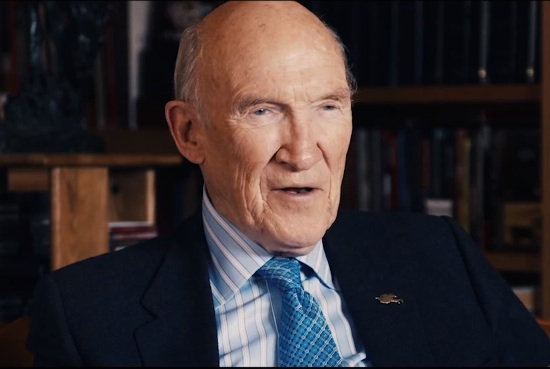 "Live and let live. It is very simple," says former Sen. Alan Simpson, a Republican from Wyoming, in a new national television ad supporting same-sex marriage that began airing today. 
The ad featuring Simpson, who served as a Republican senator from Wyoming from 1979 to 1997, comes as the 10th Circuit Court of Appeals is scheduled Thursday to begin hearing oral arguments in the case challenging Utah's same-sex marriage ban. 
"I was raised here, Cody, Wyoming. It was a town of western values; independence, freedom," Simpson says in the ad. "I'm a Republican and the Party's basic core is government out of your life and the right to be left alone. Whether you're gay or lesbian or straight, if you love someone, and you want to marry them, marry them. I have had a wonderful married life, why shouldn't somebody else have the joy of marriage."
The 30-second ad will air on national cable and network Sunday political shows in D.C., Colorado, Oklahoma and Wyoming markets. Simpson led a group of prominent "Western conservatives, moderates and libertarians who embrace the individual freedoms protected by our Constitution" who signed a brief filed with the 10th Circuit urging the federal appellate court to strike down bans on same-sex marriage.
According to Evan Wolfson, president and founder of Freedom to Marry, which launched the ad, Simpson's words reflect the emerging bipartisan support for same-sex marriage.
"The ad shows the bipartisan momentum for the freedom to marry," Wolfson said in a statement. "And recent rulings against marriage discrimination by nine out of nine federal district judges show the legal trajectory of our campaign: toward more freedom, more dignity, and more families enjoying equality under the law." 
Indeed, polls have continually shown a growing support for same-sex marriage among conservatives, in particular among younger voters. 
"In my political career I can't remember an issue that has moved so quickly and so dramatically in the court of public opinion," said Mark McKinnon, a former adviser to President George W. Bush and co-chair of Freedom to Marry's Southerners for the Freedom to Marry, during a call with reporters. Although McKinnon doesn't predict Republicans will be marching in the streets en masse anytime soon in support for same-sex marriage, he says Republicans are no longer running for office with opposition to same-sex marriage as a key part of their campaign. 
"The important thing is the heat is off," said McKinnon. "The edge has lost its edge."
Watch the ad here: