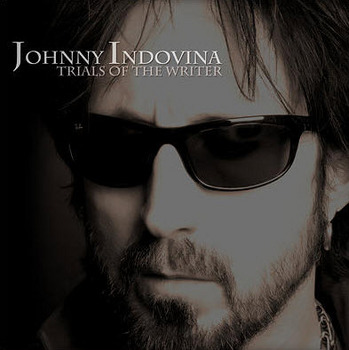 "He sees certain sadness in the wake of yesterdays, and he writes it all down." So begins Trials of the Writer, the first solo album by longtime Human Drama frontman Johnny Indovina. The album examines the relationship between a writer and his songs, both as they are written and after they are released to the world. He explores how each composition becomes a frozen moment, a permanent snapshot of a feeling, memory or event that will long outlast its writer and the inspiration that led to its creation.
If anybody is going to write an album that takes its inspiration from the act of songwriting itself, there are few better equipped to do it than Johnny Indovina. Anybody who's ever used writing as catharsis can empathize when he sings in his distinctive, rich, raspy voice: "Let it all fly, let it all heal. Every moment set free to paper reveals. Just one more line, just one more word he reaches for…" It's a process Indovina has been through many times before, and he knows it well. As the main creative force behind Human Drama, and later with Sound of the Blue Heart, Indovina has accumulated a staggering number of incredible songs: "Death of an Angel." "The Waiting Hour." "This Tangled Web." "This Forgotten Love." "Let the Darkness In." "My Denial." "Love's Way." "Single White Rose." "Goodnight Sweetheart." "Madame Hate's Mad Search for Love." "River of Love." "Wind of Change." Those are just a handful that barely scratches the surface of the impressive body of work that Indovina has produced over the years.
Indovina was recently kind enough to take us behind the making of Trials of the Writer, the inspiration for it, and how the album came together. He's justifiably excited now that it's released and in the hands of his fans to absorb. "To now hear it in its full finished form is so satisfying," he says. "There are many questions to answer and many decisions to be made during the course of an album. It's only when listening back from top to bottom that you know whether you took the correct path and made correct decisions. I think I got it right, it feels right to me. I'm proud to send it out into the world." As well he should be. Trials of the Writer vividly reveals how much of himself Indovina's infused into these songs over his three decades in the music business, and the emotional impact of this constant exercise of cathartic release on him as the writer.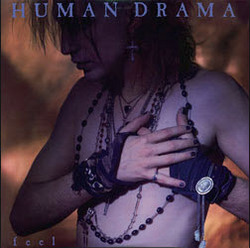 Indovina began his musical career in his hometown of New Orleans in the new wave heyday of the early '80s, releasing a couple singles with The Models before forming Human Drama, the band that would ultimately represent the core of his creative output. Human Drama ended up in Los Angeles and became mainstays at the legendary club Scream, which over the years hosted bands such as Red Hot Chili Peppers, Jane's Addiction, Sisters of Mercy, Living Colour, Faith No More, and many others. Human Drama eventually landed a deal with RCA Records, and their debut album Feel was released in 1989. It's a terrific album that still packs an emotional punch 25 years since its release. Indovina's riveting lyrics and arresting, often feverish vocals over the combination of edgy guitar-rock and strings resulted in a debut album of stunning potency.  The dark grandeur of epic tracks like "There is Only You," "The Waiting Hour" and "I Could Be a Killer" mixed with strongly melodic acoustic-based songs like "Heaven on Earth" and "Death of An Angel" should have resulted in huge sales during an era in which alternative rock was becoming more prominent than ever. Unfortunately RCA didn't really seem to know what to do with Human Drama or where they fit into the marketplace. The album fared poorly commercially, and the band and RCA soon parted ways.
After leaving RCA Records, Human Drama went the indie route and released an outstanding string of albums that are generally dark, melodic and absolutely compelling: The World Inside (1992), Songs of Betrayal (1995), Solemn Sun Setting (1999) and Cause and Effect (2002). Along the way they also released an electrifying live album called Fourteen Thousand Three Hundred Eighty Four Days Later (1996), an excellent covers collection (called Pinups, an homage to key influence David Bowie who also released a covers album under that name), and a retrospective of some of their finest tracks called The Best of Human Drama… In a Perfect World (2000). Indovina, who had always been the driving creative force behind Human Drama, ended the band in 2005 and formed a new project, Sound of the Blue Heart, which released two superb albums on Triple X Records: Beauty? (2006) and Wind of Change (2009).
Trials of the Writer seems a summation of sorts of all that has come before it. Even though it's Indovina's first solo album after 30+ years of making music, his method of composing hasn't changed, and he's quick to heap praise on his collaborators. "My songwriting approach stayed exactly the same, and oddly enough this album is more of a collaboration than many of my past albums. I directed and described the vibe and instrumentation I wanted, and then got the right players to achieve it. I worked very closely with Michael Rozon, my producer on this. Once the players were in the studio they were given the freedom to take that 'vibe' to a level we never could have without them." And the "right players" he mentions is an impressive roster indeed, including guitarist Paul Allen who has worked with Adele, Black Crowes' guitarist Marc Ford, and Brian Stoltz who played guitar on Bob Dylan's classic Oh Mercy, a darkly atmospheric album produced by Daniel Lanois that was a key influence on the sound of Trials of the Writer.
"The guitar on this album is amazing in its feel. Brian Stoltz set the tone for the guitar vibe, and Paul Allen, David Zerkovich , Michael Rozon and Tim Grove added their touch," he says. "It took me this long to do an album under just my name because, as many artists would admit, no album is done 'solo,' it may be filed under your name in the store but it takes a lot of great musicians who give their heart and soul to your vision to complete it."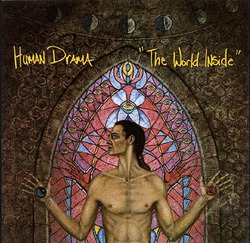 Indovina compares it to Human Drama's 1992 classic The World Inside, possibly the finest of all their albums: "The journey from start to finish on this album was an amazing one. Perhaps the most focused I've been since The World Inside in 1992. Reason being, once the concept hit me, the challenge of getting it correct, with a beginning and ending, was daunting."
The concept was born of a question by a fan about arguably Human Drama's single greatest track, "The Waiting Hour," a song of exceptional beauty and grandeur that appeared on Feel and then again in re-recorded form on the band's self-titled 1994 EP. 
Indovina explains, "The concept hit me a few years ago when a Mexican fan asked me if every time I sing 'The Waiting Hour,' does it feel like it felt when I wrote it? After answering yes, I realized the magnitude of that concept. I'm defined as being a songwriter, and again defined by the songs. In looking back I realized all I had sacrificed for the catalog of work. There was never a sacrifice too great to continue on my path. The path leads to a collection of thoughts, feelings, examinations, moments of intense emotions in audio snapshots! Every time you hear them or sing them the feelings return. They stay with you. Metaphorically speaking, when all is said and done, perhaps when there is no one left to listen, the suitcase you carry is all you have, and it contains the songs."
"The Suitcase," which lyrically references some of his finest compositions, is one of the album's key tracks as it ties the concept to his own back catalog. He explains, "In the beginning I thought, 'how must Bob Dylan feel?'. For a while I thought the concept may be more of a study of artists and writers. In the end it became autobiographical. I think that is what it had to be…"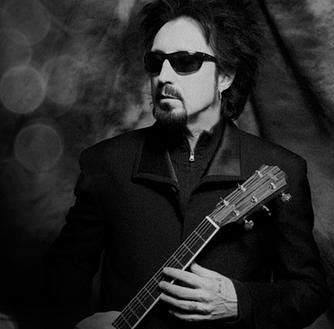 Trials of the Writer concludes with a powerful finale, "The Last Song," "As I try to understand with the pen held tightly in my hand, everything I've said was true, guess I've only ever given it to you." Indovina expresses how he's poured his heart and soul into his songs over the years, and anybody familiar with Human Drama's catalog can understand the truth of his sentiment. "Would I do it again? Well, I never consciously 'chose' to do it this time. For a long time I was wondering what I'd do when I grew up… I do think, maybe even without knowing it for a while, that I lived my destiny, my purpose. It has been an amazing journey.  So I guess I wouldn't mind at all doing it again. Today I feel it was worth it. On the day when folks stop listening and the songs stop coming, I may have a different answer. I examine that in  'The Last Song.'"
Trials of the Writer is a beautifully conceived and meticulously crafted collection of songs. It's a fascinating look inside the process of distilling experiences, thoughts, hopes, and fears into music that will never fade. "I feel like every song is a piece of me and I lived those moments," says Indovina. "They are reminders of very real moments." The album is available for purchase through Johnny Indovina's website, along with several of his prior works. They are all well worth delving into and exploring at length. Johnny Indovina has 25+ years of outstanding musical achievement to his credit, but has largely flown under the radar in the U.S.  It's time for that to change — Trials of the Writer is an album that deserves to be heard.