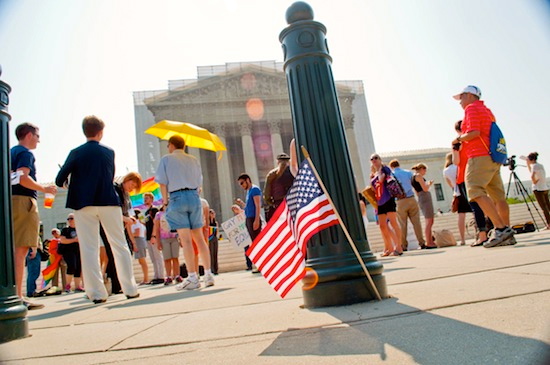 A prominent group of same-sex marriage supporters encouraged acceptance of those with opposing views in a statement published Tuesday. 
The nearly 60 signees include gay and straight writers, activists, lawyers, professors and others who have been allies of the marriage-equality movement. In their statement, titled "Freedom to Marry, Freedom to Dissent: Why We Must Have Both," they write of their growing concerns over the eagerness of some same-sex marriage supporters to "punish rather than to criticize or to persuade those who disagree."
"Sustaining a liberal society demands a culture that welcomes robust debate, vigorous political advocacy, and a decent respect for differing opinions. People must be allowed to be wrong in order to continually test what is right. We should criticize opposing views, not punish or suppress them," the group writes. "The freedom—not just legal but social—to express even very unpopular views is the engine that propelled the gay-rights movement from its birth against almost hopeless odds two generations ago. A culture of free speech created the social space for us to criticize and demolish the arguments against gay marriage and LGBT equality. For us and our advocates to turn against that culture now would be a betrayal of the movement's deepest and most humane values."
The statement comes on the heels of the resignation of Brendan Eich as CEO of Mozilla. Eich came under fire shortly after being named CEO of the company behind the Firefox Web browser in late March for a $1,000 contribution he made in 2008 in support of California's same-sex marriage ban, Proposition 8. Several Mozilla employees spoke out publicly on Twitter, urging Eich to step down, as did many LGBT-rights activists. When accessing the online dating website OkCupid from a Firefox Web browser, users were prompted to use a different Web browser, with a statement that said, among other things, "Those who seek to deny love and instead enforce misery, shame, and frustration are our enemies, and we wish them nothing but failure."
Mozilla announced Eich's resignation April 3 in a statement that apologized for not doing better, but also alluding to the fine balance that must be struck between free speech and equality. "Equality is necessary for meaningful speech. And you need free speech to fight for equality," wrote Mitchell Baker, Mozilla's executive chairwoman. "Figuring out how to stand for both at the same time can be hard."
In their statement released yesterday, the signatories — who include Andrew Sullivan, Margaret Hoover of the American Unity Fund, former Republican Rep. Jim Kolbe and Ken Mehlman — state that same-sex marriage supporters must accept that disagreement does not equate hate.
"As a viewpoint, opposition to gay marriage is not a punishable offense. It can be expressed hatefully, but it can also be expressed respectfully," they write. "We strongly believe that opposition to same-sex marriage is wrong, but the consequence of holding a wrong opinion should not be the loss of a job. Inflicting such consequences on others is sadly ironic in light of our movement's hard-won victory over a social order in which LGBT people were fired, harassed, and socially marginalized for holding unorthodox opinions."
Read the full statement here, along with the list of signees.
[Photo: U.S. Supreme Court. Credit: Todd Franson/Metro Weekly.]