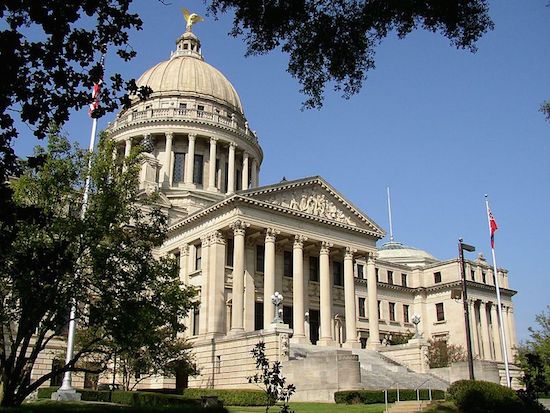 Mississippi lawmakers approved "religious freedom" legislation Tuesday that advocates warn could allow discrimination based on religious objections against any group of people, including the LGBT community.
According to the text of the Mississippi Religious Freedom Restoration Act, the bill seeks to ensure "that state action or an action by any person based on state action shall not burden a person's right to the exercise of religion." Advocates argue the bill's broad language would allow those burdens to include nondiscrimination laws. 
The bill mirrors a controversial measure approved by Arizona lawmakers and vetoed by Arizona Gov. Jan Brewer (R) in February following national attention.
"Even though the Mississippi legislature removed some of the egregious language from Arizona's infamous SB 1062, we are disappointed that it passed this unnecessary law and ignored the national, public outcry against laws of this nature," said Eunice Rho, advocacy and policy counsel with the American Civil Liberties Union, in a statement. "We will continue to fight in state legislatures across the country to ensure that religious freedom remains a shield, not a sword."
In Mississippi, the bill would also add "IN GOD WE TRUST" to the state seal. Gov. Phil Bryant (R) is expected to sign the bill into law, which would take effect July 1.
"While there were many efforts to correct the clearly problematic elements of this legislation, the bill still has the effect of making LGBT people strangers to the law," said Human Rights Campaign State Legislative Director Sarah Warbelow in a statement. "Before Mississippi has had the opportunity to robustly discuss the lived experiences of LGBT people, this bill would hollow out any non-discrimination protections at the local level or possible future state-wide protections."
The religious freedom bill in Mississippi is part of a broader backlash to gains across the nation for marriage equality, specifically in states with nondiscrimination laws that encompass sexual orientation that have seen a growing number of conflicts. Such laws have been rejected in Georgia, Idaho, Maine and Ohio, with bills still pending in Missouri and Oklahoma. Many have been spurred by cases like one in New Mexico, where the state's highest court ruled a wedding photographer violated the state's Human Rights Act by refusing service to a same-sex couple.
According to HRC, possible repercussions of the Mississippi law could be so extensive as to allow those who provide wedding services, such as garment shops, bakeries, photo studios and reception halls, to deny service to same-sex couples and allow pharmacists to refuse to provide HIV or hormone-replacement therapy drugs.
"Just as we've seen in other states, this bill is bad for business, bad for the state's reputation, and most of all, bad for Mississippians," Warbelow said. "Governor Bryant must veto the measure."
Supporters of the bill, who were despondent when Brewer vetoed Arizona's version, declared the bill's passage a victory for the First Amendment. 
"The legislature gave strong approval to a bill that declares that individuals do not have to trade their religious freedom for entrance into public commerce," said Family Research Council President Tony Perkins. "The Founders never envisioned a government forcing Americans to choose between the basic teachings of their faith and losing their livelihood."
[Photo: Mississippi State Capitol. Credit: Chuck Kelly/Wikimedia Commons.]