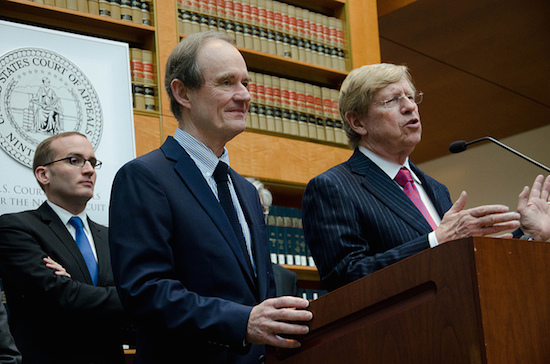 In the spring of 2009, Jo Becker, a reporter for The New York Times, began working on a profile of Ted Olson. Olson had recently become the marriage-equality movement's most unexpected ally after being recruited by Chad Griffin to take on California's same-sex marriage ban, and Becker was writing the first in-depth account of how Olson came to embrace the cause. 
A star attorney who had appeared before the Supreme Court more than 50 times, Olson served in the Reagan administration and as President George W. Bush's solicitor general after successfully arguing Bush v. Gore before the Supreme Court in 2000. His decision to join the legal challenge of Proposition 8 garnered national headlines, and Becker's story — "A Conservative's Road to Same-Sex Marriage Advocacy" — landed on the front page of the Aug. 19, 2009, edition of The New York Times.
It was from that story that Becker set out to write Forcing the Spring: Inside the Fight for Marriage Equality, a new book out today that chronicles the Proposition 8 legal battle with juicy behind-the-scenes tidbits. However, what interesting reporting is present in the book has largely been overshadowed by the criticisms the book has faced by many who have been involved in the marriage-equality movement for decades. Although Becker has said the book was never meant to be a chronicle of the marriage-equality movement from beginning to end, Forcing the Spring is framed as just that. Indeed, as the first chapter starts, set on election night in 2008 when Californians approved Proposition 8, "This is how a revolution begins." Becker then goes on to compare Griffin to Rosa Parks.
As Becker tells it in a note on sources at the end of the 434-page tome chronicling the case Hollingsworth v. Perry that reached the U.S. Supreme Court last year, she couldn't let the story go after publishing the profile on Olson and that this was the book she "could not not write."
"I met Olson in Washington and Chad Griffin in New York to talk about the idea of doing a fly-on-the-wall account of this chapter in the nation's civil rights history," Becker writes. "For more than four years, leading up to and throughout the trial and subsequent legal proceedings, I had complete and unfettered access to the plaintiffs and their team. I wandered freely in and out of rooms where the lawyers prepared witnesses and debated legal strategy. I sat in the war room as Chad and his team pitched reporters on stories, crafted messaging strategies, and mounted a campaign aimed at winning over the country. When the lawyers and the plaintiffs and the AFER war room team arranged conference calls, I was often on the line. [Plaintiffs] Kris and Sandy and Jeff and Paul allowed me into their homes and into their lives. I rode with them to court, sat next to them as they digested every opinion handed down in the case, flew back with them to California after the Supreme Court ruling, and was there, eventually, when Kris and Sandy married."
It's understandable why, in 2009, Becker decided the challenge to California's same-sex marriage ban was perfect fodder for a book. The access she was presented, under the promise that everything be kept confidential until after the legal proceedings concluded, is any reporter's dream come true. And, as she notes in her profile of Olson from nearly five years ago, if what Olson was arguing the case could result in came to pass, it would end up being one of the biggest stories in civil rights history. 
"[I]n a war room down the hall, where Mr. Olson is preparing for what he believes could be the most important case of his career, the binders stuffed with briefs, case law and notes offer a different take on a man many liberals love to hate," Becker wrote in her 2009 profile of Olson. "They are filled with arguments Mr. Olson hopes will lead to a Supreme Court decision with the potential to reshape the legal and social landscape along the lines of cases like Brown v. Board of Education and Roe v. Wade: the legalization of same-sex marriage nationwide."
However, when the Supreme Court handed down its 5-4 decision last June, that is not what came to pass. Instead, in the majority opinion written by Chief Justice John Roberts and joined by Justices Ruth Bader Ginsburg, Antonin Scalia, Stephen Breyer and Elena Kagan — an unusual mix for a court that is often divided along ideological lines — the court found supporters of California's same-sex marriage ban did not have the jurisdiction to defend the law in federal court after the state refused to do so. By declaring that the case did not have standing to be before the high court, the justices never reached the broader arguments argued by the plaintiffs in the case that marriage equality should be legalized nationwide. Days later, same-sex marriages resumed in California for the first time since 2008, but only in California. 
What ultimately became far more significant was the court's sweeping 5-4 ruling in United States v. Windsor, which found Section 3 of the Defense of Marriage Act (DOMA) defining marriage as between a man and a woman for federal purposes unconstitutional. Justice Anthony Kennedy's majority opinion in that case has forever changed the legal landscape in the marriage-equality fight. Since that decision, three state courts and eight federal courts have sided with same-sex-marriage proponents and universally quoted some aspect of the Windsor decision in their rulings.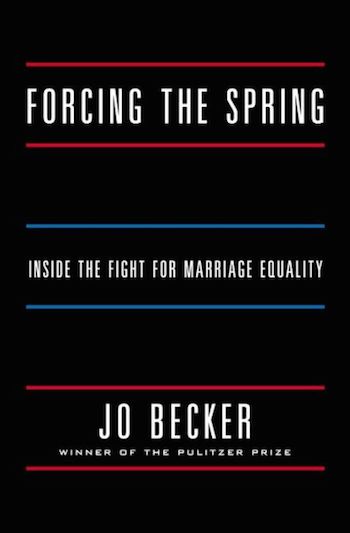 Earlier in the book Becker describes a clash between Olson and Terry Stewart, an attorney for San Francisco, over the scope of the arguments that were to be made before the 9th Circuit Court of Appeals, and states that the "entire point was to bring this case to the Supreme Court so that gays and lesbians nationwide could marry." But now, after framing her narrative as the beginning of a revolution, Becker is left to find victory in the Supreme Court's decision to punt back to a lower court. She attempts to do so by arguing Kennedy "seemed to have grafted whole passages of the arguments that Olson had put forward in the Prop 8 case onto his opinion in the DOMA case."
Becker supports this puzzling claim with three snippets comparing language used by Olson to similar language used in Kennedy's majority opinion. In the process Becker ignores the arguments made by Edie Windsor's attorney, Roberta Kaplan, as well as the numerous other legal challenges DOMA faced and how those challenges were articulated by the likes of critical figures in the marriage-equality movement, such as Mary Bonauto of Gay & Lesbian Advocates & Defenders (GLAD). 
It remains just one of several instances where Becker uses a very broad brush to tie up loose ends in a narrative that ignores much of the history of the marriage-equality movement and, as Andrew Sullivan has opined, reads like a "film script for a Hollywood movie."
Indeed, Mary Bonauto, often referred to as the Thurgood Marshall of the LGBT-rights movement, was at the forefront of the legal fight that led Massachusetts to become the first state in the nation to legalize same-sex marriage in 2004. Yet in Becker's book, she isn't mentioned until page 280, and only briefly. 
Evan Wolfson, the president and founder of Freedom to Marry, wrote the modern-day manifesto for the marriage-equality movement as a 26-year-old Harvard Law student. Submitted in April 1983, Wolfson's 140-page thesis, "Samesex Marriage and Morality: The Human Rights Vision of the Constitution," argued same-sex marriage "is a human aspiration, and a human right" and that the "Constitution and real morality demand its recognition." Wolfson was co-counsel in the 1993 Hawaii Supreme Court case challenging the state's same-sex marriage ban — the first time such a ban was challenged in state court. Yet he is portrayed by Becker as a grumbling old-timer who was a hindrance to a younger generation ambitious to get before the Supreme Court as soon as possible. Wolfson has always argued for a final resolution by the Supreme Court, but only after advocates help create a climate of legislative, electoral and judicial wins that convey to the justices that America is ready for same-sex marriage nationwide.
Also missing from Becker's narrative is Andrew Sullivan. In August 1989, the academic discussion of same-sex marriage hit major newsstands when Sullivan presented the "conservative case for gay marriage" in the pages of The New Republic. In his cover story, "Here Comes the Groom," Sullivan argued against local governments' decisions to create domestic partnerships in the wake of the AIDS epidemic and instead "legalize old-style marriage for gays." Becker mentions Sullivan only briefly in her book by quoting his reaction to President Obama's endorsement of same-sex marriage. She refers to him as a "prominent gay blogger," while ignoring the roll he played in articulating the conservative case for marriage equality long before key characters in her own narrative, such as Olson and Ken Mehlman, joined the cause.
Sullivan, who has also said the book is suffering from "access-journalism," is one of several critics with a foundation in the LGBT-rights movement to pan the book in recent days. BuzzFeed's Chris Geidner, who previously worked at Metro Weekly, has labeled the book a "dangerous draft of history" and Slate's Nathaniel Frank has written an extensive article on the history Becker misses.
What is clear is Becker is one piece of a highly effective media strategy organized by Griffin, who before founding the American Foundation for Equal Rights (AFER) and becoming president of the nation's largest LGBT-rights organizations, the Human Rights Campaign, had his roots in communications. As Becker notes, Griffin worked in the press office of Bill Clinton's White House and, along with his friend Kristina Schake, ran a Los Angeles-based communications firm with high-profile clients such as Brad Pitt and California's first lady, Maria Shriver. (Schake later became first lady Michelle Obama's communications director.) After the Supreme Court handed down their rulings last June, Griffin, cell phone in hand, shoved his way into an MSNBC live shot with the Proposition 8 plaintiffs so the world could hear President Barack Obama congratulate their win on speakerphone. "I do know a little about media," Becker recounts Griffin as saying. 
Along with Becker, who is set to kick off her book tour at HRC's D.C. headquarters this Saturday, documentary filmmakers Ben Cotner and Ryan White were also given behind-the-scenes access to the potentially landmark civil rights case. Their documentary, The Case Against 8, will air on HBO this June. Olson and David Boies, who argued against one another in Bush v. Gore and served as co-counsel in the Proposition 8 case, also have a book scheduled to be released this summer titled Redeeming the Dream: The Case for Marriage Equality. HRC has hired the political consulting firm SKDKnickerbocker to help run the Communications War Room for Americans for Marriage Equality. Hilary Rosen is managing director of SKDKnickerbocker and has a long history with HRC as a board member and donor. Her former partner, Elizabeth Birch, also served as executive director of HRC for nearly a decade. According to Becker, Rosen was the first to float the idea of Griffin becoming HRC's new president following the departure of Joe Solmonese in 2012.
As Noah Feldman wrote in The New Republic, "Modern litigation demands a media strategy. But there is something excessive — not to say bizarre — about the lengths to which famous litigators David Boies and Ted Olson have gone to try and assert ownership over the issue of gay marriage." There is no doubt the Proposition 8 case changed the national dialogue over same-sex marriage, in large part because of the case's connections to powerful Hollywood players and a brilliantly effective public relations campaign. Marriage equality might not be in the nation's most populous state today without Olson, Boies and Griffin.
But make no mistake: Becker's book is a product of that campaign as much as it is about it. It is a fly-on-the-wall account of a case that could have ushered in marriage equality nationwide, but did not. In attempting to assign credit for a revolution that began long before 2008, what Becker's account ignores and gets wrong undermines and taints whatever credit is rightfully due.
The story of the marriage-equality movement is far from over. There are around 60 state and federal lawsuits challenging same-sex marriage bans similar to the one filed in the Proposition 8 case pending in all but four states, with the latest filed by Lambda Legal in Georgia today. One of those cases is likely destined for the Supreme Court.
Olson, Boies and AFER have joined a lawsuit in Virginia challenging that state's same-sex marriage ban. The legal team, who successfully got ahead of another challenge in Virginia filed by the ACLU and Lambda Legal by joining a previously filed case, were not successful in preventing the two groups from joining their appeal, which will be argued before the 4th Circuit Court of Appeals next month. Olson and Boies have also attempted to join cases in Utah and Oklahoma, but received the same kind of welcome by which they greeted the ACLU and Lambda Legal. They continue to want to be the lawyers who stand before the Supreme Court and argue the critical case that changes history.
But when the long-sought final resolution on same-sex marriage by the Supreme Court is granted, the case that ushers in marriage equality in all 50 states will be, much like the Proposition 8 case before it, only a chapter in the long history of a movement conceived decades ago that stands on the shoulders of many.
[Photo: Chad Griffin (far right), David Boies, Ted Olson. Credit: Steve Rhodes/flickr.]