Accepted and Excelling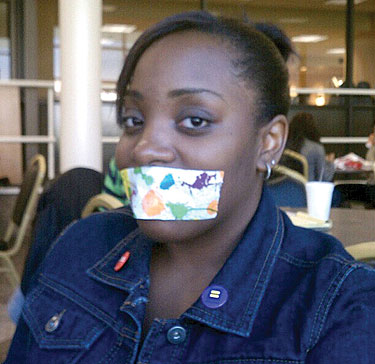 Simone
In April 2012, Maryland's Bowie State University made history. Two years ago, it became the first of the "Historically Black Colleges and Universities" (HBCU) to establish a permanent resource center specifically for "lesbian, gay, bisexual, transgender, queer and intersex" students.
Not long after, Simone Mathis made her own history by starting college – at Bowie State, of course – where she discovered not the resource center, necessarily, but the school's Gay-Straight Alliance (GSA).
"One of my friends from high school had already been a member of the GSA," Mathis, a Beltsville native, recalls of her first year in college. "He took me one day and I loved it. My next semester, I became the treasurer. The semester after that, I ran for president."
Today, a 20-year-old sophomore majoring in English, Mathis continues as president of the GSA on a campus she characterizes as neither hostile nor overtly welcoming. Rather, everything is just comfortably matter-of-fact.
"It's not like we're secluded," Mathis says of her GSA's role on campus, with about 30 to 35 members. "We're involved in some of the on-campus activities. It's just like being any other student. Every year we mark the Day of Silence. We do LGBT History Month every October with certain events. Every now and then we'll throw in a random one. We do try to stay active."
The low-key yet involved nature of the Bowie State GSA fits Mathis perfectly, in that her own life has run largely along the same lines. Coming out might have thrown a couple bumps in the road, but they were tiny and easy to navigate.
"Coming out, I lost a significant amount of friends," she says, remembering being 15 years old at Bowie High School. "Other than that, the people who were really my friends stood by me. 'It's okay. We love you for who you are. That's fine.' Coming out to my parents was a little more difficult. I didn't actually come out; they just found out. That was a little difficult. But my family and friends love me for who I am. It really wasn't that hard."
Not only did she find family acceptance, she found it in abundance.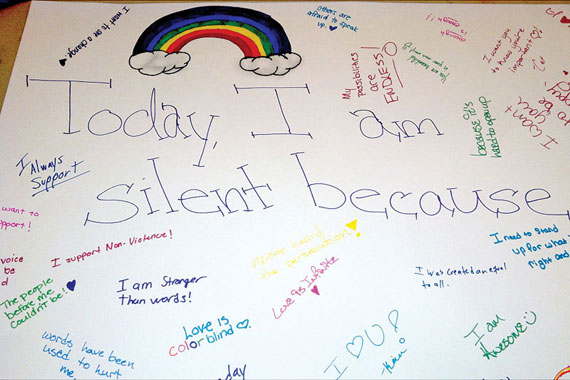 "I live at home with my mom. She loves me. She loves my girlfriend – my girlfriend lives here now, too," Mathis shares. "My mom likes to take in everybody, so all my sisters still live here, and my aunt and grandmother live with us. We're big family people."
As for that girlfriend, a student at Baltimore's Stevenson University, it's a relationship that illustrates another corner of Mathis's life where being a lesbian has just not caused much of a ripple.
"We grew up together, went to church together," says Mathis, referring to Beltsville's Queen's Chapel United Methodist Church. "She used to be the youth pastor for our church. We're still pretty active. Our church is full of family members."
So, welcoming campus, welcoming family, welcoming church? "Yep. That's very lucky," she confirms with a playful laugh.
Despite the apparent ease that colors Mathis's life, she still sees room for improvement, and it comes down to a practical dollars-and-cents sensibility.
"Definitely more scholarships," Mathis answers immediately when asked what the older end of the LGBT community might be able to offer its younger counterparts. "I cannot stress that enough. As a struggling college student, definitely more scholarships. Every other race, ethnicity, group has a scholarship for something. I don't think we have that many. We definitely need more scholarships."
If things go as planned, one day it might even be Mathis' students applying for such scholarships, as she has her sights set on being a high school English teacher. Sponsoring a GSA for her students, wherever she might land, is also on her radar, as are kids of her own. Whatever her future holds, exactly, it's a fairly safe bet that Mathis will bring to the world the kind of acceptance and community that the world has already shown her.