Compared with the relatively tepid New York Auto Show, China got all the goodies. Concepts, teases, launches — the Beijing Auto Show had it all, with acres of shining sheetmetal waiting to lure in journalists from around the globe. Compared with a focus on production-ready models in the Big Apple, China's capital was very much looking to the future, with a wealth of vehicles offering glimpses into design languages and potential models that should reach our streets in the coming years. Reflecting China's increasingly Westernized auto market, there was a lot of love for SUVs and crossovers from European and American manufacturers — though that didn't stop BMW from stealing the show with a jaw-dropping look at its next-gen 7-Series luxury sedan.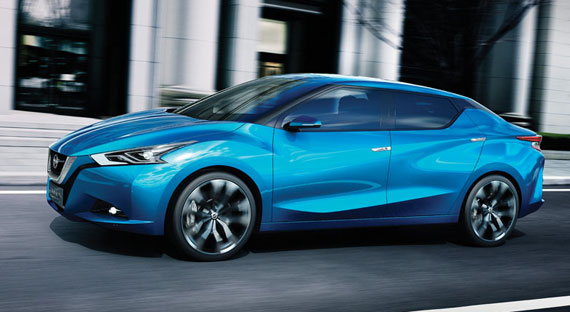 Nissan Lannia Concept
Nissan arguably takes the crown for "most crowd-baiting auto." With the Lannia Concept, it debuted a car designed in China, built in China and designed specifically to appeal to young Chinese buyers. Talk about pandering to your audience….
Of course, the Lannia is actually testament to how far Chinese auto design has come in recent years. What was once a country full of knock-off examples of American and European cars is now one flush with original and attractive designs. The Lannia is hard to pigeonhole, with a shape that's reminiscent of a sedan but a rear that seems to disagree, with a little sedan, a little hatch and a more than a little fastback. With a handsome front and bold, sharp lines, a slightly awkward rear three-quarter section is the concept's only weakness. There's no info on potential powerplants or transmissions, but Nissan promises that, though the Lannia Concept is intended for China, whatever production model it spawns will also find home in international markets.
Wherever and whenever the self-described "sedan theory-breaker" ends up on sale, it's a bold statement for the Japanese manufacturer to have so much (rightly placed) confidence in its Chinese design studios.
Jeep Renegade Zi You Xia
Jeep's baby SUV, the Renegade, is an intriguing little vehicle in its own right. Based on Fiat's 500L, it offers full Jeep off-road capabilities in a diminutive package, aimed at urban dwellers and young buyers who want Jeep's heritage and ability in something small and affordable. Jeep is keen to push the baby SUVs luxury potential, however, hence the debut of its Zi You Xia concept in Beijing. Translated as "rebel," the Zi You Xia offers some premium options over the standard Renegade.
Finished in Warm Chocolate Grey with contrasting Dark Anodized Bronze, the concept runs on unique, 20-inch Dark Anodized Bronze alloys and features special accent colors on the roof, grille and mirror caps — finished in Dark Charcoal. Inside, there's a mixture of high-quality materials, with a piano-black dash, grey A-pillars and headliner, and accent colors throughout the cabin finished in Anodized Copper. Brown leather covers the seats and doors, with "ombre" fabric inserts that are apparently inspired by menswear suiting and tailorwear patterns.
While we're still not sold on the Renegade's styling, it's an undeniably premium looking vehicle in Zi You Xia form. Jeep hasn't said whether a version of the concept will be offered to buyers, but it makes for an interesting design study nonetheless.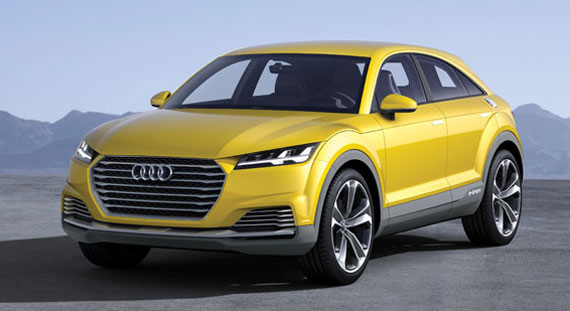 Audi TT Offroad Concept
What happens if you take a sports coupe, add two more doors and lift it up a little? If you're Audi, it produces the TT Offroad Concept, a crossover-focused variant of its excellent TT coupe. To quote Audi, "It combines the sporty genes of the TT with the strengths of a compact Audi SUV."
It's an undeniably attractive car, though TT purists will likely hate the attempt to spin the name into its own family of products. We'd also question the need for the concept given the Q1 and Q3, which already barely qualify as crossovers, given their low-slung nature. Under the hood, though, is where the Offroad Concept may start to make sense. Powered by a 292-horsepower turbo'd 2-liter, 4-cylinder engine, one might think that would be sufficient to guarantee sprightly performance. Audi didn't, thankfully, and has also bolted on two electric motors, a 40kW unit at the front and an 85kW motor at the rear, to give the TT Offroad a combined 408-horsepower and almost 480 lb-ft of torque. That's much more like it. Zero to 62 is handled in 5.2 seconds, while the all-wheel drive concept hits a limited 155 mph at the top end. Gas mileage? An estimated — and quite astounding — 123 mpg equivalent.
Yes, it may dilute the TT brand name, but if Audi was ever to bring the TT Offroad to production it would likely find a wealth of buyers eager for crossover space mixed with sports car performance and muscular-coupe looks.
Lexus NX
Is Lexus's new NX attractive? With a bold, aggressive grille and sharp creases over its body, it'll undeniably draw attention, but one wonders how much of that attention will be positive. Lexus's polarizing family face, with its trapezoidal grille, is used to full effect on the NX — but here it seems to exemplify its flaws. It's almost too bold.
Still, let's get stuck into the nitty-gritty of the Japanese automaker's new crossover. Power will come from either a turbocharged, 2.0-liter, 4-cylinder, dubbed the NX 200t; a naturally aspirated 4-cylinder model, the base NX 200; or a hybrid system combining a 2.5-liter, 4-cylinder gas engine paired with an electric motor, which will be named the NX300h. Inside, it'll be Lexus as usual, with a mix of metallic surfaces and soft-touch plastics and leathers. A suite of technology, including a heads-up display, dynamic radar cruise control, Human Machine Interface (yeah, we know) — which utilizes a touch pad to connect driver and car, which is a nice way of saying it controls the infotainment system — and, emphasizing Lexus's sporting pretensions, a G sensor and boost sensor, the first in any Lexus.
If you're a fan of the NX's looks, expect it to reach American shores at the end of this year.
BMW Vision Future Luxury Concept
Oh, BMW, how you've redeemed yourself. After the awkward and confusingly niche X4 crossover debuted in New York, we were beginning to lose faith in the brand. Profit seemed to be outweighing design sense. Then, those Bavarian wunderkinds unveiled their Vision Future Luxury Concept in Beijing and reminded us why the company is so successful in the first place.
Awkwardly long name aside, what you're looking at here is a strong hint at the next-generation 7-Series luxury sedan. If the final production model looks like these, we're going to start auctioning off our loved ones. The exterior of the Vision Future is a sight to behold, taking strong styling cues from BMW's Pininfarina-designed Gran Lusso Coupe, with strong edges, an enlarged double-kidney grille and swathes of highly polished metal. Thanks to the use of carbon in its construction, including the seat frames — which are incorporated directly into the load-bearing structure — there's an incredibly slim B-pillar. That was necessary, as the Vision Future features wide-opening coach doors, to allow elegant ingress and egress.
Inside, it's a tech-lover's dream, with three displays offering a wealth of information across the wraparound cockpit. Voice control is onboard, as is a head-up display, which can detect and highlight buildings, traffic signs and hazards in the driver's line of sight. There's even a separate display for front passengers, which can access the vehicle's infotainment systems, letting passengers control media and settings without disturbing or distracting the driver. Passengers in the rear have access to detachable tablets, which use the car's modem to enable Internet streaming of music and video. Those in the rear seats can also enjoy personal "comfort zones," with retractable tables and a large console separating the two rear seats from one another.
Under the hood? BMW isn't saying, but the concept wears the brand's eDrive badge, which suggests it's likely powered by a hybrid engine. If it can deliver the performance of Mercedes-Benz's V12 S-Class luxury sedan with the economy of a smaller engine, the Vision Future's successor — likely to be named the 7-Series — could be a world-beater in the luxury market.