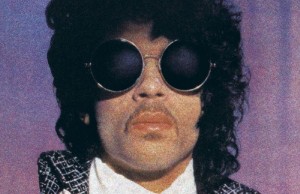 Thirty years ago this month, in May 1984, Prince was readying the release of the first single from his upcoming album and film, Purple Rain. Called "When Doves Cry," it hit stores on May 16, 1984, and quickly shot to #1. It was just the beginning; Purple Rain, both album and film, dominated the summer of 1984. Suddenly Prince was enjoying a rarified level of superstardom that few artists could equal. Purple Rain spent an astonishing 24 uninterrupted weeks at number one on the Billboard Top 200 album chart, knocking Bruce Springsteen's Born in the U.S.A. out of the top spot ("When Doves Cry" would also keep the biggest single of Springsteen's career, "Dancing in the Dark," out of #1, causing it to peak at #2, something that Springsteen wryly mentions in the liner notes of his Greatest Hits collection). From August 4, 1984 to January 12, 1985, Purple Rain reigned at the top before being knocked out by… Bruce Springsteen's Born in the U.S.A., as it returned to #1 on January 19, 1985. What goes around, comes around.
Purple Rain may be Prince's biggest commercial smash, but it only scratches the surface of his truly astounding body of work. He's released albums as a solo artist, with The Revolution and the New Power Generation. He's released albums under other names, as well: an unpronounceable symbol, the NPG Orchestra, and two instrumental albums under the name Madhouse, a mythical band that was really Prince with help by a couple of his regular collaborators. And of course he's worked extensively with protégé artists — he wrote, produced, and played nearly all of the instruments for albums by The Time, Vanity 6, Apollonia 6, Sheila E., Jill Jones, The Family (which includes his original composition "Nothing Compares 2 U," a future chart-topper for Sinead O'Connor), Mayte Garcia, Chaka Khan, Mavis Staples, and others. He's also farmed out a number of songs for other artists to record, (like The Bangles' "Manic Monday" and Sheena Easton's "Sugar Walls"), and countless artists have covered his compositions.
Nobody, even his detractors, can argue that Prince isn't gifted almost beyond comprehension. He's a virtuoso musician, particularly on guitar and piano, but is a more than capable drummer and bassist as well. He's written dozens of classic singles and on his own albums he routinely plays every instrument, sings every vocal part, writes and produces everything himself — and he's also an electrifying live performer. His recorded legacy is staggering and he's still going strong and adding to it. In 2013 he released a series of singles and individual tracks via his website and iTunes, and the stunning news recently broke that he has ended his long-simmering feud with Warner Bros. records over the ownership of his recording masters, and agreed to a reissue campaign which promises a 30th anniversary edition of Purple Rain this summer, and a new studio album. A single called "The Breakdown," a powerful ballad that shows Prince's voice is still in prime form, has already been released under the new Warner Bros. deal.
It should be a huge year for Prince, so it seems a good idea to pause and reflect upon his massive back catalog. For new fans, knowing where to start with Prince, and knowing which albums are essential and which can be safely avoided, can be daunting considering the sheer volume of material he has accumulated. Thus, to prepare for the upcoming re-release of Purple Rain, and hopefully his other classics, here is an attempt to rank his entire back catalog, from worst to first.
When it comes to Prince, nearly everything is complicated — even deciding which albums should be defined as "Prince" albums and therefore included in this list. Live albums (like One Nite Alone… Live!, Indigo Nights and C-Note) are omitted, as are compilations (such as the multiple hits collections, the Crystal Ball rarities collection and the B-sides disc that was part of The Hits/The B-sides 3-CD collection released by Warner Bros. in the early '90s). Side projects and protégé bands, even if Prince wrote, produced, and played nearly all of the instruments but doesn't sing the majority of lead vocals are omitted, but the two Madhouse releases are included as they are instrumental albums that are performed almost entirely by Prince and don't have lead vocals by someone else that would identify the album with another artist (such as Vanity 6, Apollonia 6, Jill Jones, the early albums by The Time, the NPG's Gold Nigga and Exodus, and others).  
Obviously a list like this is mostly a subjective exercise, and fans are encouraged to post their own rankings and list their personal favorites in the comments section below. Prince has been releasing a constant stream of usually high caliber music since he was a teenager in the late '70s. Now 55, he shows no signs of slowing down, and hopefully that will be the case for many years to come. Prince has no equal — as he's said, his only competition is himself.
Of course, even though Prince is a genius, he's had his share of missteps. When you've recorded nearly 40 studio albums, not everything is going to be a "When Doves Cry" or "Kiss." With all that said, below is an exploration of his extensive catalog: a rundown of his albums from "worst to first":
38. Kamasutra (1998)
Credited to The NPG Orchestra, Kamasutra is an all-instrumental album played mostly by Prince but with contributions by frequent collaborator Eric Leeds on saxophone, plus a horn section and some orchestral parts. The album was recorded in 1995 to be played at Prince's wedding to Mayte Garcia, but wasn't released until 1998 when it was added on as a bonus disc for fans who pre-ordered the Crystal Ball rarities compilation… how thrilled they must have been. One of the tracks is called "Serotonin," but surely "Melatonin" is more appropriate — it's gotta be a typo by an NPG staffer who was no doubt lulled into somnolence by the source material. Perhaps Prince should be credited for experimenting, but unfortunately Kamasutra is evidence that as gifted a musician and composer as Prince undoubtedly is, there are certain areas that are outside his wheelhouse. Those who enjoy tepid new age music might be advised to track down Kamasutra, but otherwise it's not worth the time or effort… although, to be fair, "The Ever Changing Light" is quite lovely. 
37. Xpectation: New Directions in Music (2003)
Only available as a download for members of Prince's NPG Music Club, Xpectation is a flaccid collection of the type of lite-jazz instrumentals you might expect to hear while patiently waiting to be called back for a tooth extraction. There's no soul, heart or real feeling to any of it. Arguably the best track, "Xenophobia," appeared on Prince's 2002 box set One Night Alone… Live!, and ended up being left off the album, but it wouldn't have really helped much. Xpectation is for completists only — unless, of course, you're an insomniac desperately searching for new treatment options that might send you off into sweet oblivion. Sometimes Prince's experiments work, sometimes they don't — but at least he has the guts to try new things.