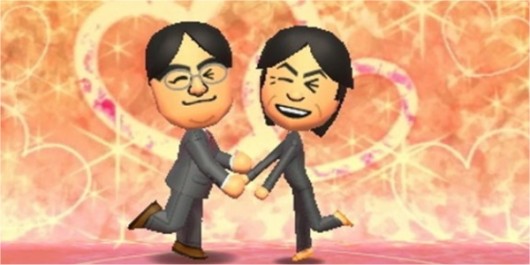 Nintendo has a marriage problem. No, Princess Peach hasn't refuted Mario's repeated advances and eloped with Luigi, and it's not the Japanese gamer who "married" a character from a DS game in 2009. Instead, Nintendo is mired in controversy over something never intended to be taken seriously by anyone, but which has found itself under intense scrutiny in a nation at war with itself over the issue of gay marriage. Tomodachi Life, a Sims/Animal Crossing hybrid, unsuspectingly waded into the gay marriage debate due to criticism over its handling of same-sex relationships. Or, specifically, lack thereof.
But first, what exactly is Tomodachi Life? Nintendo bills it as a social life simulator, heavily injected with doses of Japanese humor — if you've ever watched a game show from the land of the rising sun, you'll feel right at home with some of Tomodachi's more off-beat parts. Released last year in Nintendo's home country, it gives players an island world filled with Miis — Nintendo's virtual avatar characters — and then leaves them to shape said world as they please. Friends, relatives, work colleagues, all can be added to the game via a Mii, with the player free to interact with any and all of them as they choose. The main "goal," of sorts, is to go about daily life, dressing your Mii, sending them off to work, buying a new table for the living room, and so on. Miis will have certain requests — perhaps they want to try a new food or would like some new furniture, or maybe they just want your advice on something — but they can also interact beyond the usual Sim-like micromanaging. You could be asked to play a game, or test your knowledge, or even enter into a Mii's dream and see their hopes and desires, or even participate in a superhero fantasy. Should you wish to, you can settle down with another Mii, marrying and raising children with them. It's all a very lighthearted, tongue-in-cheek affair designed to offer a humorous parody of reality.
Of course, such parody hasn't left it shielded from scrutiny. While it's possible to form relationships and raise children, it can only occur between opposite-gender Miis. There's no option for same-sex couples whatsoever. Of course, many users found ways around Nintendo's system — users could dress a character up as male or female and then assign them an opposing gender, letting two men or two women marry and raise children. It is, however, an awkward workaround to a problem many were surprised to see existed in the first place. Further fears over Nintendo's stance on same-sex relationships emerged during an update to the title late last year, which caused confused — and incorrect — news stories to appear stating that Nintendo was updating the title to prevent the same-sex workaround users had been exploiting. A patch was issued to correct "strange relationships," which was pounced upon by some journalists as Nintendo patching out same-sex relationships altogether. It transpired that the real purpose of the update was lost in translation: The patch fixed a data transfer bug between Tomodachi and its predecessor that caused imported Miis to corrupt game saves. Users were still free to use the gender workaround to simulate same-sex relationships.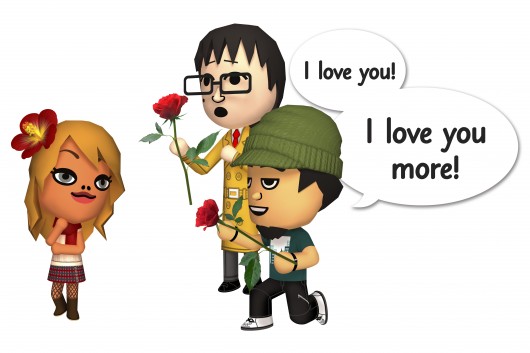 However, it didn't stop many, particularly in the West where the game will launch June 6, from starting the #Miiquality campaign aimed at forcing Nintendo to acknowledge its error and fix the game to include proper same-sex relationships. Nintendo's response was far from a perfect example of PR. "Nintendo never intended to make any form of social commentary with the launch of Tomodachi Life," it said in a statement. "The relationship options in the game represent a playful alternate world rather than a real-life simulation." It continued, adding, "We were absolutely not trying to provide social commentary." That response understandably left many feeling shunned by the gaming giant. Why did Nintendo's "playful alternate world" not include same-sex characters, and was it indicative of the company's attitudes as a whole?
As the blog posts and news stories accumulated and #Miiquality started trending on Twitter, Nintendo was forced to come back to the PR drawing board and offer a revised statement. The company told fans that, should a new title in the Tomodachi series be developed, Nintendo would "strive to design a game-play experience from the ground up that is more inclusive, and better represents all players." As for the calls to update Tomodachi Life to include same-sex relationships? Nintendo crushed any such hopes, though only because of technical limitations: "Unfortunately, it is not possible for us to change this game's design, and such a significant development change can't be accomplished with a post-ship patch."
For the people in charge of the #Miiquality campaign, the battle was won. "#Miiquality has succeeded in its primary goal," they posted to the campaign's Tumblr page. "To bring the issue to Nintendo's attention in hopes that future iterations of Tomodachi Life will support same-sex relationships." For those looking to buy the Western release of Tomodachi Life, there will be no significant changes over the Japanese release, save for language and some regionalization tweaks — same-sex relationships are still not officially supported. For Nintendo, the lesson would seem to be clear: it's now imperative that any Western release of a life-simulation game, no matter how "whimsical," must accurately reflect the needs of its users. Indeed, the embattled Nintendo, with profits slumping and its Wii U console dying a painful death at retail, would be wise to avoid offending users in future through lack of inclusion.
"We're not really saying anything about anything; we're just constantly trying to create fun and entertaining experiences," Nintendo's marketing manager Bill Trinen told IGN. As it transpires, in the case of Tomodachi Life, saying nothing about same-sex relationships can speak volumes.