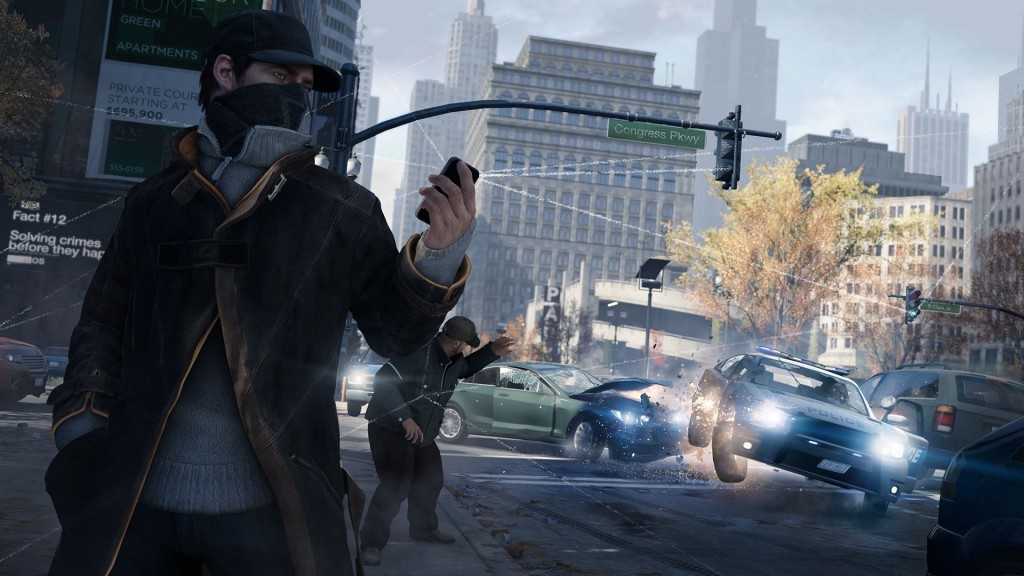 Watch Dogs tries hard to make you want to play something else. Its opening hours are a mixture of confusion, frustration, disappointment and the desire to jump back into Grand Theft Auto V. However, persevere with it – and, most importantly, severely temper your expectations of it – and what you'll find is a solid, enjoyable open-world game that's definitely worth your time. Think of it as store brand cereal: looks like the real thing, the taste isn't quite right, but it'll still satisfy your hunger.
The main problem with Watch Dogs is how toned down the end product is compared with the original demo Ubisoft wowed us with two years ago. Watch Dogs puts the player in the shoes of Aiden Pearce, a hacker able to control the city of Chicago thanks to its ctOS system – essentially, everything in the city is connected to the internet, from cameras to ATMs, traffic lights to bridges, letting skilled hackers manipulate the world at whim. Ubisoft's demo showcased a multitude of hacking opportunities, including profiling citizens as you walk past them, learning their history, determining their criminal potential and – should you sense that someone is about to commit a crime (or be a victim of crime), use your smartphone-enabled superpowers to intervene. It looked beautiful, offered a fresh gameplay idea and seemed to be the definitive "next gen" experience.
Time, sadly, changes everything. Hints that the game, which Ubisoft themselves claimed would be the first title worthy of the new generation of consoles, would not live up to expectations should have been apparent when it was announced that it would run on PS3 and Xbox 360. Can a game be truly next gen if it's got to work on 8-year old hardware? Then, last year, Ubisoft delayed launch by six months to polish the game and get it to a standard they were happy with. Alarm bells were ringing.
At Watch Dogs' outset, all fears seem to be assuaged. After the opening cutscene, which establishes our protagonist, Aiden, the first playable scene tasks Aiden with escaping from a crowded sports arena while a game is in progress. Everything looks great, the lighting engine is throwing shade (in a good way) and the AI seems to be working as expected. The initial bout of hacking – throwing the stadium into complete blackout to avoid detection – teases the powers you'll have once the game world opens up. Then, you leave the stadium and everything starts to fall apart.
Driving, for example, is something of a shock. Cars are bland mash-ups of real world cars, devoid of any personality. Everything feels heavy, arcade-oriented and improperly balanced. Evading the police can be a tiresome exercise as you smash into walls and other vehicles. Then, even worse, it quickly becomes apparent that the game's hacking has been reduced to mashing one button – square (or X, if you play on Xbox). Tap square to hack traffic lights, causing citizens to drive into each other, blocking the police. Tap square to raise bollards in front of squad cars, disabling them. Tap square to burst steam pipes, throwing cars off the road. Tap square, repeat ad nauseum. Have a police helicopter chasing you? Look at it, tap square to disable it and then hide in an alleyway until everything calms down. You can't be arrested: you just have to keep going until you evade, or die from repeated ramming by squad cars.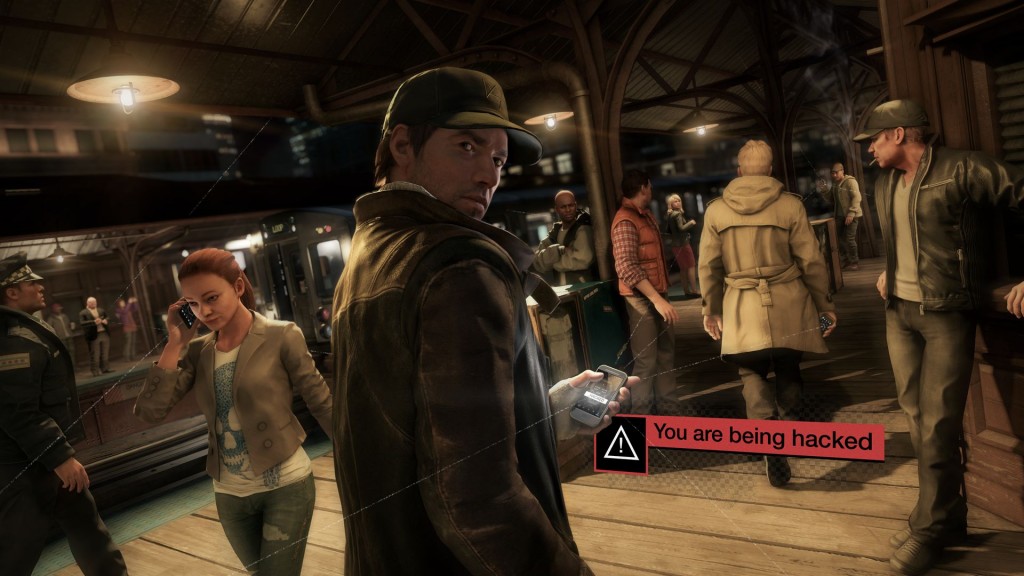 Things are slightly better on foot. Missions are often the standard open-world fare of "drive to X, do Y, drive to Z." Everything works, control-wise, which is good. There's a basic cover system, activated by pressing cross (A for Xbox users) with Aiden able to shoot around and over objects. "Focus" is here to ape the slow-mo shooting of so many other games, allowing for easy headshots on foes. There are a good variety of guns, too, with pistols, rifles, shotguns and grenade launchers, all nicely balanced and varied in their operation. A curious satisfaction will come from the game's sound, with explosions and gunfire filling areas, and headshots accomplished with a gruesomely gratifying "splat." There's even a skill tree that lets users unlock special abilities to further hack their world or improve their driving and shooting skills.
What Watch Dogs would prefer you do when tasked with infiltrating somewhere is use its much vaunted hacking system to work your way through areas, stealthily taking down guards and maneuvering around them with minimum fuss. Hack into a camera and from there, work your way through any adjacent cameras to survey your intended path. Spot a guard? Perhaps he can be distracted by phoning him, or maybe there's something on the wall that can be exploded, taking him out. Maybe he's unwittingly standing beneath a crane, below which a container is suspended. You can see where it's ending: guard pancake, and Aiden making an easy, if loud, path to the next area.
Of course, there's nothing stopping you from going in guns blazing, or picking off the guards one-by-one with the excellent silenced weapons and stealth takedowns. What's more, it's often less cumbersome and much quicker to ignore hacking and simply blunder through, either shooting or silencing guards as you see fit, which kind of nullifies the whole point of hacking stuff in the first place. If it takes longer, why bother?
Furthermore, for a game that was delayed for additional polishing time, it's littered with bugs and frustrations. Flip a car, or land in water, and Aiden will simply pop out of it – no exit animation, he just appears next to it. You can't walk between certain objects, even if the gap is big enough. There's no way to jump, so you rely on Ubisoft's one-button (circle or B) for climbing objects – and detection can be hit-or-miss on occasion. Rarely, the game will lock you out of hacking objects and start crashing cars into each other, which can only be fixed by reloading the game. Players can fall through the world or get stuck behind objects. To evade the police, simply head into water – they aren't programmed to follow, even with a helicopter. Drive in front of one of the game's subway trains and it'll instantly grind to a halt – walk in front and you'll be run over. There's no animation for shooting water. What's more, for a game with such beautiful rain animation (seriously, Chicago looks great at night, in a storm), there's no splash when you drive through the deep puddles that form at the sides of roads. None of these will inherently stop you from playing the game, though it's also far from an exhaustive list. However, there are plenty of details and additions Watch Dogs ignores that, even on 8-year old hardware, Grand Theft Auto V includes.
So far, Watch Dogs would seem to be a bit of a dud. But let me say this: it's a hell of a lot of fun to play. Confused? Let me explain. For what it was billed as – a game where you control the city through your smartphone, a gorgeous, dynamic, flowing city with a deep hacking system – it simply fails to meet expectations. As a fun, open world game, with an interesting hook and a great location to have a ton of exciting gameplay in, it succeeds on so many levels.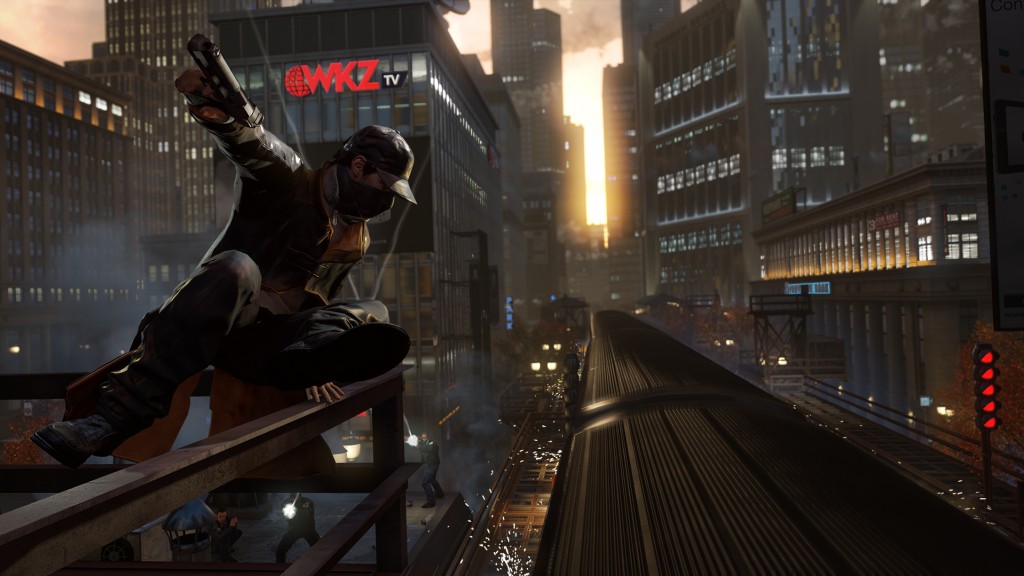 Once you get over the limited nature of the hacking, the game shows its strengths in other ways. The randomly generated citizen profiles add a wonderful layer to gameplay: as you walk or drive around, use your phone to hover over someone to bring up their name, age, income and some random, often hilarious facts about them. I profiled someone who was revealed to be sexually attracted to musical instruments. Conversely, I hacked someone's phone and stole $3,000 from them, only to learn they had recently been diagnosed with cancer. Cue guilt. Littered throughout Chicago's world are intrusion events, which task players with hacking into an apartment or office and spying on someone through a laptop or security camera, usually with the intention of syphoning money from a smartphone or tablet left in view.
The mini game used to access them appears in other parts of the game, a simple pipe-flow style system where you direct your digital stream towards an end goal, turning junction boxes to solve the puzzle – it's nice, and varied enough that it never becomes tiresome. Once you've intruded, you're treated to a scripted scenario – and they run the whole gamut of emotions. I watched a couple high on methamphetamine play Russian roulette with a gun. I ogled a man as he masturbated at his computer, before a crying baby pulled him from whatever he was watching (as an added touch, he can be heard, after picking up his child, saying, "I should have washed my hands"). Conversely, I intruded into a woman's apartment to hear her shouting at herself in another room. What followed was a gagging sound and scrambling, followed by deathly silence. The woman's fate isn't revealed, but the presumed suicide attempt shocked me, given the otherwise humorous or banal events I'd witnessed in other buildings up to that point.
The game's headline feature, intervening in crimes by profiling people, isn't quite as smooth. Instead of discovering criminals as you roam around, ctOS will alert you to a possible crime location. Once you get there, you whip out your phone and search for the criminal or victim and wait for the crime to take place. Here, it will always end the same way: you stop the crime in progress, the criminal runs away, you take them down. Every time. Profile, wait, intervene, give chase. There's no penalty for not intervening in crimes, so they're easy to ignore.
They also reveal a major character flaw in protagonist Aiden. Spot someone stealing a purse? Give chase and take them out. And then watch as Aiden pockets the money. Wait… so why is he any different to the person he took down? It doesn't help that his whole look and personality seems to be Generic Gravelly-Voiced Caucasian Protagonist #1345. Yup, he's as unoriginal as they come. The main plot sees Aiden seeking revenge for the death of his niece, killed by accident in a car crash that was supposed to teach Aiden a lesson for a hacking job gone wrong. Cue the next ten hours of Aiden reminding everyone and anyone that he is doing everything to avenge the death of his niece. That's right, he steals thousands of dollars, kills hundreds of guards and gang members and crooked cops, causes untold damage to the city of Chicago, hacks and steals from innocent civilians and is generally a complete asshole all because his niece was killed for something he did. He is completely unlikeable, and his pious attitude in the later stages of the game, where he's billed as a Batman-style vigilante who wants to help Chicago, comes off as utterly false given he does everything to satisfy his own guilt over his niece's death. It's not helped by a supporting cast featuring far more likeable characters, with stronger character design and better voice acting. The story itself is otherwise quite enjoyable to play through, but you'll constantly wish someone would point out the glaring hypocrisy Aiden constantly spouts.
Yet once again, Watch Dogs redeems itself, because it's possible to completely ignore Aiden's idiocy and focus instead on the main reason you'll want to grab a copy of the game: multiplayer and side-missions. Ignore the free roam mode, where you and up to seven friends can drive around Chicago together. You can't kill each other and there's no missions. It's incredibly dull. Instead, focus on the incredibly exciting player-versus-player content. The standout is online hacking: a hacker can enter the game world of another player without them knowing, with no visible interruption in play to the person being hacked, and proceed to download information from them. Once the download is started, the target is alerted, and they are then tasked with finding the hacker before the download of information is complete. For the person intruding into the game, they're restricted to a certain area, and their player model is masked to look like a random AI character. They also cannot kill the person they are hacking. Instead, they must hide and wait, blending into the game world. For the person trying to find them, it's a race against time to profile every person you can see within the given area. If you successfully find the hacker, you're tasked with taking them out – though it's possible for the hacker to evade. For the hacker to win, they must avoid detection until the download is finished. It's utterly glorious. I can't count the number of times I sat, heart-pounding as the person I was hacking walked straight past me and failed to profile me. Similarly, I've never felt as desperate as I have when running around, frantically trying to find the person who has so rudely entered my game world.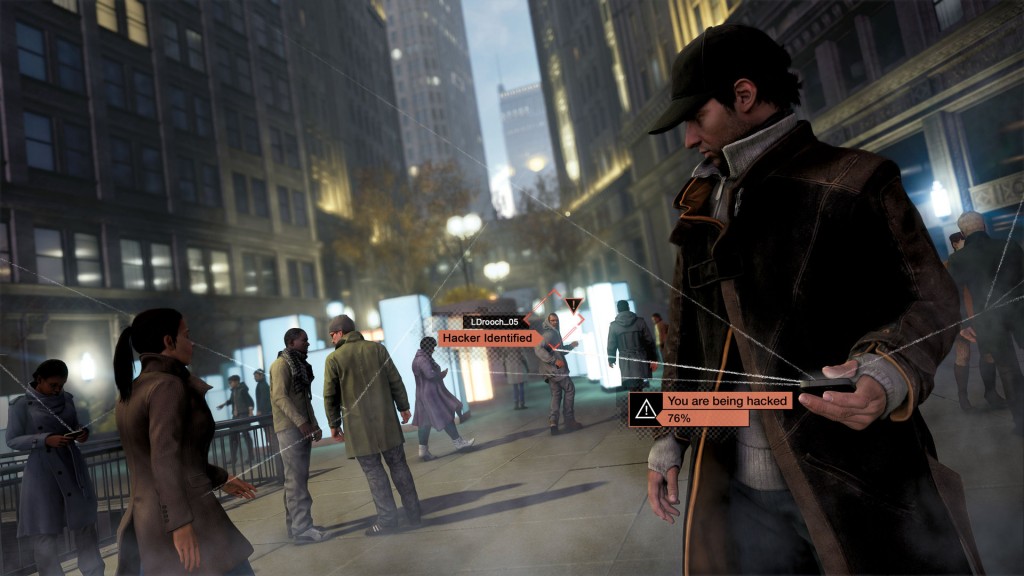 There are other modes, too: races, a capture the flag mode that tasks multiple players with downloading the same information, a special mode that sees a player try to outrun cops and helicopters generated by users on the Watch Dogs tablet app, and a tailing mode, which requires players to enter a gamer's world and simply watch, from afar, remaining undetected. It doesn't alert the player that you have entered the world, but it also doesn't restrict them to an area. If you join someone as they're driving down the freeway, you'd better grab a car and give chase.
Add in a wealth of offline content, including side missions involving collecting items, profiling a serial killer (which includes finding and identifying the victims), boosting cars and evading the police and finding QR codes left all over the city and you've got a game that offers dozens of hours of enjoyable gameplay.
Really, this is where Watch Dogs finds its feet. As you play, you forget all of its foibles. You get used to the handling of the cars. You learn to temper your expectations for the hacking. You adjust to the graphics, which, though occasionally beautiful, more often than not look more like a shinier Grand Theft Auto V than a true next gen game like Infamous: Second Son. Once you've gotten past that, the world of Chicago is a great place to spend some time.
Yes, Aiden is a pompous, hypocritical ass. Yes, there are numerous bugs and certain parts of the game feel like they could use another six months of polish. Yes, it doesn't quite live up to expectations. However, the core is solid. Gunfights work well, the game is packed with numerous details, there's a wealth of content to explore and the multiplayer mode is addictive and joyously seamless. It's far from perfect. One can imagine the inevitable Watch Dogs 2 will deliver more of what the original demo promised, and there will be some who are too disappointed with the pared-down hacking and lack of refinement to work through the game. Once you get over the initial disappointment and delve into Watch Dogs' world, however, it's a game definitely worth your time to play.
Though I'm certainly more than a little annoyed that Ubisoft promised so much and failed to deliver, I can't knock a game that gets so much of the details right – even if it's not what was originally intended. Just don't disappoint us the second time around, Ubisoft. We'll be much less forgiving.
Watch Dogs is $59.99 and is currently available on PS4, Xbox One, PS3, Xbox360 and PC.