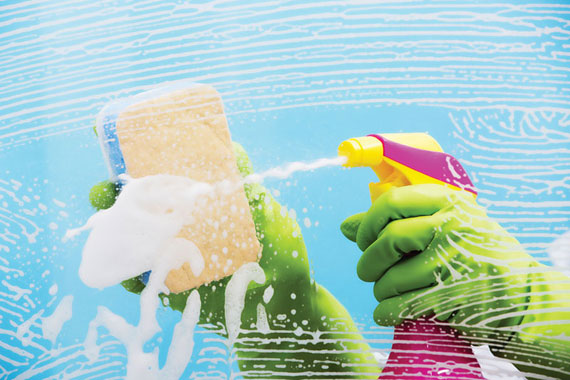 How's that whole "spring cleaning" thing working out for you? Did you realize summer is mere weeks away?
"People think of 'spring cleaning' as such a huge, big thing, and then they put it off and put it off," Sohini Baliga says. "But really, if you break it into little chunks it's that much easier."
Baliga is a consultant with the local cleaning company Maid to Clean, and her biggest tip for any plan of attack is to
clean in baby steps, a little at a time, as you have time.
"There are definitely people who want to set aside a day, do it all in one go and be done with it," Baliga says. And then there are the rest of us, who procrastinate and then get distracted or interrupted, feeling overwhelmed, undone. "The worst thing you can do is save it all for one time because then it's like climbing a mountain," agrees Cathy Green, co-owner of UpperCrust Maids. "And then you are just forcing yourself to even get started."
Green suggests you start with the hidden spaces, from closets to the pantry to the basement. "Places where you stuff things when visitors are coming," she laughs. "True spring cleaning is when you get rid of the hidden stuff." And she means it: When in doubt, throw it out. "If you haven't worn that dress in two or three years, you're not ever going to wear that dress…. Seriously, get stuff out of your house so you don't become what I call a pre-hoarder."
At all times, year-round, your cleaning focus should be on the two most-used rooms in any house. "A very clean kitchen and clean bathroom are the keys to a clean house," Green says. "The rest of the house is easy." She also recommends daily spraying of or wiping down your shower or bathtub to reduce soap scum.
There are also a few products one should have on hand for basic housecleaning needs. And no, it's not the latest pricey gee-whiz branded spray, or even bleach. "We have this idea," Baliga says, "if it smells like bleach, it smells like clean. Certainly some things bleach cannot be beat at, but we don't need that level of clean all the time in our houses." Most of the time, for everyday cleaning needs, simple vinegar and baking soda will do more than fine. "[They're] the two most underestimated natural chemical-free cleaning products from anyone's pantry," Baliga says. Baking soda is gentler than bleach, and vinegar deodorizes things, even acts as a natural bug repellant. Combining the two "forms a natural chemical reaction that deodorizes and cleans out things like your drain." Of course sometimes you need unnatural chemical reinforcement. "If you have a ginormous clog," concedes Baliga, "then yes, you probably need to switch to something like Drano. But if that happens on a daily basis, you have other problems."
If you have pets, Green recommends keeping a pet vacuum in the house, as well as stashing in every room a pet hair roller brush. "Those brushes work like a miracle in catching pet hair," she says.
Sometimes the cleaning task has just become too daunting, or it requires time you simply don't have. There are a few basic things to consider when seeking professional help.
Green, a speech pathologist by training who co-founded UpperCrust Maids in 2008 after personal frustration in finding quality professionals, suggests prioritizing information about insurance when exploring candidates. "What type of insurance do you carry? That should be the No. 1 question," she says. She stresses that you ask it in an open-ended way so as to hopefully get an answer with specifics. "The answer should be workers' comp and liability — those are two that they must have." If a cleaning company doesn't have workers' comp insurance, she explains, any employee who injures herself while in your house could potentially sue you. "People don't realize how dangerous it is to have someone in their house uninsured," she says, while conceding uninsured companies clean houses for "far less" money. (It should be noted that UpperCrust Maids only works cleaning houses, not apartments or condos.)
Sohini Baliga of Maid to Clean suggests starting by soliciting referrals from friends and checking reviews on websites such as Angie's List. Find out what people are saying about a company, specifically regarding how careful they are in going about their work and how responsive they are to scheduling needs and adjustments. "Maid to Clean is 25 years old and the majority of our business is, honestly, word of mouth and customer referrals," she says.
You might want to consider how a company cleans too, especially if environmental responsibility is important to you. "We're green," says Baliga, "and we tend to use far fewer chemicals than you would ordinarily think was involved in the cleaning process, which is important to some people."
Maid to Clean has offices in D.C. and Arlington and can be reached at 202-207-2101 and maidtoclean.com.
UpperCrust Maids is based in Hyattsville, Md., and can be reached at 301-322-7112 and uppercrustmaids.com.