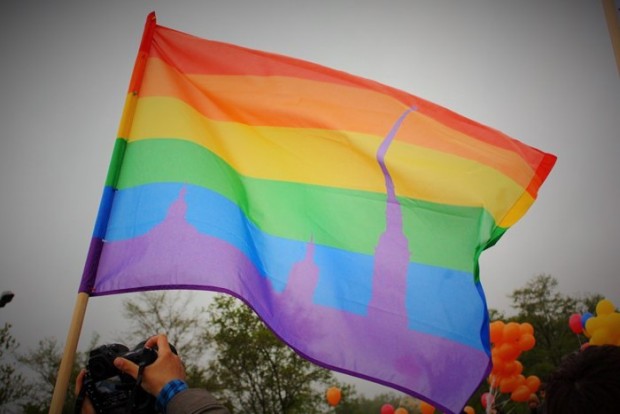 A court in St. Petersburg, Russia, has ruled that Coming Out, an LGBT group, violates the rights of straight citizens in the country.
In a statement posted to their Facebook page, Coming Out stated that, after 16 months of investing "considerable time, effort, and resources to explain to the courts, mass media, and the general public that defending universal human rights of Russian citizens is in the interests of those citizens," Vasileostrovsky District Court of St. Petersburg ruled that Coming Out would be registered as a "foreign agent." The presiding judge ruled that Coming Out's brochures, which aim to educate Russian citizens on discrimination and protecting the rights of LGBT citizens, were propaganda. Judge Naidyonova believed if "someone reads this brochure, and is impressed, [they] might start to share these thoughts with other people, create a coalition and start activities." Furthermore, Naidyonova stated that Coming Out was violating the rights of "persons with traditional sexual orientation" by disseminating the materials.
Coming Out believes that by applying the term "foreign agent" to their group, Russian citizens will have the idea that being LGBT is foreign and unnatural further entrenched into their beliefs. The group stated that the ruling was "unnecessary and even harmful." The group plans to appeal the decision, but still faces the potential of being registered by the Russian Ministry of Justice as a foreign agent non-governmental organization (NGO), something that has become all to frequent in the country following a new law.
In June, Russia's Ministry of Justice passed a law allowing NGOs to be registered as foreign agents should they deviate too far from the strict party line issued by the Kremlin. In total, 11 NGOs are now on the list with five added this week including prominent rights group Memorial. The law requires that all NGOs on the list make clear that they are operating as "foreign agent," with any materials distributed containing the warning and any public appearances accompanied with a sign representing their status. According to RFE/RL, the law also requires any blacklisted organizations to submit reports on their leaders and any planned or previous activity twice per year. Quarterly, they must also provide evidence detailing their financial data and any assistance received from "foreign sources." Furthermore, they must make publicly available their activities, and submit to a full government audit every year.
President Vladimir Putin stated on July 22 that there would be "no tightening of the screws" with regards to civil rights in society, but he also stated that "[it] is precisely from civil society that we expect active assistance in perfecting governance." A further warning sign that Putin is attempting to raise a new, more obedient generation, he also stated that the law would help "in the raising of our youths in [the] spirit of patriotism and responsibility for the fate of their motherland."
Coming Out doesn't believe today's ruling undoes their hard work. Despite the setback, the lengthy court case fought by the group had one positive: "We are hoping that, regardless of the final outcome, this message was able to reach the hearts and minds of many people."
Image Credit: Coming Out/Facebook