In late June, the cast of Orange is the New Black assembled in Manhattan for a day of press interviews. Metro Weekly was invited to participate with journalists from other print and online publications. On the cusp of tonight's Emmys, we thought we'd offer up highlights from the interview sessions in our traditional Q&A format. The questions are denoted as Press, as they were posed by multiple sources.
 Over the weekend, we posted the sessions featuring Kate Mulgrew and Lorainne Toussaint, and Yael Stone and Natasha Lyonne. Today, we continue with the pairing of Laura Prepon, who plays Alex Vause, former girlfriend of Taylor Schilling's Piper Chapman and the reason Piper finds herself with a 15-month sentence in a women's prison. Coincidentally, Alex is also relegated to the same prison, creating all manner of tension – sexual and otherwise — in Season 1. Due to a prior conflict, Prepon, who portrays Alex with self-serving, bad girl gusto, had to sit out much of Season 2, but is reportedly back, full force, in Season 3, now in production.
 Jason Biggs plays Piper's neurotic and (initially) uber-supportive fiancé Larry Bloom. In Season 2, Larry betray Piper by embarking on an affair with her best friend, new mother Polly Harper (Maria Dizzia).
 The round-table conversation with the pair was light and lively, with the warm, winning Prepon and consummate jokester Biggs frequently taking to casual bantering throughout the alloted 20-minutes.
PRESS: Your character is becoming a dad on the series, he's in a relationship. Have you found any parallels between what was happening to your character and Piper's friend Polly, and what's actually happening in your life?
JASON BIGGS: Kind of. It's funny because I feel like Larry was just a little bit ahead of me. All of those scenes where [Polly's] having leaky breasts, I was like, "This is interesting. I guess this is what I have to look forward to." And just the other day, we're sitting down and my wife is doing an interview, and all of the sudden you just start to see this circle of moisture start to build underneath her denim shirt. What was she doing wearing a denim shirt? That's the question, right? Isn't it?
LAURA PREPON: It's better than a silk shirt.
BIGGS: I guess so. I've just been ready to be a dad for a really, really long time. So doing those Polly/Larry scenes, if anything, got me even more excited and ready. Jenny was pregnant at the time when we did Season 2, so I was sort of chomping at the bit, you know?
PRESS: Has it been as good as you thought it was going to be, or better, or different? 
BIGGS: In some respects way better, and in some respects way more boring and shittier. [Group laughter.] I'm going to be perfectly honest, and I think guys are lying if they don't tell you this. But a lot of times for the guy, it's like he's born and right away I love him more than anything I've ever loved anything or anyone in the world and I have no idea why. But he likes to just kind of sit around. He just takes and takes, and just drains me of energy and money and time and what is he giving back? Nothing! [Laughter.] 
The mom — mommies get to bond! Ny wife breastfeeds and I'm like, "I want to feed! Give me a boob! I want a boob!" But now it's changing, he's starting to smile. He's four months, so now when he smiles, I know it's not just him shitting himself. I know he's actually smiling at me and I'm really forging this connection with him. So it's really exciting. But the other thing I was expecting was that the kid was going to be born, and I was going to have straight up — you guys don't want to talk about this anymore, do you?
PREPON: I do.
BIGGS: I was going to have straight up tunnel vision. Because I was so ready to be a dad, I was like, it's going to change my life, I can't wait for all my other bullshit to go away — the kid's going to be born and all my other problems are going to go away and I can't fucking wait for that moment to happen. And then the kid comes….
PREPON: [Laughs.]
BIGGS: And I still had all my other fucking problems and I felt guilty for it. I was like, "Oh shit, am I an asshole?" Like I was expecting all these other things to go away, but I'm still thinking about them even though the kid's here. Like I'm kind of an asshole dad, right? And it's like no, your life doesn't go away, you just have to reprioritize everything.
PREPON: [Laughs.] 
BIGGS: Let's keep talking about this instead of the show, though.
PREPON: I love it.
PRESS: When you got the scripts for Season 2, were you surprised at the direction they took your character in?
BIGGS: Yes and no. Yes, because it is a bold thing that Larry does. And it's definitely a shocker in terms of the storyline. But at the same time, I think Larry is a tough character to write for. It's only getting more difficult. I'll be curious to see what the future has in store for me and the show. I mean, I think there will always be a place for Larry, but as Piper becomes more enmeshed in the prison world, Larry's role on the outside is just more difficult. It's just difficult. So on the one hand, I felt like they were trying to write something really interesting and organic for me and for the character. But at the same time, it was surprising. It was like a left field kind of thing.
But I also just think Larry, at this point, is really kind of out for revenge. I think he's trying to protect himself, but I think he's really hurt and trying to say, "Fuck you, Piper," and I think that's the best way he knew how. 
PRESS: Do you think he's actually in love with Polly?
BIGGS: I don't know. It's a good question because I actually do feel they have interesting chemistry. What I found out in this season was that he and Polly knew each other before Piper knew Polly, so that piece of information makes me go, "Huh. I'm curious about them before any of this. How did they become friends? Was there anything maybe before that? Was it ever flirtatious before Pete came in?" So that made me go, "Huh, I wonder if there is something interesting there," but I don't know. I think he might think he's in love with her. I think he's just really out of sorts and really hurt and is trying to do everything he can to sort of put up this wall and protect himself, and Polly, I think, is part of that. 
PRESS: Laura, your character was not in Season 2 as much. And yet she came in at key critical moments in the narrative, at the beginning and end, to move things along. Talk a little bit about how you see Alex and what kind of person you think she is.
PREPON: Personally, I love Alex. I think she's a total badass. I loved playing her every day. And she's complicated, because you wonder, is she a good person? Or is she a bad person? But the one thing about her is that she's genuine and authentic. She's a straight shooter. I think that's why people like her. Because she does fucked up things. But the thing about the show is that we're all criminals, we all do messed up things. What's so great about these characters is that they're all humanized, and you care about them and root for them. And I love characters that are flawed and when they make a decision, you're like, "I don't know how to feel about that, I don't know what to think about this right now."
PRESS: She has an unique relationship with Piper, to say the least.
Get the best of Metro Weekly! Subscribe to our Daily Blast!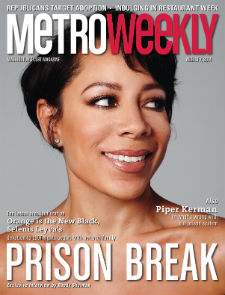 Our daily emails are personally curated by our editors and feature a wide range of news, features, reviews and interviews. Don't miss out on any of our award-winning content -- from news to arts, cars to tech, food to fitness, we've got it all!
Features!
Breaking News!
Win CDs and Tickets!
Special Exclusive Offers!
We respect your privacy and never share your email with a third party.
PREPON: The thing that's so interesting about Alex and Piper is that they totally love each other, but they also look out for themselves. But then they also look out for each other. It's this weird kind of relationship that keeps shifting. In Season 1 our relationship was always described as "I'm the spider and she's the fly." She comes to me and I manipulate her with sex and all sorts of other things. And they totally fall in love with each other. But it's interesting because in Season 2 there's kind of this shift. It's this constant power struggle between the two of them. And then at the end of Season 2, Piper does a major power play. And you wonder, is it because she totally loves this girl, or is it because she's just getting her back? 
PRESS: It's interesting how the fans reaction after Season 1, so they just wanted you back so badly.
PREPON: Yeah, it's awesome. I was so bummed when I couldn't do all of Season 2. Netflix doesn't do a lot of the standard six-year TV contracts. I was going year-to-year. So there was a conflict that came up. [Series creator] Jenji [Kohan] and I talked about it at the premiere of Season 1. We knew about the conflict then. And we were both like, "Cool, we'll just do as much as we can and if there's a Season 3, I'm in it," you know? There's only one of me, I had to do it and we did as many episodes as we could. I missed it and it sucked, but it's weird how things have a way of working out, because we got to play this whole other storyline out in Season 2 and it lends itself to this whole new thing that we get to play with in Season 3.
PRESS: Speaking of your fans, what's been your strangest fan encounter with this particular show?
PREPON: Don't even ask me this question.
BIGGS: Come on, Laura. She's got a great answer for that.
PREPON: The fans are so awesome on this show, they truly are. I'm a huge poker player and one fan made me poker chips with my name and glasses on them. 
PRESS: Is that flattering or is it…? 
PREPON: Jason thinks it's creepy as hell. [Laughs.] I was totally flattered. Her name was Kelly. I know her name. And Kelly's awesome. Kelly showed up in London. 
BIGGS: She followed you to London? Oh man, this is getting creepier and creepier. So she was within striking or stabbing distance.
PREPON: I've got another fan named Claire who makes shirts for me. She's rad. The fans are amazing. I like knowing who they are and interacting with them. 
PRESS: Do you wear the t-shirts and…
PREPON: All of my friends do.
PRESS: …use the poker chips?
PREPON: I haven't yet because the set is too small to play with. Maybe me and one other person could use them.
BIGGS: Have you checked them for anthrax?
PREPON: Stop it, dude! No, they're like very supportive and loyal and [Jason's] just like, "Like, what are you doing?" 
BIGGS: Well first of all, I'm an asshole. [Laughter.] I woke up the other day, there was a fan in my bedroom watching me sleep. You know, but I love it, I love it. His name is Jerry. He's a big fan, he makes me t-shirts sometimes. He makes me soup at night before I go to bed, um…
PREPON: It's important to know who your fans are. They're so awesome, I try to know them.
BIGGS: You know what it is? I'm jealous. I'm not used to having fans. I'm used to having haters. And I love my haters, very much. [Laughter.] But I keep them at a distance. 
PRESS: I imagine many of your fans are lesbians, Laura.
PREPON: Lots of them are, yeah. And I love it. Let me just say, the LGBT community is literally the best fan base I've ever had. They're unbelievable. They're so supportive. I mean, yes, there are a lot of women who like to tell me nice things. [Laughs.] And make me t-shirts. 
BIGGS: Have you ever been sent like a picture of, like, a lady's privates?
PREPON: [Laughs.] No!
BIGGS: Yeah, because only a select few, like Claire, have her home address.
PREPON: [Laughs.] No, they'll send me a t-shirt of them and their girlfriend and like put my face over the girlfriend's face. [Laughs.]
PRESS: When you say your lesbian fan base is supportive, what do you mean exactly?
PREPON: Just very supportive like…
BIGGS: They hold up her boobs. [Laughs.]
PREPON: They totally do. They stand behind me and hold up my boobs.
BIGGS: They just get a handful.
PREPON: [Laughs.] No, my character does some things that aren't what some people would do. She does look out for herself sometimes. So to