Above and Beyond
Fall Arts Preview 2010: Comedy, Spoken Word, Tastings, Tours, Etc.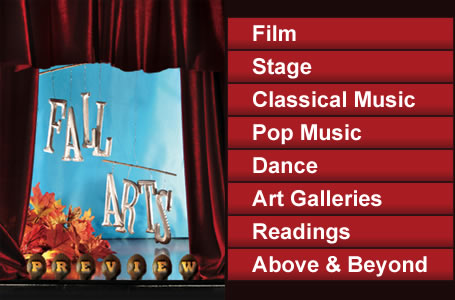 BARNS AT WOLF TRAP
1645 Trap Road
Vienna, Va.
703-255-1900
wolf-trap.org
The Flying Karamazov Brothers -- Troupe offers amusing comedic skits, entertaining musical numbers and juggling feats (10/20-21)
Chicago City Limits -- Hailed by the New York Times as ''perfect masters of improvisation,'' this troupe relies on the audience for inspiration in American Idles, a new show poking fun at our fame-obsessed culture (1/20-1/21/11)
Second City -- Chicago's troupe famous for introducing a slew of celebrity talent, from Mike Myers to Amy Poehler (3/11-3/12/11)
24th Annual Evening of Comedy -- The return of the sell-out event with leading standup comedians, to be announced (3/26)
THE BIRCHMERE
3701 Mount Vernon Ave.
Alexandria, Va.
703-549-7500
birchmere.com
Tony Clifton -- A fictitious comedic character, originally created by the late Andy Kaufman, a deliberately bad and annnoying lounge singer with a a Katrina Kiss-My-Ass Orchestra and burlesque troupe the Cliftonettes (10/1)
Paula Poundstone (10/16)
Belly Horror -- Belly dancing (10/22)
Bellydance Superstars presents Bombay Bellywood -- More belly dancing (10/27-28)
Kate Clinton -- Even more belly dancing -- no, probably not, though you never know what this lesbian funnywoman will do (11/12)
A John Waters Christmas -- An encore performance after last year's sellout success, maybe this time with belly dancing? (12/16)
CLARICE SMITH PERFORMING ARTS CENTER
University of Maryland
College Park, Md.
301-405-ARTS
claricesmithcenter.umd.edu
Laurie Anderson and David Harrington -- In a talk titled ''What Were They Thinking?'' genre-bending artist Anderson and Kronos Quartet's Harrington discuss the creative pathways that led to their latest respective works and their upcoming collaboration at UMD (10/4)
Liz Lerman, Dr. Lawrence Krauss, Dr. David DeVorkin and Dr. William Dorland -- In ''How Do We Know What We Know?'' the choreographer joins physics experts to discuss how scientific thought and performing arts experience intertwine in Lerman's new work (11/1)
DAR CONSTITUTION HALL
1776 D St. NW
202-628-1776
dar.org/conthall/
America's Got Talent Live -- Apparently there's just too much ''talent'' for TV alone (11/4)
Kevin Hart -- Actor and comedian gives a night of standup -- if you can see the self-deprecatingly short guy over the microphone, that is (11/5)
FOLGER SHAKESPEARE LIBRARY
201 East Capitol St. SE
202-544-7077
folger.edu
Elizabethan Garden Tours -- Docents offer tours of the Folger garden, inspired by herbal references in Shakespeare's plays and also incorporating plants popular in his time, plus a knot garden and Shakespearean statues by American sculptor Greg Wyatt (9/18, 10/16)
FORD'S THEATRE
511 10th St. NW
202-397-7328
ticketmaster.com
History on Foot walking tours -- Actors playing characters from Civil War-era Washington lead two weekend morning tours through downtown D.C.: A Free Black Woman: Elizabeth Keckly focuses on a confidante to First Lady Mary Todd Lincoln, while Investigation: Detective McDevitt follows a detective investigating the Lincoln assassination (Both run Saturdays through October)
HILLWOOD MUSEUM & GARDENS
4155 Linnean Ave. NW
202-686-8500
hillwoodmuseum.org
Fall Garden Tours -- Docent-led tours of the elaborate gardens most days of the week (Now-11/13)
Gay Day: Celebrating Marriage for All -- Activities at this wedding-themed edition of the annual Gay Day at Hillwood include an LGBT family garden party with Rainbow Families, a wedding reception-style "Punch on the Portico," exclusive peeks into rooms not usually open to the public, vintage cars from Straight Eights and square dancing from DC Lambda Squares (10/2)
Japanese Tea Ceremony -- Chado Urasenke D Association offers an authentic tea ceremony complete with tea and traditional treats (10/10)
LINCOLN THEATRE
1215 U St. NW
202-328-6000
thelincolntheatre.org
Here I Stand 2010 Honoree: Rita Moreno -- Winner of Oscar, Tony, Emmy and Grammy awards, Moreno will be interviewed live on stage, while Furia Flamenca, Dance Asia Alliance, Clavekasi, Dance Institute of Washington and Hung Tao Choy Mei perform in her honor (9/18)
The DC All Star Comedy Jam -- with Mike Brooks, Tyler Craig and Teddy Carpenter (9/25)
LISNER AUDITORIUM AT GWU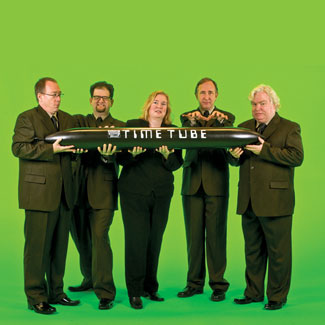 MST3K Cinematic Titanic at Lisner
730 21st St. NW
202-994-6800
lisner.org
Mystery Science Theater 3000's Cinematic Titanic -- Creator Joel Hodgson and original cast of the television show return for more movie riffing, this time focused on the 1968 Japanese sci-fi thriller War of the Insects, also known as Genocide (10/15)
Ira Glass -- ''Radio on the TV'' talks about what the host of this popular public radio show learned about making television over the past couple years -- and why they stopped the Emmy-winning show (4/2/11)
LYRIC OPERA HOUSE
140 West Mount Royal Ave.
Baltimore, Md.
410-685-5086
lyricoperahouse.com
Kathy Griffin -- The gay favorite performs a night of stand-up (11/18)
Lisa Williams: Messages from Beyond -- British medium and clairvoyant, known for frequent television appearances, is said to communicate with loved ones and friends whom have passed on to the "other side" (11/20)
NATIONAL GEOGRAPHIC LIVE!
Grosvenor Auditorium
NGS Headquarters
1600 M St. NW
202-857-7700
nglive.org
World Animal Day -- A family-friendly celebration of the animal world, including art workshops, photo safaris, storytelling, film screenings and more (10/16)
Bryan Smith -- Director of photography for the National Geographic Amazing series discusses the challenge of capturing an expedition on film (10/19)
Emerging Explorers Salon -- Four visionaries discuss their work: Environmental scientist Saleem H. Ali; mobile technology innovator Ken Banks; agro-ecologist Jerry Glover; and Kenyan school activist Kakenya Ntaiya (10/29)
The President's Photographer -- A screening of the new National Geographic Television special about chief White House photographer Pete Souza will be followed by a discussion with the film's producer and several past White House photographers (11/6)
Music on…Photography series -- This four-part series focuses on pop music and photography, focusing on: music magazine photographer Danny Clinch (11/10)
Acclaimed solo artist and featured singer of the New Pornographers Neko Case, who has a degree in fine arts (12/1)
Rocker Ben Folds, another avid photographer (12/3)
The Police's lead guitarist Andy Summers, who has compiled an impressive body of photographic work (12/4)
ROCK AND ROLL HOTEL
1353 H St. NE
202-388-ROCK
rockandrollhoteldc.com
Rock & Roll Spelling Buzz -- It's exactly what it sounds like, a spelling bee among the inebriated at a bar, with a $60 bar tab for 1st place (9/17)
Air Sex World Championship 2010 -- Yes, air sex, said to be a lot like air guitar, except contestants in this national competition are pretending to play with a lover, acting (but only acting) out how they want to score (10/4)
SIXTH & I HISTORIC SYNAGOGUE
600 I St. NW
202-408-3100
sixthandi.org
Elon Gold -- Comedian and television actor Gold presents a night of standup, ''Half Jewish, Half Very Jewish'' (10/7)
STRATHMORE
5301 Tuckerman Lane
North Bethesda
301-581-5100
strathmore.org
Lecture on Dinah Washington, Queen of the Juke Box -- Jessica Boykin-Settles, jazz vocalist and lecturer on the music faculty at Howard University, explores the life of the versatile and controversial gospel, jazz and R&B vocalist (10/25)
Sunday at Strathmore: Stephen Sondheim -- Touted as Broadway's greatest living composer, the gay Sondheim (West Side Story, Sweeney Todd, A Little Night Music) sits for a conversation with Washington Post theater critic Peter Marks (11/14)
THE STATE THEATRE
220 North Washington St.
Falls Church, Va.
703-237-0300
thestatetheatre.com
Halloween Monster Bash (10/30)
Tim & Eric Awesome Tour, Great Job! -- The Cartoon Network's Adult Swim sketch comedy show goes on the road (12/1)
VERIZON CENTER
601 F St. NW
202-628-3200
verizoncenter.com
Tyler Perry -- Medea's Big Happy Family (9/24-26)
Get Motivated Seminar w/ Dan Rather, Steve Forbes, Terry Bradshaw, Colin Powell and more -- An unlikely assortment, to say the least (10/5)
2010 Washington International House Show (10/25-31)
WWE presents RAW World Tour (12/30)
WARNER THEATRE
513 13th St. NW
202-397-SEAT
warnertheatre.com
Aziz Ansari -- Parks and Recreation actor's standup routine (9/17)
Lewis Black -- The hilariously edgy Daily Show contributor returns to his hometown for a run of standup (9/23-25)
Bob Saget (10/8)
Mike Birbiglia (10/15)
Craig Ferguson -- The late-night TV talk-show host (10/16)
Louis C.K. (10/22)
Margaret Cho -- Catch the queer comic before her upcoming stint on Dancing With The Stars (10/29)
Daniel Tosh -- The funnyman behind Comedy Central's video clip show Tosh.O offers standup (11/5)
Wild West Presents: Vince Vaughn & Kevin James Comedy Roadshow -- Your guess is as good as ours (11/8)
Buddy Valastro -- Star of TLC's popular reality show The Cake Boss, about his Carlo's Bake Shop in Hoboken, N.J., this event better include fresh pastries or else (11/9)
Dr. Maya Angelou -- Billed as ''An Evening with a Legend'' (11/11)
Brian Regan -- known as a ''clean'' comedian, refraining from vulgarity and such (11/12)
---