Unchained Arias
Performance artist Joey Arias goes well beyond any preconceived notion of a drag queen
(Page 2 of 3)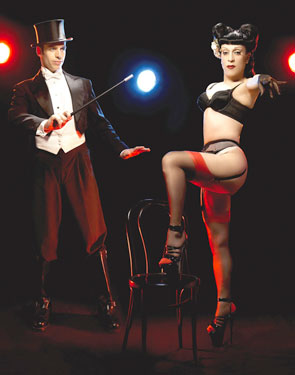 Basil Twist and Joey Arias
(Photo by Steven Menendez)
MW: But you were born in North Carolina?
ARIAS: Yes. I'm from an Army family, an Army child. My father was a paratrooper.
MW: Do you have siblings?
ARIAS: Yes, I do. I had a brother that was a year younger than I was who died of cancer years ago. And there was a gap, then my sister and two more boys.
MW: Do they know about your work?
ARIAS: Oh yeah, oh yeah.
MW: And they're supportive?
ARIAS: Oh, yeah, yeah. I mean, my father, when he saw me on Saturday Night Live with Bowie and Klaus, they just knew that, okay, Joey's – at first they thought I was like a junkie or some kind of weird whatever. And then when they saw me, like I was actually doing stuff, for real, I wasn't lying to them.
MW: You and Klaus Nomi were Bowie's back-up singers for the show.
ARIAS: We did ''The Man Who Sold The World,'' ''TVC 15'' and ''Boys Keep Swinging.'' We were together for a week, about 15 hours a day. We got to know each other very well. Bowie was very, very impressed. And he kept saying, "I wish I had met you guys earlier. 'Cause I don't want to perform anymore. But you guys are genius. I don't have to say anything 'cause you guys are just right there for me." It was a great time.
MW: Tell me about Klaus and who he was to you, and who he was in general.
ARIAS: Klaus was a baker, Klaus was an opera singer, Klaus was a strange man that lived in the East Village. Very funky. Wearing chinos not stylish at all. Had interesting taste, and I found him very interesting. I met him my first day when I came to New York, in '76. And we became friends immediately. We talked and traded music. He talked about opera and I talked about jazz. Told him what I was doing. He was not the Klaus Nomi you knew, he was just like Klaus, Klaus Sperber, the baker. Just a very interesting guy. We just had a very good time. I think he found my friendship very honest and real. And then eventually he [took on] a punkie look and started doing things, and one thing led to the other.
MW: Was it hard to recover from his death?
ARIAS: You never recover from a death. It still hurts. A lot of people have died that were close to me. You never really recover. The past gets long and memories are there, but it will always be with you.
MW: Is it true that you're working on a film about Klaus?
ARIAS: We were working on something with some people, and that kind of fell through. And so my partner, Juano Diaz, who is also a writer and painter and actor and model, we're actually writing a screenplay right now. I'm not going to tell you too much about it, but yeah, we're working on something right now. I want to tell the real story of our friendship.
MW: The partner you mention, is that your life partner, or just a business partner?
ARIAS: Well, he could be. I mean right now it feels like it. We met like three years ago and he's very much. He's from Scotland. I've never met anybody like him before. He's very unusual, he's a beauty. He looks like Nijinsky, but then he's also this fawn, this homeboy, this talent. He's younger than I am, but we're the same though. It's very bizarre.
MW: So it's romantic, the relationship?
ARIAS: It's fulfilling. And if life is romantic, it's romantic. I just love him in every respect.
MW: Tell me about your cabaret act, or art. It's different than most cabarets out there.
ARIAS: People use the word cabaret very loosely. Cabaret these days mean all these different things… Cabaret [originally] is a really very decadent, very political and very -- it's a lifestyle. And a lot of people don't perform like that. A lot of people just use the [term] cabaret. I'm the real thing.
MW: Do you consider yourself a drag queen?
ARIAS: No. I call myself a Z-chromosome, trans-dimensional being. A little kid saw me recently and went, "Mommy, is that a man or a woman?" And I looked at the child and I went, "Yes." The kid looked at me, and didn't know what to say. And the mother looked at me and said, "We don't know, honey."
When I first started, yeah, I got into the drag world. It's the element of drag that I use, but you cannot use the word drag queen in my shows because it gives you the wrong identity of what I'm doing. Because when you say drag queen, you think of Priscilla, Queen of the Desert – glitter kits, crazy costumes, three-foot lashes. I don't do that. I have to be very specific. That's why with Woolly Mammoth, when I saw in an early draft of the program they'd' written, "Large drag queen falls into a little tiny jungle," I was like, "Okay, that's not happening. Please, get rid of that, otherwise, I'm not going to do the show."
MW: Do you consider yourself transgender?
ARIAS: I consider myself a trans-dimensional being. [Laughs.] I'm teaching you. I'm giving you new language, my good man. Please put that down because that's very important that you say that because we don't grow until we learn. And so you're still thinking of transgender/tranny/trans. No, we're moving into the 21st century – trans-dimensional beings.
I also call myself the Z chromosome, because there's X and Y but the chromosomes multiply, man and woman, and I'm the Z. I'm the last of the alphabet. I'm like the last standing creature, that's either or neither.
MW: In your everyday life, do you wear makeup? Do you wear women's clothing?
ARIAS: My clothing is really mixed up. I buy women's clothing. Women's clothing fits me better than men's clothing.
MW: So it doesn't take you more time to dress for a performance than it does in the daytime?
ARIAS: No, it's the same thing. I don't really put makeup on in the daytime – I put powder on maybe. And sometimes I just throw my hair up and put my clothes on and walk out the door with big glasses on.
MW: You've moved far beyond the drag scene over the decades, but still you must have some thoughts about how the drag community has changed.
ARIAS: There's a whole bunch of new drag queens that are coming out. It's kind of funny because they're dressing old school to me, like old ladies from the '60s or something. Where I'm doing complete futuristic -- it's just different. I don't know. I don't really hang out in the drag community that much.
MW: Do you watch RuPaul's Drag Race?
ARIAS: No. No, no, no, no, no, no, no, no. No, I'm not into that. I mean, it's good for her, it's the way she markets herself, but I think it's like watching pigs being slaughtered. I don't like it. [Laughs.]
MW: How did you get started as a performer?
ARIAS: I was signed to Capitol Records when I was a kid. I had that kind of fame, like Teen Magazine. Then I was with the Groundlings, the improv group. Then I was in fashion sales. Then I started working with Klaus. The Billie Holiday show was another part that was more like a self-discovery of what I really wanted to be – vocally, where I wanted to be. Because her tonality and tones are what I wanted in my life and my songs.
MW: What is your range technically?
ARIAS: I don't know. Five octaves? Six octaves?
MW: Do you think you'll collaborate with Basil again after this show?
ARIAS: We've already started collaborating on something anyway, but I'm not going to tell you what it is. I'm working on a Mugler Follies for next year. That's going to take two to three years of my life, or more I don't know.
MW: That's Thierry Mugler, the French designer and director who helped create Cirque du Soleil's Zumanity, which you starred in. Will his follies feature a big cast?
ARIAS: I think 25, 30 people. A big band and the whole thing.
MW: Are you the star?
ARIAS: I don't know if there's going to be one star. I think it's going to be a lot of celebrities involved.
MW: And where is this going to be, New York?
ARIAS: Paris.
---