Drawn Together
With their queer artists' collective Boys Be Good, Christopher Cunetto and Jason Edward Tucker are finding that there's strength – and artistry – in numbers
(Page 2 of 8)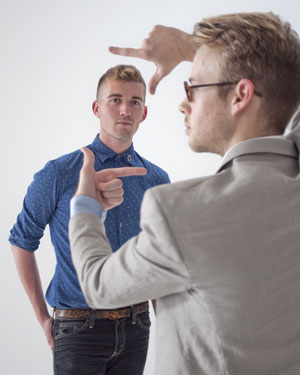 Boys be Good: Tucker
(Photo by Todd Franson)
METRO WEEKLY: Let's start with you, Christopher. What was it that drew you to art?
CHRISTOPHER CUNETTO: My family is Italian – we're from St. Louis – and my grandfather has an Italian restaurant. There was a chef that would always talk to me when I'd go in. So he was one of my first subjects – I would draw him all the time. His head was one big circle, his body was one big circle, his arms were like baby ferns. So it started out with people. And it started out with my parents giving me the room to do that.
In eighth grade when I entered the public school system, one of my first teachers, Mrs. Brown, pulled me aside after my first semester in her class and said, ''You know, you're really good at [drawing], and I see a talent in you. And if you wanted to, you could do this for a living. You need to commit yourself to it.'' She was the first person in a position of authority to tell me, "You can make a life out of this.'' That was a hugely pivotal moment. And so I spent the next few years of high school developing my portfolio. I applied to art schools and attended the Corcoran [College of Art and Design], and now I'm here.
MW: What about you Jason?
JASON EDWARD TUCKER: I came from a background that was completely supportive in the arts in my upbringing. I got my first camera when I was 6 or 7 years old as a birthday present, and it became a sort of fascination – not only just with a camera, but this idea that I could create something, and actually go into an occupation with it. Not that I've ever really thought of it as an occupation. It's just something I love to do and it turned out to be something where I could actually do the job. I continuously fell for the fact that I would be an artist. Telling my parents that I wanted to go to art school was difficult at first. They wanted me to go to a liberal arts college, that sort of direction. I had to do a white lie that I wanted to be a photojournalism major in order to go to Corcoran, which within three weeks of starting, I changed to a fine art degree.
CUNETTO: Clever.
TUCKER: [Laughs.] Yeah, that's really where I started.
---