Art of Living
From rural roots to dignitaries and divas, Chef Art Smith celebrates life's banquet
When it comes to home, Chef Art Smith might say north Florida, where he was born, or Chicago, his adopted home where he lives with his husband, artist Jesus Salgueiro. But like his neighbors in Chicago's Hyde Park/Kenwood neighborhood, the Obamas, he's also made himself quite at home in the nation's capital.
Truth be told, D.C. has always had a place in Smith's heart, whether from the stories he'd heard from his father, who served as a congressional page, or from a great aunt.
''She was like my Auntie Mame,'' Smith shares. ''She always messed around in TV, worked with Steve Allen and some other great people. She was a Washington Redskins weather girl on TV. She lived in Crystal City, had an incredible life. She was very impactful on me going into show business.''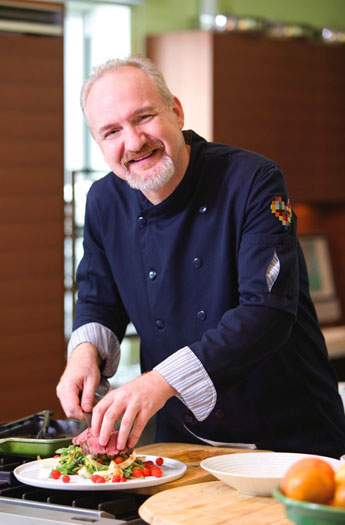 Chef Art Smith
(Photo by Kipling Swehlaopener)
That might be another of Smith's homes: the spotlight. Smith has moved from serving as Oprah Winfrey's chef to getting in front of the camera. There's Top Chef Masters, Good Morning America, Iron Chef America – for starters. He's written three acclaimed cookbooks. He is in magazines, newspapers, and just about everywhere else.
But, again, D.C. has a prominent place in the mix. It's here that Smith opened one of his five restaurants, Art and Soul. It's here where he and Salgueiro wed in 2010. His Common Threads charity bringing together kids and food and art operates programs for local children. And, in April, he received the Capital Area Gay and Lesbian Chamber of Commerce (CAGLCC) Excellence in Business Award.
''We love how people have welcomed us to D.C.,'' Smith says of himself and his husband.
In a sense, he's returning the favor June 26. That's when Food & Friends – the local organization providing meals, groceries and nutrition counseling for people living with HIV/AIDS, cancer and other life-threatening illnesses – presents its 22nd annual Chef's Best fundraiser, with dozens of local restaurants filling the Washington Hilton with their wares. Art and Soul will be among them.
''To be quite honest with you, it' been the most successful restaurant ever,'' says Smith. ''It's this little restaurant that stays incredibly busy. What I love about the restaurant is my partners there are extremely supportive of the LGBT community. And I love a place that'll let you have your dog – we have three, and five cats. It was a lovely, 'Welcome to Washington.' I've always had this love for Washington.''
That love seems to be the grandest ingredient in Smith's pantry. From his husband to his hometown, from kitchens to kids, he pours it on.
METRO WEEKLY: Considering your work with kids, Common Threads, I want to know about your own childhood. The part of Florida you come from, that's not beaches and art deco. That's country.
ART SMITH: It is very country. It's a very rural part of the South. I grew up right on the border of south Georgia, north Florida. The county's called Hamilton, mostly known for the river that runs through it, the Suwannee. And author Lillian Smith came from there, who was a major activist for equality. She wrote a great book, Strange Fruit.
Even though it was the sticks, there was this amazing stuff. Zora Neale Hurston also wasn't from far away. Another who wasn't far away was Marjorie Kinnan Rawlings. It's interesting that in this kind of backland swamps part of the country, there was a lot of genius.
MW: What about the food in your youth?
SMITH: What kind of food?
MW: I don't know. Macaroni and cheese in a box?
SMITH: No, no, no. We had a farm, which we still have.
MW: What kind of farm?
SMITH: A family farm. We raised cattle and tobacco, but we had a garden. We ate from the land. I grew up that way. We did not eat processed food. Everything we made was from scratch, as they say. There wasn't a cake made from a mix, and there wasn't macaroni and cheese from a box. We didn't have that. I mean, it was there, but we didn't eat it. And once you've had the real thing, you sure as hell don't want the unreal thing.
When there's a funeral, there was a lot of food. When there's a celebration, there's a lot of food. It's a very emotional part of the country.
MW: You had a happy childhood?
SMITH: I was bullied quite badly in school. I recently asked my mother, ''Do you remember it?'' She said yes. I said, ''Do you think they remember it?'' ''Yes, but they're nice to you now.''
It's funny how you have to get famous in order for people to be nice to you.
There are things I totally reconnect back to my childhood. I recently saw that movie, The Help. Did you see it?
MW: Yeah.
SMITH: There's that scene where Aibileen (played by Viola Davis) has to leave the little girl, and the little girl is screaming, crying, because she doesn't want to be separated. I was raised that way. We didn't have separate bathrooms and all that stuff – my family, for the 1960s, we were pretty with it. But my father had two sons. One drove a tractor and one just wanted to play piano and whatever.
MW: You were the one who wanted to play piano?
SMITH: Yes. And I wanted an Easy-Bake Oven, but I never got one, because it was too girly.
My mother went back to work when I was 3 months old, and Leila raised me. She was our nanny. I was about 10 or 11 when I was separated from Leila. My father said, ''She's spoiling you, Art. You won't be able to function in life.'' I swear, it was like saying, ''Son, she's makin' you gay.'' He just couldn't figure out why he had a gay son.
MW: That must've left a scar.
SMITH: Oh, it was painful! Trust me, when I saw that movie I cried. I could see myself. One of the things about all that is I believe that what it did was make me more compassionate, more understanding.
MW: The separation from Leila?
SMITH: The separation, the way I grew up, everything. I don't think I could've worked for Oprah Winfrey if I hadn't been raised by a black woman. Period.
MW: By the time you got to college, you were already heading for a culinary career, right?
SMITH: At [Florida State University], I got into hotel school – the Florida State party school. This was the '80s and people were partying their butts off. In those days, it was wine coolers and cheese trays.
I was hanging out in the library with this young guy I had a bit of a crush on. He goes, ''You know, there's this place you would like. It's called The Greenbrier.'' I looked it up, saw it was really beautiful, thought, ''Wow, this is cool.'' I loved nice things. I loved pretty. Lo and behold, a man associated with it showed up one day at school and just chatted with about 65, 70 people. I never thought of myself as a good actor, but I guess I am, because he chatted with me and I gave him this, ''I'm just this poor boy from the sticks who's always wanted an opportunity to see how it's really done,'' and blah, blah, blah. I got the job. I beat out all these other kids who had all this experience, when I had none. It was there, being around real chefs – really tough chefs – where they had this internship with kids from all over the world. It was incredible. The facility was over the top. Of course, they were eons ahead of me, all had some kind of culinary background. All I had done was some parties in school, and in high school worked at the Kentucky Fried Chicken. That's all I ever did, okay?
One thing I did have, I was always artistic. They'd stick me in the garde manger (plating station) and I was great. Then they would be mean to me and throw me in the veg station and I'd have to peel potatoes or whatever. What really kind of turned the tables was when they started really screaming at me, being really mean, these chefs. I would run and hide. I have a dear chef friend, Mark Gray, who was the chocolatier at The Greenbrier. I used to hide in the chocolate shop. I realize now why I'm such a chocolate fiend. They'd yell at me and I'd hide in the chocolate shop and eat chocolate.
MW: Chocolate is your security blanket?
SMITH: Exactly. Mark was like, ''If you're going to be down here, you're going to learn.'' That's where I really fell in love with baking. It was amazing. It was like magic. ''Now that we've shown you this, you go back there and be tough. Toughen it up.'' In those days, the training was like a hazing. A chef – who wasn't a great chef – would scream at you. Things were a lot different.
MW: So you don't run a Gordon Ramsay sort of kitchen?
SMITH: No. I don't do well with screamers. Not to say it's never happened before. It's always been kind of acceptable to curse and scream on the line. But a kitchen doesn't have to be loud to be effective.
When I work with my chefs now, the different heads of my restaurants, I teach them how to engage with customers. Customers today like to see the chef, like to hear what you might have to say. Before, many chefs were separated [from customers] by a wall. But that engagement is so important.
MW: You said you'd been picked on for a long time, that you appeared gay, but when did you come out?
SMITH: I was never in the closet, but maybe I came out when I was 24 or 25, when I was working for the governor of Florida, Gov. Bob Graham (D). Mrs. Graham (Adele Khoury Graham) looked at me, looked at the governor, and said, ''Art, I think you'd be happier working in San Francisco.'' [Laughs.]
MW: She said that in a snide way? A loving way?
SMITH: A loving way. We were in little Tallahassee and in those days San Francisco was the gay mecca. It took someone of her stature to basically say to me, ''You know, it's okay, Art.'' We're best buds, really good friends. I thought it was very sweet of her.
Then I worked in private business, and I was kind of private. I started working for Martha Stewart. Martha, in those days, was doing this annual AIDS bike ride. I participated, would help them do that party. That was being open. What I admire about Martha – we're talking really early '90s – Martha was one of those big people in our country who was very supportive of our community and employed a lot of gay people.
Then I met Oprah Winfrey. Well, you know, Oprah don't leave no stone unturned. Like, ''To thine own self be true!'' She and I, we just kind of laid everything out. She loves my Southern-ness and my Southern cooking. She also has this ability – like no other – to sense a person. She knew that I had worked really hard, that there had been pain, that I'd been bullied. ''Baby, just be happy. You found a passion. You found that purpose that took you away from those tobacco fields!'' [Laughs.] She just embraced me. I was extremely open with her. She met my boyfriend of that time, and also went through it with me when we broke up. I remember her sitting me down, saying, ''Honey, we've all been through it.'' What boss is going to sit down with you and talk about breakups? She did.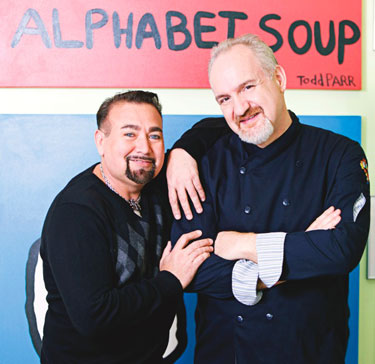 Chef Art Smith (right)
(Photo by Kipling Swehla)
MW: How did you come to work for her?
SMITH: We met through her hairdresser, Andre Walker. He's an amazing man, far more than just the hairdresser. He's also a very talented interior designer, a wine aficionado. One of those amazing renaissance guys. He and I met at a party, and he said, ''You should cook for my friend sometime.''
MW: You were already in Chicago? I figured Oprah brought you to Chicago.
SMITH: I had gone up to Chicago because one of the governor's friends built a train called the American-European Express. It was a beautiful luxury train based out of Chicago that ran to Washington Union Station and up to New York. I got hired as the chef on the train, so that's how I got there.
But I was in Washington doing a party for Bill Clinton's inauguration, for the governor – by then Sen. Graham – and I got a call from Andre. ''Art, can you come make lunch?'' ''When?'' ''Tomorrow.'' One thing I knew, working for very big-deal people, is that when you're on their radar, you'd better stick to it. Fact is, you can be right off that radar. I don't know how I got on the plane and got there. I cooked all night, then went and made lunch for her.
MW: Do you recall what you made?
SMITH: Yes, I do. I did this Florida lunch. In Tallahassee, they made this great thing, paella salad – with shrimp and chicken and chorizo, and this vinaigrette. It's really good. Then I made these itsy-bitsy biscuits. Key lime greens, a key lime tart, some other stuff. I wanted to show her this Florida side of me. So that's what I did – and she loved it.
That went on for months. Then I got a call: ''Ms. Winfrey would like to see you.'' I'm like, ''Oops, what have I done?'' I ran down there. She was in her office, sitting there. ''Yes, ma'am? Yes, Ms. Winfrey?'' She kind of laughed when I said that. I think she knew I wasn't trying to kiss up to her, but that it was just me being Southern. We chatted and she said she needed a chef. ''Do you know one?''
''I sure do. Me.''
I ran out of that office and called my mom. ''Oprah Winfrey just offered me a job!''
''Oh, that's nice. How are you? Are you taking care of yourself?''
''Mother, it's a big deal!'' [Laughs.] I love my mom.
When Oprah asked me to be her chef, that's when the whole world changed. That's when I started traveling around the country with her, at her different houses. It was where I learned about being true to myself, being happy about being just a Southern kid, being proud of serving fried chicken.
MW: Aside from the professional, there's also the personal. You went through that breakup when you were working for Oprah, but you also met the man you'd marry.
SMITH: She had a house in Miami. I would go down beforehand and set things up. I'd thrown the florist out of the house because he kept messing up the tables. True story. After working at the Florida governor's mansion, I knew about antique tables. And the tables kept getting messed up. Rrrgh. God. So I just said I would do the flowers.
''Art, don't you think we have too many flowers?''
''No, honey! You're the queen. You deserve lots of flowers.'' She'd laugh every time I'd say that. We still have a wonderful rapport.
What happened was I went to buy flowers. We were on Fisher Island and you take a ferry over to South Beach. In my 40s, I was zipping around in Ms. Winfrey's Aston Martin, a convertible. Can you imagine? [Laughs.] I'd put my best clothes on to go shopping. ''Here she comes!'' I would walk into the flower shop and say, ''I'll just take everything.'' [Laughs.] It was fun. So I was paying for flowers and I saw this man smiling at me. He had these pretty blue eyes. ''Ooh, he's cute!''
MW: Jesus does have pretty blue eyes.
SMITH: I always say to people, ''Do not look into the eyes.'' He smiled at me and I smiled back. But months passed, didn't pursue it. Seemed like a year later, I was arranging flowers. I had a friend who would sit there and babysit me while I did it, because I'd moan and groan. ''I'm sitting here doing flowers and I can see South Beach and the party going on from here. And I ain't got nobody. And woe is me.'' And he said, ''I know someone who likes you. His name is Jesus.''
''Oh, Jesus loves me, this I know. Shut up.''
So we called him. I got those flowers done, dressed crazy fast and jumped on that ferry. He shows up in his giant SUV. He's wearing this kind of soccer wear, that whole soccer look.
MW: That's pretty much a fetish now.
SMITH: And he was looking kind of delicious in it. In those days, Daddy was really working the muscles, had some of that going on. We were chatting [later] and I said, ''Will you marry me?''
''You're crazy! You just met me.''
''I know what I like and I don't really want to waste time. I don't have time to date. I think you're hot and I like you.''
''You're crazy. Let's go eat.''
He was going, ''We have to take this slow.'' I said, ''Let me come home with you.''
''Okay, but we're not sleeping together.''
I went home with him and we've been together ever since. That was like 13 years ago. It's funny how long we waited to get married. We could've gotten married in another state. But when Washington made it possible, we decided that would be the best place. The Lincoln [Memorial], that was Jesus's idea. He wanted Lincoln and Marianne Williamson. I wanted a big fried-chicken party at the restaurant.
MW: By that point, your career had gone from being Oprah's chef to having your own restaurants, starting with Table Fifty-Two in Chicago.
SMITH: I told Oprah that I wanted to do restaurants, and she said, ''Honey, that's great. I don't think you need to work for me full time.''
''Aw, Miss Oprah, I love you.''
''You can do my parties and stuff like that.''
And that's the arrangement that we have. I still do her parties. She's been truly my biggest fan and the best boss I ever had.
But getting back to the LGBT, what made me even more public about being gay and proud was Top Chef. Being on Top Chef Masters, I was myself. I'd never really been that openly gay on TV. People responded favorably. That's where I became so comfortable.
MW: I'd say the gayest thing you've done on TV was Lady Gaga's ABC special, A Very Gaga Thanksgiving. That's pretty gay.
SMITH: Yeah, that's very gay. Isn't that funny? It all came from just meeting her backstage on Oprah's show. I love her.
MW: I'm compelled to ask whether or not you had a hand in her infamous meat dress, so to speak.
SMITH: No! I wish! Can you imagine? Talk about the world's most famous dress. Apparently it's preserved forever in Cleveland. But, no, I had nothing to do with it. If it had been a fried-chicken dress, yes. [Laughs.]
MW: And now you're working with her parents. What's your role with Joanne Trattoria in New York?
SMITH: I'm the executive chef. I advise them on the restaurant. They're amazing. I believe in Mr. Germanotta's dream. He wanted a little restaurant, and I said, ''Let me help you.''
None of this was ever planned. It just kind of happened. I don't even have a résumé. I'm a big believer in when things are meant to happen, they'll just happen. Not that there aren't times when I kind of look and think, ''Let's make something happen.''
One thing I learned from those early days working for the governor is the importance of diplomacy and how food is an important part of that. That goes all the way back to growing up, when food just made things feel better. If you want people to come, feed 'em. If you want people to stay, feed 'em a lot. Working for Oprah and these different people, I became aware of things and became an advocate. I realized I could use food as a way to help. I also realized through all this running around here and there, cooking for this billionaire and this celebrity, somehow there was a meaning to it all. I was meant to cook for all these people, to be part of this, because somehow or another I was going to use it to do good. And that's what I've done.
MW: Speaking of all that running around and food's role in your life, you made a pretty dramatic change, losing weight after your diabetes diagnosis.
SMITH: I was very fortunate, being in the Oprah camp, that I'd met every big-deal doctor there is. I'd met Dr. Dean Ornish. Dr. Ornish said to me that I could change my whole life if I lost weight. I didn't listen so much, and it got worse. Then I thought I was having a heart attack, and other kinds of issues. I just said enough's enough. I started looking for someone to help me. What happened is I met this amazing man, Az Ferguson, this beautiful Aussie man with a big ol' heart. He took me on and I was able to lose all the weight. I did it myself, but trust me, when you have someone there watching over you, helping you, giving you encouragement, that helps too.
The funny thing about it is I never think of myself as being that strong. Nor do I ever think of myself as being famous, either, because I work around these amazing, famous people. I'm like, yeesh! They're crazy famous. I just happen to be a cook who cooks for them, who people know. That's it.
Anyway, the thing about it is I just reached a place where to be effective, to be able to do more, I had to take better care of myself. Now that I've got five restaurants, it's a constant juggle to stay on track.
MW: You've also got Common Threads.
SMITH: It was Jesus's idea. ''Art, we need to do a program that involves teaching and cooking that would help kids.''
Then 9/11 happened. Jesus and I were sent to New York to cook for victims' families. We were just completely blown away by that whole experience. I wrote, ''For our world is a quilt, its people the fabric, all joined together by common threads.''
Common Threads enables children not only to learn how to cook, but to learn how to work together, to work as a team. To know that food is a way to bring people together. While they're doing that, they're also learning about healthy food, what's good for them. It's evolved with the times, and it's amazing. It went from 15 kids to now over 6,000 kids. I look at my business career, and we've done great things. But I do believe Common Threads far exceeds all of that.
Something very important, behind the chef is a great man who's been a very important part – downright business manager, director. This very unassuming, beautiful Venezuelan man is the secret of my success. At an event where I was being honored, I was onstage. Someone told me a really sweet thing, that Jesus said, ''You see that? I made him.'' [Laughs.] I thought that was really sweet. I said, ''Baby, you framed Art.''
''Yes, I framed you.''
I was kind of all over the place, and he framed me. It's been a great, great journey. And a fun one, too.
For more about Chef Art Smith, visit chefartsmith.net.
The 22nd Annual Chef's Best Dinner & Auction is Tuesday, June 26, at the Washington Hilton Hotel, 1919 Connecticut Ave. NW, 6:30 p.m. Tickets are $250. For more information, call 202-269-2277 or visit foodandfriends.org.
---