Piece of His Heart
Randy Johnson found a kindred spirit in Janis Joplin, and his new show at Arena Stage pays tribute to the legend and her influences
''I remember listening to Janis Joplin's Cheap Thrills album, and listening to [her cover of] 'Summertime' over and over and over again -- it just rocked my head,'' Randy Johnson says.
He was 5 at the time.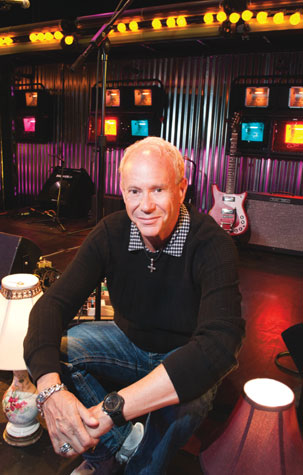 Randy Johnson: ''One Night with Janis Joplin'' at Areana Stage
(Photo by Todd Franson)
All these decades later, when the Joplin family asked him to create a show in tribute, Johnson jumped at the chance to relive those days.
The result is One Night with Janis Joplin, now at Arena Stage. It's essentially the ''electrifying'' Joplin dream concert Johnson – and the majority of her fans – never got to see, since Joplin died of a heroin overdose in 1970 at the age of 27.
''[It's] as if Janis had returned to earth and was going back out on tour,'' Johnson says, explaining the show's concept. ''And it's one night with Janis Joplin, where she had the chance to tell her story, tell her influences, her philosophy, share her art.'' Ultimately, it's not that different from many of Joplin's still-living peers on nostalgia-steeped tours today – except that Joplin isn't played as the aging baby boomer she would have been, but as a woman still very much in her prime.
Mary Bridget Davies portrays the legend. ''[When] she opened her mouth to sing, the entire table fell off their chairs,'' Johnson says. A blues singer in her own right, Davies was born in the decade after Joplin died and has performed as Joplin for years now. She was in the show Love, Janis and has repeatedly toured the world with Joplin's band Big Brother and the Holding Company, whom Davies lovingly refers to as her ''rock and roll uncles.''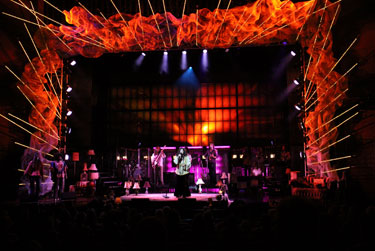 ''There's something for everyone in the show,'' Davies says. ''Even if you don't particularly care for [Joplin's] singing voice, the story is funny. She had a very wry sense of humor.''
Davies isn't the only powerhouse vocalist onstage. ''I had the idea of this 'Blues Singer' [who] would embody all of Janis's influences,'' says Johnson, laughing, ''It really became her alter ego. Her inner black woman, so to speak.'' Throughout the show, opera singer Sabrina Elayne Carten embodies everyone from Bessie Smith to Nina Simone to Aretha Franklin – not to mention Leontyne Price.
The Joplin estate hired Johnson because of his successful pedigree in creating concert-style tributes. He's written or produced shows about Patsy Cline, Conway Twitty and Elvis Presley. He's also worked directing or producing concerts and plays with everyone from Barbra Streisand to Audrey Hepburn, Liza Minnelli to Pope Benedict XVI.
''[Johnson's] just that type of director where you know that he is larger than life, with all the accomplishments he's had. But he's still accessible on a personal – and a human – level,'' says Davies. ''He's given me a lot of freedom in this role because he wants to show that Janis's main mantra was, 'Be true to yourself and don't compromise yourself.'''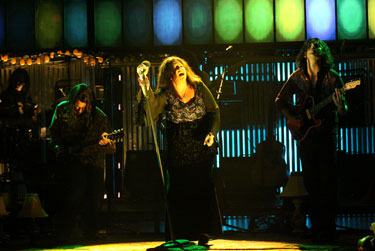 With his sweet, calm Scottish terrier lounging nearby, Johnson talked to Metro Weekly about a show he says is ''probably the most personal, because I get a lot of my philosophy into it too.''
METRO WEEKLY: How did the show One Night with Janis Joplin come to be?
RANDY JOHNSON: Two years ago I was approached by Jeff Jampol, who manages the Joplin estate. He asked if I wanted to meet the Joplin family, with the idea that they wanted to do another show. A lot of the stories that you hear in the show they told me that day. The housecleaning story [where the three Joplin kids would clean while performing to West Side Story, with Janis playing all of the supporting roles]. And her sister Laura told me about Janis's influences. And that was the most intriguing part to me. I started doing research, and Laura and Michael [her brother] sent me material on Janis. And they sent me some of her writings.
The other thing that intrigued me, which I didn't know, is that she was an artist, that she painted. And she had designed all of her own stage clothes. She was actually totally in control of her career, which was not my impression of Janis. It was of just this woman who sang her ass off, and just kind of happened. And I realized it didn't just happen. She became famous at a time when it wasn't easy to become famous. She simply did her thing and audiences were drawn to her, she was drawn to the audiences. There was no contrivance about her. She simply just told the truth.
MW: So the dialogue, the things that Joplin says in the show, a lot of that came from your initial discussion with the family?
JOHNSON: It's based on Janis's words. I vetted everything through Laura and Michael, to be sure that I was being true to Janis's thoughts, and her way of thinking and speaking. I just pored through the interviews. And so everything in the show is based on the truth. There's no revisionist history.
The show has grown over the past three productions. But from the first night I knew we had a hit, something special. It launched at Portland Center Stage in Oregon around Easter 2011. And it ran for six weeks and sold out. Forty thousand people saw the show. The repeat business was extraordinary, which is always a sign that you have something special. And then we played Cleveland – we did 24 performances in Cleveland about six weeks ago. And now we're here at Arena.
MW: How did you pick the songs that weren't Joplin's that factor into the show? Those that were, say, Nina Simone's or Aretha Franklin's?
JOHNSON: When I was a kid growing up in Culver City, Calif., one of the first albums I heard was Cheap Thrills. I didn't listen to ''Bibbidi-Bobbidi-Boo,'' I didn't listen to Disney. The first record I remember hearing was Dave Brubeck. I grew up listening to – really listening a lot to – Nina. Just another authentic voice that just hit me hard.
And there was that Aretha Live at the Fillmore West album, which had ''Spirit in the Dark'' on it. I remember buying it at Woolworth's when I was a kid. And that's another song I played over and over again. What hit me was that Janis's journey was somewhat of my musical influences. There's a very parallel universe for me. I always loved ''Spirit in the Dark,'' so when I was trying to find the finale of Act 1, I had it in my car stereo and it came on. I thought, ''This is it.'' I'm going to construct a duet with Aretha and Janis and tear the house down.
MW: The two of them performing never happened in real life, did it?
JOHNSON: That did not happen. They knew each other. It was amazing who Janis knew.
MW: I didn't grow up with Janis Joplin. I grew up more with Aretha, and then discovered Nina Simone in college. Janis, I never really got her until this show, ultimately, because you've put her in context.
JOHNSON: I find that a lot with people. That she was kind of inaccessible to a certain generation.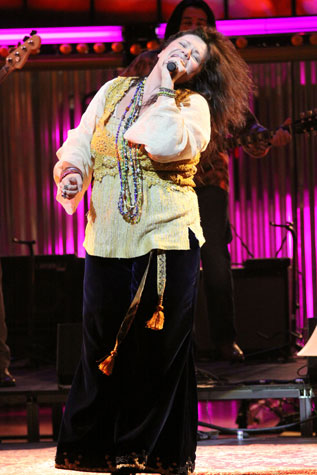 I really want the audiences to fall in love with Janis the way that I fell in love with Janis. Actually, her philosophy is pretty much concurrent with the philosophy of this generation, this time now, which is very basic: Simply tell the truth, be who you are. She was honest enough to talk about these influences.
And the other thing that is important to me is that we're all influenced by people. Whether it's music or writers or poets – none of us got to be who we are because we simply came out of an egg. Influences are very important.
MW: So you were inspired by these legends to get into show business?
JOHNSON: I was a very shy kid, so I spent time in music a lot. I actually listened to Mahalia Jackson, that was another album that I listened to. I listened to Joni Mitchell a lot. I grew up in the world of thinking musical artists. At the same time, I grew up in the world of theater. My parents actually took me to a lot of theater when I was a kid. So I became an actor. I didn't really come out of my shell until I discovered that I could actually speak onstage.
MW: When was that?
JOHNSON: It was in 10th grade. I went from not really talking to anybody, except for a couple of people, to all of a sudden coming out of my shell.
MW: In what show?
JOHNSON: Oh, it was this show called Who Was That Lady I Saw You With? It was a terrible show. It's one of those high school things that they pick. But I found out that I was funny, and I found out that I had comic timing, and then the next show I did I found out I could sing. And so I ended up at USC and got a degree in theater. I did a couple of TV shows, danced in some movies. I hated auditioning. Despised it. And so I started producing shows that I wanted to be in. But in the middle of all of that I moved to New York to be an actor/dancer – and ended up partying the entire year and not really doing anything else.
MW: When was this?
JOHNSON: In the '80s. It was when New York was really wild. I had a blast. It lasted about a year. When summer hit and I had no air-conditioning in my apartment in Times Square it was time to come back to California.
MW: You lived in the old, pre-Disneyfied Times Square? JOHNSON: Yeah. It was when it was really nasty. I paid $300 a month for an apartment. I took dance classes, and I kind of did the thing. But I was still in the process of reinventing myself, figuring out what I wanted to do with the rest of my life – but all I really wanted to do was party.
MW: How old were you at the time?
JOHNSON: Right out of college.
And then I came back to California and everything gelled. I was producing The Rocky Horror Show, and I got a call that Richard Dreyfuss wanted to do The Normal Heart. The producer couldn't do it, and would I like to do it, to produce it? I had no idea what The Normal Heart was. It had just opened at The Public Theater [off-Broadway], and I said yes. I've always said yes. Figured, why not?
I read the script. It was a period when AIDS was so raw. We all had AIDS anxiety – but you didn't know what it was. I had to take a walk for four hours after I read the script. I was like, ''What have I gotten into?'' We ended up with Kathy Bates and Richard Dreyfuss and Bruce Davison. And Larry Kramer was with us. It was the most extraordinary experience, because at the time there were protests outside the theater.
MW: Anti-gay protests?
JOHNSON: That was a very hateful time. It was a very scary time. ABC did town halls from the theater to discuss it, but no one knew what it was. People thought you got it from dogs, because gay men have so many dogs. People -- because it was Richard -- thought it was a Neil Simon play. And they would want their money back because they were so offended by the show. We were living right in the middle of the holocaust of that time. But I learned a lot about myself and what theater could do.
It really changed my life. I realized that you could actually make a difference with theater. It's certainly not where I'm at now. But I feel like I started this chapter of my life with a very substantial anchor. And we made a difference. And I realized that no matter what, you have to make a difference. I can never go back to Pippin. [Laughs.]
MW: When did you come out?
JOHNSON: I was never in. [Laughs.]
MW: So you came from a supportive family where it wasn't an issue?
JOHNSON: It wasn't discussed. That was never an issue for me, even as a little kid. I mean, I knew who I was. I moved out of home into living with my first partner at 18 years old. It wasn't like the dinosaur in the living room that nobody talked about. They were just doing their own thing.
I had to go to other rooms in Hotel Crazy, but my sexuality wasn't one of 'em. [Laughs.]
MW: ''Hotel Crazy,'' that term is used in the show. Is that from Joplin?
JOHNSON: No, that's mine.
MW: And that's going to factor into the title of your autobiography, Adventures in Hotel Crazy.
JOHNSON: It just came to me one day. I was with some friends and I was like, they have checked into Hotel Crazy and they don't have a room key out. It's just been one of my favorite phrases, because it's so accurate. [Laughs.]
MW: What inspired you to write an autobiography?
JOHNSON: People have told me for a long time to write one. I felt like, I'm just going to tell a story about a bunch of famous people I've worked with, and that was not interesting to me at all. I realized that I could actually put my own philosophy into a book and how I experience things. Not the experience of doing shows or working with famous people, but how you get there.
That epiphany came when my parents were both in their final chapter. I took a year off to help take care of them. When your parents are passing – and they both went through it at the same time – you really have to come to terms with a lot of stuff.
Now, what's interesting, I was at lunch with my mother and father just before they got sick, with my partner, and the waitress said, ''You've got a couple of good-looking sons.'' And my father said, ''Well, one's my son, but they're married and I'm happy about it.'' And it was the first time he ever just said…
MW: He acknowledged it.
JOHNSON: He acknowledged it. And it was one of those moments. My jaw dropped and I kind of teared-up. And I thought, we've come a long way. That was the most we ever talked about it. But that was a gentle acceptance, instead of me trying to hammer their heads and all that. It was just a gentle acceptance.
MW: How far along are you in writing the autobiography?
JOHNSON: I'm almost done. I'm writing the chapter of this show, of my experience of this. Of actually really seeing your vision come to life, and really seeing another dream come true. I mean, I've had a lot of dreams come true. Every artist that I loved as a teenager – from Joni Mitchell, Carly Simon, Barbra Streisand, Elvis, Laura Nero – I worked with all of them. And I know that I'm very fortunate, but if it can happen to me it can happen to anybody. And that's the point of my book.
My basic philosophy is Janis's basic philosophy: Tell the truth, live for now and simply be yourself. Don't bullshit anybody, don't bullshit yourself. I love people who say, ''I've been lying to myself.'' That's the one thing that physics prevents. Because you know you're telling a lie. I've watched friends of mine go through a lot of stuff. Especially the ones in the generation where it was really hard to come to terms with your sexuality. If you're not comfortable with your own sexuality, you're not going to be comfortable with anything in your life, because until you can tell the truth it affects every aspect of your being. You can't write your best music, you can't write your best play, you can't live your best self. So you simply have to tell the truth.
The hardest thing to get to is to a simple place, you know? I had cancer at 18. Thyroid cancer. I've had challenges. But I always knew that there was something – I always thought, this is just a chapter, I'm going to get through this. And keep on going. And I always have. Even when I broke up with my ex and had a terrible time, I just turned it into another chapter along the way and didn't stay in self-pity.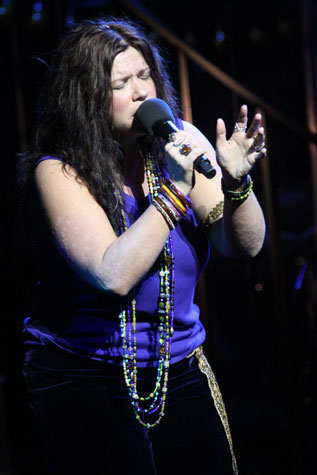 MW: Switching gears, I wanted to ask you, how did you end up working with Pope Benedict XVI? What was all involved in that?
JOHNSON: I've always done spectacles. I've been very lucky in my career to do political events and do these huge massive, Olympic-scale things. The producer of Elvis, who is a very dear friend of mine, Stig Edgren, called and said, ''I'm producing the papal visit. Would you like to direct it?'' And I was like, ''Okay!'' It was an extraordinary experience. I staged a four-hour concert prior to the holy father's appearance, and then staged the College of Cardinals and then the papal Mass and then his entrance. I actually got Kelly Clarkson to sing ''Ave Maria'' to the pope, which was an extraordinary experience. It was amazing. You actually felt a different energy from him. I've worked with a lot of rock stars and a lot of superstars, but I've never heard a crowd or seen a crowd respond the way they responded to him.
MW: Did you grow up Catholic?
JOHNSON: No. Most of my family was Southern Baptist. I never connected to organized religion.
MW: But you knew all about pomp and circumstance?
JOHNSON: Yes, I knew spectacle. At the end of the day, it's all theater. That's the thing. Whether you're working with Princess Diana or the pope or the Clintons, or whoever – it's all spectacle, it's all theater. Even picking his theme music, and when the ''popemobile'' comes around – everything was staged.
MW: Another one of your shows, Elvis Presley In Concert, how does that compare to One Night with Janis Joplin?
JOHNSON: Fifteen years ago we were going to do a 20th anniversary of Presley's death, tribute concert. The late Todd Morgan of Graceland said, ''I've always wanted to do an interactive concert.'' So instead of having a bunch of stars singing Elvis songs, we created a virtual Elvis concert, where he's on 30-foot screens. The only thing that's not living on the stage is Elvis. Everything is live – it was his original backup singers, original band. A 90-piece orchestra. And his voice and his image. You're of the illusion that you're at an actual Elvis concert.
We sold out Radio City for three nights. We hit the Guinness Book of World Records for the most successful tour performed by a deceased artist. And every significant anniversary we get together. I just did it in August.
The difference is, I call that virtual theater. And this show is musical theater.
MW: Was the Guinness title created specifically for the Elvis show? Have their been others like it before?
JOHNSON: I think we were the first. [Laughs.] I don't think there's a lot more.
MW: There's also a similarity between the two artists, Joplin and Presley, in that they're both white artists working in what was – in their time, at least – an African-American art form.
JOHNSON: Absolutely. Elvis was influenced by Muddy Waters, and significant African-American artists. I don't think Elvis would have happened, as Janis would not have happened, without the blues, without gospel. They both sat in gospel churches and listened to the form. So they were kind of on the same path. And I believe they actually met at one point. I'm not sure the story, but I know that they crossed paths.
MW: Among all the people you've worked with, who surprised you the most, either good or bad?
JOHNSON: I've really liked everyone I've worked with. I loved Joni Mitchell. Carly Simon was another one that I really, really liked. Streisand had a very great sense of humor. She was incredibly kind.
MW: Not difficult?
JOHNSON: No, never. It's a myth, as far as I'm concerned. She's just a pro and expects everyone around her to be a pro. And there's a reason she survived 50 years in this career. But she's a very kind woman.
MW: What do you think of today's pop landscape? You mentioned working with Kelly Clarkson.
JOHNSON: I love her.'
MW: Are you seeing anyone of Joplin's caliber today?
JOHNSON: I think Adele is the real thing.
MW: I was going to ask you about her.
JOHNSON: Yeah, she's the real thing. She's just a broad doing her thing, living her life, and that album [21] – the truth in that album is amazing. Those songs come from the truth! And I'm not putting anybody down, because there's an audience for everybody. But when you listen to Adele? Oh, my God. I don't connect with Madonna, but I understand why she connects with millions of people. And I respect her career, what's she accomplished. It's not my musical thing. But Adele….
I rarely listen to pop music. I think Beyoncé's great. She's a great showperson too. And I do like Celine Dion. [Laughs.] I do, I have to admit it. I listen to Luis Miguel all the time. I don't understand a word of what he's saying, but I love the passion. The same thing with Veronique Sanson, who is a French artist. I'm always drawn to people's passion, even if they can't sing. If they're passionate about it, you don't care that they can't sing.
MW: Like Bob Dylan?
JOHNSON: Well, what he wrote is amazing. And I'm drawn to his words. Music can certainly change lives. Words and music can change lives, if you're really listening. And that's one thing that I hope audiences get out of Joplin. If you really listen to this show, there are deep messages across the board.
MW: You've staged this as just a concert, with Joplin singing and talking about her life from the stage – which, of course, allows you to avoid any of the less savory or speculative details about her life, and especially death.
JOHNSON: Everyone knows [Joplin] died, that's not the point. The point is to be with the spirit, the music, the art, the essence of Joplin and her influences. And that's why I created it.
She's in the super-consciousness. You still hear Joplin all the time. People still think about Janis. Whatever she did was bigger than her life herself. She created, like [Jim] Morrison. They live on. And what they accomplished is much more powerful than any one life. That's the thing. I didn't get into the drug abuse or any of that stuff because I felt that that's been done. And it's not really important. Again, everyone knows it.
MW: What do you see or hope for the future of this show?
JOHNSON: I'm hoping that we'll have a substantial regional run. I'm hoping that it'll eventually play Broadway. I'm hoping that the country gets to see it.
MW: What's next for you?
JOHNSON: The thing is, the universe has always provided these doors and I've walked in. I've been able to work with these people. I never planned to work with anybody. I never planned to write this play. The universal mind just keeps sending opportunities and I keep saying yes.
MW: Another aspect of Joplin's life that isn't discussed in the show is the suggestion that she was bisexual.
JOHNSON: You know, I don't know about it. I started to read a lot of books about Janis. When I realized I'm just reading a bunch of opinions…. I don't know. You read about it, but it's sort of like after people die you don't know what's true or not.
I think that anybody who is trying to find themselves, whether you're gay, straight, transgender, confused – one message you can come out of this show with is be yourself. It may not be the easiest thing in the world. But come to terms with yourself. Your life can be much easier than you're making it.
MW: And that's one reason Joplin and this show in particular has appeal to the LGBT community.
JOHNSON: Absolutely. I think that she appeals to everybody. But I think that, like the divas of the world, there's something that you can find. We identify with them as a gay culture, because they actually are authentic and bigger-than-life. And give you hope when there's no hope. And give you something to strive for. And the divas can be men, too. But people like Janis and Cher and Barbra and Madonna and Lady Gaga – I think give people who feel ''less than,'' a reason to feel ''more than.''
One Night with Janis Joplin runs to Nov. 4 at Arena Stage, 1101 6th St. SW. 'Tickets are $45 to $94. Call 202-488-3300 or visit arenastage.org.'
---