Veteran Activist
As the new head of OutServe-SLDN, Allyson Robinson is opening new fronts in the fight for full equality in the military
Allyson Robinson has never been one to take the easy route. She applied three times before being accepted to West Point. And when she came out as transgender, it wasn't in the confines of a liberal bastion like New York or San Francisco, but in Waco, Texas. While she was in divinity school.
As the new executive director of the recently combined OutServe-Servicemembers Legal Defense Network, Robinson faces an uphill battle of refocusing the movement on the inequalities still faced by LGBT servicemembers.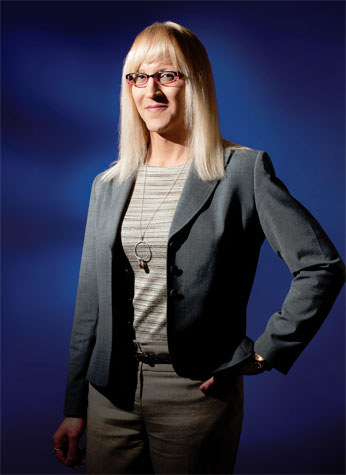 Allyson Robinson
(Photo by Todd Franson)
The repeal of ''Don't Ask, Don't Tell'' in September 2011 brought an end to nearly two decades of discrimination in the American armed forces that saw more than 13,000 men and women discharged because of their sexual orientation. But while activists and supporters of the LGBT community declared victory after the repeal, obstacles remain for full equality in the military, including a ban on transgender servicemembers and roadblocks for awarding same-sex couples benefits enjoyed by straight military couples.
A veteran, Baptist preacher and married for 18 years to the mother of her four children, the 42-year-old Robinson hopes to right those wrongs by preaching to the LGBT community and the public the struggles that still remain for those in uniform. Having previously worked for the Human Rights Campaign as deputy director of employee programs at HRC's Workplace Project, Robinson brings a knack for educating to her new leadership role.
''What we share in common far outweighs the things that make us different from one another,'' says Robinson, who was named executive director of OutServe-SLDN in October, in the process becoming the first transgender person ever to lead a major organization that advocates on behalf of gay, lesbian, bisexual and transgender people.
Although Robinson says she didn't set out to make history, she has. And with a friend of the LGBT community in the White House, momentum appears to be on her side.
METRO WEEKLY: Who is Allyson Robinson?
ALLYSON ROBINSON: I grew up in Scranton, Pa. I used to be very reluctant to admit to having grown up in Scranton, and then two things happened: The Office came out, and now everybody thinks that beautiful, hilarious people come from Scranton. And the vice president is a native of Scranton. So I feel a little bit better about owning my hometown.
I came from a military family, and people often have a hard time reconciling that with the fact that my dad was not active duty for much of the time I was growing up. My dad's a Vietnam veteran and sort of found his life calling in the Army, but had to leave it behind to take over the family business not long after he came home from the war. He found his way into the Reserves and did his career as a reservist, but there was never any question in our family about what my dad's real job was. That was what he loved and what he was passionate about. And so it was kind of the family business for us. Not in the sense that I felt as though I had to follow in his ''bootsteps,'' but in that I really, really wanted to. So I made plans to do that.
I was one of those sort of annoying people in high school that lettered in three sports and was editor of the yearbook and all that kind of over-achieving stuff. And so I wanted to be an officer and applied for West Point — I was just sure I'd be a shoe-in because I was obviously so well prepared — and I got rejected. So I enlisted in the Reserves myself. I wanted to build up a little experience, so I enlisted as a combat medic. I finished high school and applied again and thought, ''Certainly now, I can't imagine someone who's better prepared than I am,'' and I got turned down a second time. I'd been offered an ROTC scholarship, so I took that and went out to Arizona State University – but applied again. I'm pretty persistent that way when it's something that I want.
Finally, I got accepted the third time around. I was so proud and so humbled every day to be there at West Point, to wear that uniform, to be apart of that history. And I carried that with me after I graduated and was commissioned. Military life has its ups and downs, but I never questioned that it was the right place for me to be. I loved it every single day.
I did leave it eventually, and I left it willingly to go into ministry, but it was just kind of one high calling for another. And our ministry always ended up being in places where there were a lot of people in uniform just off of military bases, so the connection was still very strong for us.
And Danyelle, my wife, was a West Point classmate of mine. We went to West Point together, graduated together, and served together for the five years we were on active duty.
MW: How did you two meet?
ROBINSON: We met on the very first day that new cadets arrive at West Point. It's called Reception Day, or R-Day. It is kind of in West Point lore. It is just the most hellish day of your life. They really do sort of take away every sort of speck of individuality you have and begin to break you down so they can kind of remake you in this perfect Army image.
We like to joke that we've both seen one another at our absolute worst. It doesn't get any worse than that day and that first summer. We didn't date until our sophomore year. We had our first kiss at the Army-Navy game. I know, it's actually really cheesy.
MW: When did you marry?
ROBINSON: We married in 1994. This isn't completely the case, but generally speaking, marriages like ours fall into these neat little loopholes. There are a couple of very small jurisdictions around the country where that's not been the case and there's been moves to annul marriages when there's a [gender] transition. Generally speaking though, marriages continue to be legal. So we were a same-sex couple married in New York years and years ago.
MW: When did you transition?
ROBINSON: I'm not equivocating, but I would be remiss if I didn't make the point that it's a process. It's not like ''this moment'' thing. Many of us dream that it's going to be that way. When I allowed myself to dream dreams like that, that is what I dreamed and it's not that way.
I began my transition in 2005 and I presented as male for the last time on the day I graduated from Baylor in 2007. So, shockingly recently when you stop and think about it for a minute. It's not that long ago.
MW: What made you decide to go to divinity school at Baylor University in Waco, Texas?
ROBINSON: I had been a pastor for six years at that point. That's kind of the way Baptist polity works in a lot of circles. You don't have to have this full academic qualification to be credentialed for ministry, so I pastored a small church in the Portuguese Azores for six years just off of a U.S. Air Force base.
I'm a really curious person by nature. I love to study and to teach and I'd hoped that my career would eventually include some more of that, and maybe even at a professional level. So we left the island and moved back to the states so that I could start to get that set of education credentials that I needed to continue on that path.
MW: What was your coming-out experience like?
ROBINSON: By the time I had to start dealing with my issues, I was out of the military and had been for some time. I was, however, a Baptist preacher and a candidate for an advanced degree at the largest Baptist university in the world. I love to tell people that I came out in Waco, because they inevitably gasp. It always gives me the opportunity to sort of say, ''Well, actually, you can loosen the grip on the stereotype a little bit.'' I actually had an amazing coming out experience in Waco. It was a very controlled and limited experience, because I knew that if I were outed in a big way that I would have lost my fellowship. I would have probably lost my job and not been able to support our family.
So we planned things very carefully to ensure that I could get the care that I needed and that we'd be okay. I found community and family there and they were very good to us. And believe it or not, I love to get back there. I spoke last year, almost exactly a year ago, at the Metropolitan Community Church in Waco. They had their very first community Transgender Day of Remembrance event and they asked me to come and speak. It was so amazing to get to do that and to have a chief of police and a city councilwoman from Waco who were there and who spoke at a Day of Remembrance event. So it was actually a very good experience.
MW: Did that surprise you at all?
ROBINSON: Yes. It shocked me, because I had a pretty tight grip on the stereotypes. And, frankly, I'd lived a pretty sheltered life as a graduate student in a small university community and as a preacher in that same community. I didn't spend a lot of time at either of the two gay bars in Waco. So I didn't really even realize how much community was just sort of waiting there to embrace me and us, and walk with us through that really interesting time in our lives.
MW: I'm very intrigued by this Baptist preacher thing.
ROBINSON: It's always been more interesting for folks when I tell them I didn't grow up in a very religious family. That was something that I didn't really come into or own for myself until I was at West Point.
It was my first year there. Like I said, I thought I was all that, I thought I could do this thing. I'd prepared for it for years. I knew more about the kind of stuff we were learning than most of the cadre did, and was kind of shocked to find about three weeks in to this beast-barracks summer indoctrination program that I was done. I wanted nothing do with this. I'd worked my whole life for it and I was ready to walk away.
But I had a moment of realizing that it was okay to need help, that help was there for me if I would be willing to call on it. That was kind of the beginning of a faith journey for me that led into some really weird places, honestly.
I think it's safe to say that when I started that journey I was a pretty conservative person, in just about every sense of the word. A lot of that was just running away from what – in my heart of hearts – I knew was going on in my life.
Getting to live all over the world in the military and then in ministry, particularly during our time in the Azores; living outside of one of the poorest communities in Western Europe, and seeing that community sit on the edge of a U.S. military base, which was ridiculously affluent relative to it; it really started to make me question some of those very conservative faith tenets that I'd held onto. I very quickly began to focus the work I was doing there on finding the causes of the injustice that people were experiencing in those communities and being a part of the solution and not a part of the problem. Once you've had your eyes opened to one kind of privilege, you know it's like a house of cards. It just comes tumbling down.
I realized how privileged I was as an American, as a white man who is well educated, who grew up in the middle class. When the time came that I transitioned, my eyes were already open to injustice. So I found that my faith was what drove me into activism and into advocacy. Again, it was really just changing one calling for another.
MW: When were you first approached to lead the newly combined OutServe-SLDN?
ROBINSON: Oh, gosh, that's a good question. I don't remember exactly. It would have been over the summer of this year. It began with a very dear friend of mine, Sue Fulton, who's a member of our board of directors. Sue and I have served together on the board of Knights Out, which is the LGBT alum organization at West Point. It was how we met. She was here in D.C. with her partner, Penny, and they asked me if I'd join them for brunch one day, so I came down.
We did what we always do, kind of filling one another in on what was going on in our lives. She shared a little bit about the process of what was going on with the merger and that there was a search going on. I knew it because I'd received some recruiting letters and so forth. I knew it was something I was very interested in, but I didn't believe I was a very strong candidate — ironically — for the position.
MW: Why not?
ROBINSON: I don't know. Most people who know me would call me ambitious, I think. What's more likely the true story is that I'm just weirdly drawn to doing things the hard way: West Point three times to get in. When I came out it was in Waco, Texas, while I was at divinity school.
I think it was just not looking closely enough at where I'd been.
I was very, very satisfied with the work I was doing at HRC. I had been asked to start and create a completely new program in organizational learning and development, kind of from whole cloth. As I said earlier, teaching and learning are things I'm very passionate about and I felt like I was doing the very best work of my life.
So I was sitting there with Sue and we were just kind of chatting about things and she was telling me about the fact that the search was going on. I said, ''You know, I've been thinking that maybe I would toss my hat into the ring just as a professional development opportunity. Someday I see myself in this kind of a leadership position and this will be good experience to work through the process and see how it goes.'' And she got this look on her face and said, ''I think that would be a great idea. I think you should do that.'' So over that weekend, I did. Brushed up the résumé a little bit and made a couple of phone calls, and here we are.
MW: What was your reaction when you found out that you were going to be taking over in this role?
ROBINSON: I was absolutely thrilled because I very quickly went from this place of, ''Yeah, maybe I'll give this a shot, because whatever happens I'll get something out of it. It's a win for me whether I move forward or not.''
But you don't go into a process like that without, No. 1, doing some serious soul searching, introspection; and, No. 2, some serious research about the organization, its history, its reputation, where its strong, where its weak.
And as I went through that process it very quickly became clear to me that this was exactly where I wanted to be and exactly where I needed to be. It very quickly seemed to me like something that made the most of all these really weird, great experiences that I've had over the course of my life.
And that I'm very, very passionate about. You can hear it in my voice when I talk about my dad's experience, and my own experience in uniform. It's like a family. I'd never really expected to have the opportunity to come back and to serve with my family and to serve these soldiers, sailors, airmen, Marines, Coast Guardsmen, that I've always looked up to and cared so deeply about.
MW: What sort of message do you think it sends being a trans woman taking over this very big organization?
ROBINSON: You know, I've been asked by lots of people, ''How does it feel to make history?'' And I've got to confess I love what Tammy Baldwin tweeted right after her election: ''I didn't run to make history. I ran to make a difference.'' I think that's beautiful and I wholeheartedly agree. I wish I had thought of it.
What I love most is being apart of an organization that really lives up to its values. Both of these organizations prior to the merge had full inclusion as one of the hallmarks of their organizational values. That's not changed on this side of the merger. But it's one thing to say that you're inclusive, it's another thing entirely to prove it, to show it in everything that you do, every day. I think it says something about this organization – not that they would choose a transgender woman to lead, but that they would choose the person who is most qualified to lead, regardless of what that person's gender identity is.
MW: How did your wife and children react to you being offered the position?
ROBINSON: [Laughs.] I laugh just because I'm measuring in my own head how much I want to tell you here. My oldest — Truman, who's 13 — when I told him that I was interviewing, I had to travel for the interview so I was explaining why I was going to be gone for a couple of days. He became very quiet, and he's not the quiet type. I knew he was processing something, I wasn't sure what, but as we went about the course of the day and I had the opportunity to ask a couple of moments later I realized he had tears in his eyes. I said, ''Son, what's the matter?'' And Truman said, ''But I love HRC.'' And I said, ''I do, too. That's been part of our lives and part of our family. But just as that work that I did there was important, this is really important stuff with really great people. And I think you're really going to love this, too.''
So they've been excited. I think they've been very excited that they didn't have to move. That was a good thing for them. And I've gotten to do a couple of interesting, kind of fun, crazy stuff you get to do when you're an e.d. I got to meet Michelle Obama a little while ago, and go to meetings at the White House or on the Hill. They think I'm such a big deal. They don't know what the truth is, but I'm good with that.
MW: Going into this new position, what are some of your goals?
ROBINSON: The overarching goal, it's the same goal that my father was so passionate about as a sergeant. It's the same goal I was taught being prepared for leadership at West Point, and that I practiced as a commander in the field. It's taking care of troops.
I think many have felt as though with the repeal of ''Don't Ask, Don't Tell,'' LGBT people, our community in the military, are taken care of. We did it. Let's celebrate. And we did do something amazing, worthy of celebration.
I'm shocked, though, to find out as I talk to people and do this work how many don't realize, for example, that though ''Don't Ask, Don't Tell'' has been repealed, there are no nondiscrimination protections for sexual orientation, much less for gender identity, in the military. Although LGB troops can be out, they're anything but equal. DOMA prevents legally married same-sex couples from receiving even the most rudimentary support from the military, things that opposite-sex families take for granted every day. You think of things like health care, health insurance, access to base housing. We think of those things as being kind of small things, but they're huge things. They're such big things that they have an impact, a very real impact — this inequality does — on our national security.
Military leaders know how important it is to treat their subordinates with complete impartiality. It's one of the hallmarks of good leadership. And our leaders are prevented by law from doing that today. They know – we all know – that that has an adverse impact on the ability of units to perform a mission.
So, [one goal is] advocating for equality, seeing that the benefits that can be put into place now, even with DOMA still in existence, are brought into place. There's a lot of benefits that could be. The service chiefs know that, they've studied it, they've analyzed it, and they've made a decision not to do it, which to me as a military leader equates to a decision not to take care of the troops. I'm going to ask them why. I want to know why.
MW: You mentioned people have this impression that now that ''Don't Ask, Don't Tell'' has been repealed, this is over. How do you go about bringing people's focus back to these issues that still have to be tackled?
ROBINSON: You preach it. You use every opportunity to do that. You make opportunities to do that. I'm finding as I travel around the country, as I talk to people – whether they're our members or supporters or decision makers, people in positions of influence – when they take a moment to listen to the stories of our members, they are moved by them.
When I deployed to Saudi Arabia or Kuwait, and Danyelle and I were perceived as an opposite-sex couple, she was cared for. She was brought into a support group. People looked out for her and I knew that they were. It helped me to focus on my job. Our gay and lesbian servicemembers don't have that.
Americans care about our soldiers. They care about our troops. It's important to them that they're properly cared for. It's important to them they that they receive the honor that their sacrifice is due. One of the things that we're doing is working to make people aware of the fact that that's not happening. You don't have to sell them on this. They get it. They want to know what they can do to help.
MW: With the president's re-election, are you hopeful that some of these changes will happen in the next four years?
ROBINSON: I'm very hopeful. Not only because I think President Obama understands these things and they matter to him, but also because there are some things that are on the horizon that aren't necessarily under his control, things like DOMA and where it stands with the Supreme Court. I'm hopeful because I know the Supreme Court was watching television on Election Night. I know that they saw what happened in Maine, Maryland, Minnesota and Washington. I know that they saw what happened when Wisconsin sent Tammy Baldwin to the Senate, and when more gay and lesbian and bisexual people than had ever been sent to Congress were sent to the House to follow in her footsteps there.
I'm very hopeful that we'll begin to see some of the institutional barriers to equality come down in the very near future. That won't end our work, because there's always a culture lag. It takes time for culture to catch up to policy and in the military it can take a long time. But I'm very hopeful that we'll see those things soon.
MW: There's a lot of focus in the movement on marriage equality. It's become this rallying cry in many ways. But there are other issues that either people don't understand the importance of, or are unaware of. Do you think there's been too much focus on marriage equality?
ROBINSON: I've been involved in a lot of conversations like that over the years, as you might imagine. But I've always questioned the premise just a little bit, because the assumption is we can only do one thing at a time.
We're actually pretty clever. We're actually pretty capable. And we can actually do more than one thing at a time. For all of the very public work that's gone into marriage, I have the privilege to sit here in Washington and be apart of two really great organizations over my years in the movement, and to know, because I'm in the meetings and I'm in the conversations, that there's actually a lot more going on and that it's all in service of the same end goal, which is full equality.
I would just say this: I'm blond, but we can walk and chew gum at the same time around here. Are some things going to get accomplished before others? Sure. That's just the way the world works. But we're not going to stop after our policy agenda is achieved, because there's still a need beyond that to provide support and development for our families and our communities.
For more information about OutServe-SLDN, visit sldn.org.
---