Coverboy First Runner-Up: Rich McPherson
This bear-lovin' cub makes his own way, one disciplined step at a time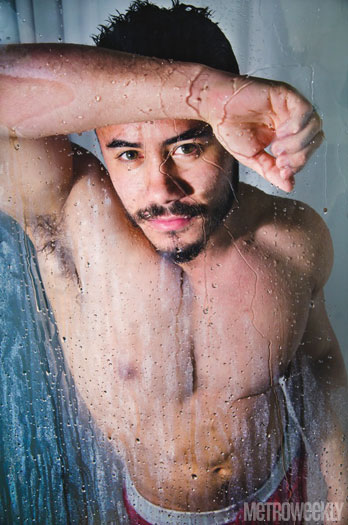 Rich McPherson
(Photo by Julian Vankim)
Rich McPherson tends dance to his own tune. He's got the drive and the discipline, matched by an independent streak. Does it come from bouncing around a bit – California, New York, Oman – when he was growing up? Or maybe from his military family?
Rich doesn't necessarily know. He can, however, share what those qualities sometimes look like. In high school, for example, he was a diehard wrestler.
''I placed in state,'' Rich says of high school wrestling in North Carolina, his last stop before D.C. ''I was also doing cross-country and track, but that was just to get into shape for wrestling. I'd have to make weight, go whole days without eating. I couldn't wait to have that gulp of Gatorade at lunch.''
Obviously disciplined. And definitely a jock, right? Not so fast.
''I wouldn't say 'jock,' because I didn't hang with a specific crowd,'' Rich counters. ''I got along with everybody. The nerds, the geeks, the football team, people in band – everybody.''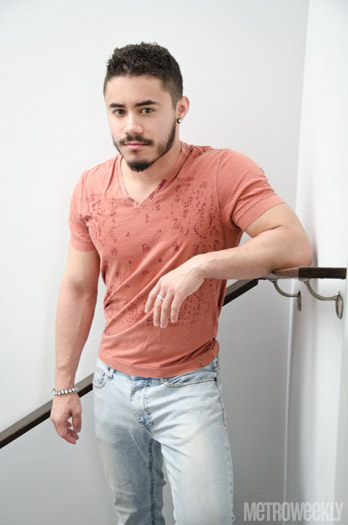 Rich McPherson
(Photo by Julian Vankim)
Rich's discipline made him a star wrestler. True to independent form, however, he ditched wrestling his senior year. Instead, he thought he'd stretch his show-biz muscles.
''I tried out for the school musical, Annie,'' he shares, seeming pretty happy to revisit the memory – particularly the part about making the cut, playing four supporting characters. ''I found out I could actually sing. I shocked a lot of people. I had the greatest time.''
While he also started up a backstage romance with a girl, Rich says he had already started getting a twitch for the boys. Wrestling saw to that, though he's quick to point out, ''I wouldn't get boners or anything when I was wrestling.''
That tumescent compass instead pointed him to Washington, for a guy he'd met while still living in North Carolina. At 19, Rich sealed the deal in D.C. Just shy of his 23rd birthday, however, last March, that romance came to an end. Since then, Rich is again unpacking his discipline and independence to see him through the rough patch. He's just gotten a new job, he wants to enroll at the Corcoran College of Art and Design to study graphic arts, and he even managed to squeeze in a little vacation as part of this new stage of life.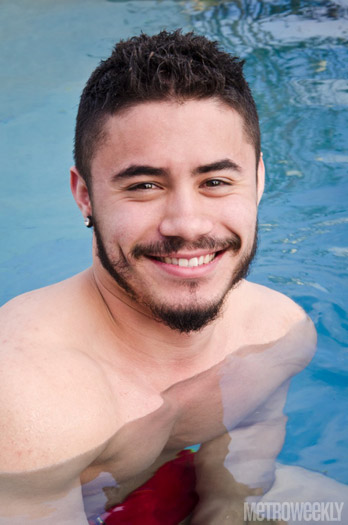 Rich McPherson
(Photo by Julian Vankim)
''I was a little depressed, so my friends wanted to lift me up,'' he says, recalling Memorial Day Weekend, when his breakup was still a relatively open wound. ''We went to Rehoboth. I really wanted to embrace being single. My friends talked me into wearing this ridiculous, slutty Speedo. I had a lot of fun.''
This latest iteration of discipline and independence has also put Rich back on the P90X workout regimen, five to six times per week, and saw him throwing his hat into the Coverboy ring in August.
Rich is the first to admit that everything that has followed has been something of a shock.
''A friend pushed me to apply,'' he says of his Coverboy debut. ''I never thought I would get picked. This is the biggest thing that has ever happened to me. When the magazine came out it was a very big deal. If I was out with friends, I would get recognized by people. 'Hey, you're Coverboy. Congratulations!' It was surreal, but great positive feedback from people.''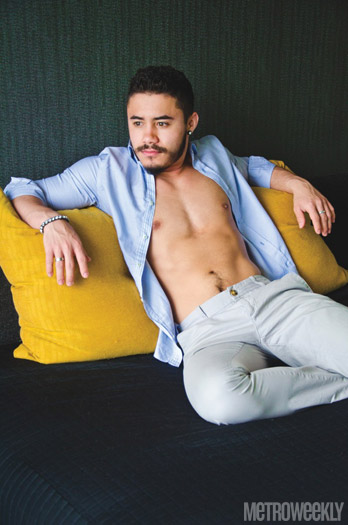 Rich McPherson
(Photo by Julian Vankim)
Making it clear in his profile that he's got a thing for ''bears'' probably didn't hurt when it came time to muster support for Coverboy of the Year. Even Charger Stone, organizer of the D.C. Bëar Crüe, got on board.
''He created an event page for me, made me 'Woof of the Week,''' he says of Stone's support. ''I got a great amount of respect, great feedback from the bear community.''
And, since those bears would likely want to know, Rich is still single. Be advised, however, that may be the situation for some time to come. Disciplined Rich is really enjoying his independence, even if some of his motivation is making himself a better partner down the road.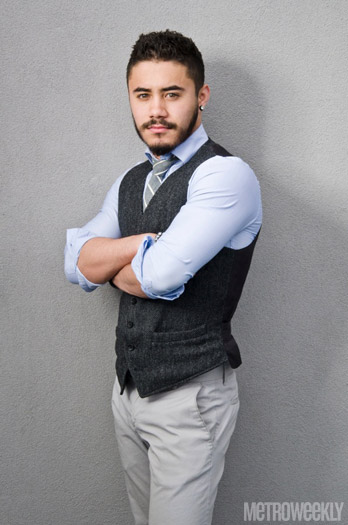 Rich McPherson
(Photo by Julian Vankim)
''Right now in my life I have to focus on myself,'' he says. ''If I do get into a relationship, I want to be able to give myself 100 percent. To do that, I have more work to do. I have a lot of opportunities and drive right now. I'm really embracing life, being grateful for what I have.''
While much of where he's gotten is all his own doing, Rich is also abundantly grateful for the support, and fully aware that discipline and independence can't give him all he wants out of life.
''I really appreciate the people who've reached out and voted for me,'' says Rich. ''It's been a great experience. I've gotten a lot of love. I appreciate every single vote. I can't put into words how grateful I am. It's very humbling. A thousand – a million – thank-yous.''
Meet Rich at Metro Weekly's 2012 Coverboy of the Year Party at Town, 2009 8th St. NW, Friday, Dec. 14, at 11 p.m.
First Runner-Up Prize Package
· $250 Cash
· Arena Stage -- 2 Tickets to
Good People
· Blowoff -- 2 Admissions to Event on Jan. 12 at the 9:30 Club
· CD/DVD Grab Bag --
Gayby
,
A MusiCares Tribute to Barbra Streisand
, Diamond Rings "I'm Just Me" single, P!nk "Blow Me One Last Kiss" single
· DC's Different Drummers -- 2 Tickets to D.C.'s Different Drummers' Capitol Pride Symphonic Band Spring Concert
A Space Odyssey
(3/23)
· DC Eagle -- $50 in Drink Tickets, Anniversary Coffee Mug
· FIT -- 2 Full Personal Training Sessions
· Gay Men's Chorus -- 2 Tickets to
Xanadu
(3/15)
· Hollywood Tans DC -- 1-Month Unlimited Tanning Package in HT54 Stand-Up Booth
· HRC Store -- $50 Shopping Spree at D.C. Store
· JR.'s -- $25 in Drink Tickets
· Landmark Theaters -- 4 Passes
· L'Enfant Café -- $50 Gift Certificate
· Mova -- $50 Bar Tab
· Number Nine -- $50 Bar Tab
· SKIN -- $150 of Professional Skin Care Products
· State Theatre -- 2 Tickets to Any Show of Choice
· Town Danceboutique -- $50 in Drink Tickets Good for Fridays or Saturdays
· Ziegfeld's/Secrets -- $50 Cash
Our thanks to all those nightspots, restaurants, businesses and performing arts venues who graciously provided prizes to this year's Coverboy winners. Certain restrictions may apply to some prizes. Prizes are non-transferable.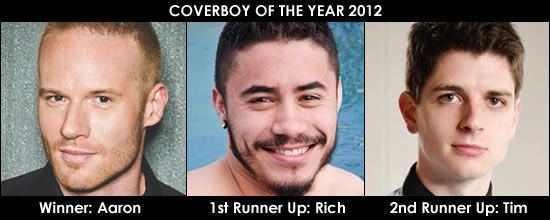 ---