Kerr's Courage
AIDS Walk Washington honors an activist's decades in the fight against HIV/AIDS
The 26th annual AIDS Walk Washington is coming together. The community has already raised more than $500,000 for Whitman-Walker Health and 17 ''Community Partner'' organizations. Nearly 4,000 people have registered to walk the Oct. 27 circuit or participate in the 5k timed run. The DC Cowboys are scheduled for one final farewell performance. The grand marshals – 20-month-old Miles Daniels and 10-week-old Milaya Daniels – have been selected to represent the hope for an AIDS-free generation.
And the day's two awardees have been named. The GEICO insurance company, long involved with AIDS Walk, is receiving the Community Service Award. The Courage Award? That's going to George Kerr, co-founder and executive director of START (Syringe, Training, Advocacy, Resources and Treatment) at Westminster, a program of D.C.'s Westminster Presbyterian Church.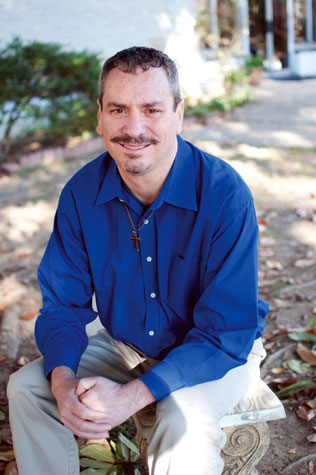 George Kerr
(Photo by Todd Franson)
While the recognition shouldn't be a surprise in that Kerr, 46, has been in the fight against HIV/AIDS in D.C. for two decades, it's a far cry from the oceangoing path he set out on.
''I planned on doing a career in the Navy, until Bill Clinton came out with the 'Don't Ask, Don't Tell' policy and I decided it was time for me to get out of the Navy,'' recalls Kerr, a California native who began his Navy career in San Diego. ''My next assignment was going to be on a new Marines boat. By that time, I'd come to understand who I was and what I wanted in life. And that wasn't it.''
Kerr, who really hadn't had any identity as a gay man prior, walked away from his Pentagon job and started a new life in D.C. At first, that meant retail – not a good two months.
''Then I went to a temp agency. On my second assignment, I stayed there for 19 years. I started out as the receptionist and worked my way up to facilities manager.''
That second assignment was with the organization today called FHI 360, and Kerr's career concerned with the well being of others began. With FHI the scope was international. In 2005, he brought that perspective home, helping to found DC Fights Back, a grassroots organization advocating for people affected by HIV/AIDS. The START at Westminster effort began in 2008, offering HIV testing and counseling, education, referrals, condom distribution and more.
''It's grown tremendously because of the fact that we have a mobile unit that goes out into the community,'' says Kerr, giving credit to a grant from the city's HIV/AIDS, Hepatitis, STD and TB Administration (HAHSTA). ''In the last two years, we've tested over 1,600 per year. The whole program is just over four years old. In the last two years we've really been able to ramp up very large numbers.''
The START at Westminster work gets quite a bit more creative than administering HIV tests. Kerr seems particularly excited, for example, by work he's doing with the D.C. office of the Atlanta-based Johnson C. Smith Theological Seminary. As a co-moderator of the Presbyterian AIDS Network, helping to prepare a three-day workshop at the seminary to prepare new pastors to be fully competent with regard to HIV is crucial, says Kerr.
''We need churches to start talking about sex,'' he insists. ''The people in those pews, they're having sex. We shouldn't be shying away from the conversation. The pastor is key to it, getting our younger pastors to really acknowledge that this is something that they need to be in the forefront about.''
That's not till the end of November, though. First up is AIDS Walk and the Courage Award, an honor for which Kerr is very grateful.
''This ranks up there pretty high, because it came from the community,'' he says. ''It's really honoring me for the 19-plus years I've been working in the field. It's big to me.''
The Courage Award is not, however, the real reward. That comes from the people he helps every day.
''What keeps me doing the work is the clients themselves,'' says Kerr. ''When they get service from us, that's the blessing. I hear some really tough stories about people really struggling. They're the No. 1 priority. They're the reason we're doing this work.''
AIDS Walk Washington is Saturday, Oct. 27. The event begins at 7 a.m. at Freedom Plaza at Pennsylvania Avenue and 13th Street NW. The run begins at 8:30 a.m., with the walk stepping off at 9:15. Post-walk celebration begins at 10 a.m. Registration rates range from $15 to $40. To register or for more information, call 202-332-WALK or visit aidswalkwashington.org.
---