Coverboy: Andres
Enjoying life's simple joys
Uncomplicated, yet exciting. That's the mantra to keep in mind when trying to impress or turn the head of Andres, a 23-year-old Puerto Rican native who moved to D.C. just last year. A full-time server and bartender at Level One and Cobalt, Andres is also pursuing his bachelor's degree in communications and political science at Trinity Washington University. Andres loves going to dinner, to the movies, partying, dancing, going to the gym and traveling – basically, keeping an active lifestyle. But that doesn't mean any activities have to bear an expensive price tag. ''I'm very passionate about everything I do,'' he says. ''The simplest things can bring me joy.''
What's on your nightstand?
A picture of my family back home, a Buddha next to a Holy Cross, a money tree for good luck, a little blue plate shaped like an ashtray with eagle and bird designs that was given to my mother on her wedding day.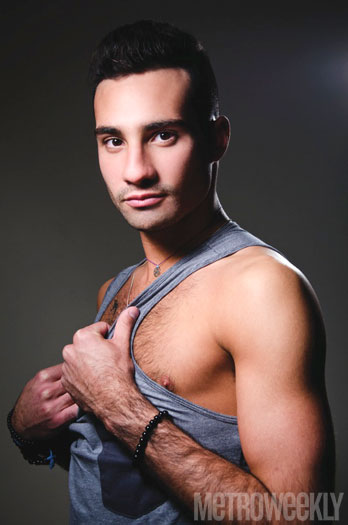 Coverboy: Andres
(Photo by Julian Vankim)
What's in your nightstand drawer?
Not much. The essentials. My money, my wallet, my watch, my cards, my checkbook and my ChapStick.
Where do you keep the condoms and lube?
Bottom drawer of my nightstand. There are also some in my bathroom. They're everywhere.
What are your television favorites?
Queer as Folk, Will & Grace, The West Wing.
What superhero would you be?
Flash. He's a little mysterious and flirty, like me. Plus, I have a lot of energy. I'm always running around.
Who's your greatest influence?
Definitely my mother. She's a strong woman who has sacrificed a lot for her family. Also my very first boss back home. She knew I was living on my own, and helped me a lot. She was also very accepting of me when I came out.
What's your greatest fear?
Letting people down.
---