Photography by Michael Wichita
You're a freshman, so you're a little bit stupid. S'ok. D.C. is easy if you just know your flashpoints.
The Hill is a bit stuffy, but it's got some good bars. Dupont Circle used to be gay. Now it's just sort of gay, but 17th Street is still really gay. 14th is in the process of getting gay. Georgetown is a shopaholic's opium den. Beatniks and hipsters, go directly to Adams Morgan, do not pass U Street, do not collect overpriced vintage clothing. Squares, head north to Woodley Park.
Clarendon's cooler than most people realize. Chinatown smells like cooked meat at all times. Rosslyn is boring. Eastern Market has a kickin' bazaar on weekends and some pretty good produce, too.
The Smithsonian is, well, educational. So is the Southeast gay strip — in a much different way. That's on the green line, as is Columbia Heights, where you can find some cheap digs. Ditto Mt. Pleasant.
Lesbian? Takoma Park. Drunk? Tenleytown. Sucker for punishment? Silver Spring or Rockville.
Dupont Circle
Unlike the upstate, hick-town colleges your friends went to, your time in the city will be a learning experience all its own. For your navigation, we've compiled a Cliffs Notes-brief guide, organized by major so you can find what suits you best.
Before you leave D.C. — if you ever do — you will fall asleep on the last train and spend the night on a bench in Greenbelt. You will be mugged as you try to hail a cab after leaving Nation by yourself on a Saturday night. You will couch-hop for a month when your landlord jacks your rent with zero warning and kicks you to the curb. You'll do all these things and pay your dues as a true Washingtonian, and you'll love it. We promise.
Welcome home.
Political Science
Uhm, hello. You're in D.C. It's only the Nation's Capital. Ya think you might be able to find some outlets to express your politically aware self?
If you're curious about how the federal government works, take a seat in the gallery of the Senate or House of Representatives. We can't guarantee excitement, particularly since James Traficant's in jail now, but if you hurry you can catch the final performances of defeated anti-gay Rep. Bob "Third Marriage Is a Charm" Barr. Make allowances for tourists and tight security and get in line early.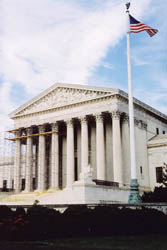 The Supreme Court
If you're interested in getting a close-up look the Executive Branch, you'll have to satisfy yourself with a new season of The West Wing, as the White House currently is only giving tours to K through 12 school groups. Not to worry — it probably won't take long for you to get stuck in traffic from a presidential motorcade. The Judicial Branch is a bit more accessible — the Supreme Court has yet to build a wall around its columned building on the east side of the Capitol, and it continues to offer lectures and exhibits on its Supreme history.
If you're looking for some hands-on experience with gay and lesbian politics, both the Human Rights Campaign (HRC) and National Gay and Lesbian Task Force (NGLTF) have volunteer nights. If you're more Republican in your leanings, try the Log Cabin Republicans. Hardcore Democrat? Try the Stonewall Democrats. Not yet sure which way your political pendulum swings? The non-partisan Victory Fund works to get gays and lesbians into office for both the Democrats and the Republicans, furthering the gay agenda from the inside out.
If local issues are more your thing, try the Gay and Lesbian Activists Alliance, the Gertrude Stein Democratic Club, or the D.C. Log Cabin Republicans chapter. If you've got a third party inkling, try the Statehood Green Party.
Wherever you turn, there's plenty of opportunity to pad, er, we mean "flesh out" that resume with valuable experience. Of course, if you just want to piss off the parents, try joining the Socialist Party USA.
Literature
Call us crazy, but one thing we like about Washingtonians is that they read. Newspapers, books, magazines — both high and low brow — D.C. is a town of info-addicts. Maybe that's why Lambda Rising so thoroughly stocks their shelves with everything from queer theory to gay porn. You can brush up on your Quentin Crisp, snag a copy of Instinct and head out the door with a rainbow teddy bear sticker. The staff is a friendly mixed bag of counter-culture urbanites, and the patrons come from all corners of the community.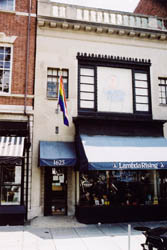 Lambda Rising
Just down the street, Kramer Books is smallish but well-supplied with new releases (mostly paperbacks) as well as more edgy fare and a huge travel section. It also happens to be one of the most heavily trafficked nightlife spots on Connecticut Avenue, with a bar and restaurant annex that fill up with Dupont hipsters every Friday night. Olsson's Books and Records is D.C.'s local chain where the selection is decent enough but the staff is often in a foul mood.
More amiable help can be found at Books-A-Million, newly remodeled and boasting one of the city's most impressive magazine selections. Meanwhile, if you're looking for dusty leather-bound classics, Sixties left-wing political essays or black and white abstract photography reprints, Idle Time Books is your store. This creaky, hole-in-the-wall shop holds more used gems than most stores twice its size, and most of it is reasonably priced. Similar is Second Story Books and Antiques, although the texts here tend to be older and denser.
Sisterspace and Books draws a niche market with products geared specifically toward African-American women. The shop draws lesbians by the truckload, as does the activist-oriented Politics and Prose. Featuring speaking appearances by progressives such as Howard Zinn, Politics and Prose offers much for the politically minded, anti-globalizationists, eco-anyones and Chomsky junkies.
Sociology
Kafka's existentialist theories, David Lynch films and triple-shot lattes. If these are three of your favorite things, then light up a clove and plop your overeducated ass on a thrift store sofa in a dark café and let's get cerebral. Start at Tryst, where the service is slow but no one cares because, hey man, what's the rush? At night there's live music, a full bar, and the meals are named after their regular customers ("The George" is our personal favorite) which is cute as long as you can keep the Soylent Green connection out of mind.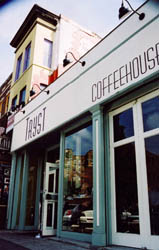 Tryst
Along the same lines is Soho Tea and Coffee, though unlike Tryst, this is one giant leap for queerkind. A bit pricey for somewhere so "open mike poetry," nevertheless, Soho attracts gays of all types, as well as a somewhat funky straight crowd. Try the white chocolate hot cocoa once the weather cools. On 17th Street, Java House and Cyberstop Café both offer cruising-friendly patios and equally friendly staff. Jolt 'N Bolt serves up smoothies and huge portions of ethnic foods for reasonable prices, and the Cosi in Dupont North distributes the gayest coffee to the gayest clientele in the city.
But the cruisiest joint around isn't in Dupont. In fact, it's not even a café. It's Whole Foods Market, a.k.a. Fresh Fields, where Botoxed gay men purchase pesticide-free squash, and where your future civil union may be buying soy milk behind you in the checkout line. Grab a booth and invite him or her over for a cup of organic joe.
Film
With the current move to all things digital, today's film major must struggle to keep things pure. And part of the purity of film is to venture back to the cinema palaces of yore, places that turn moviegoing into an event. Washington has two such venues, one a little more palatial than the other, but both offering massive screens and booming Dolby Digital THX surround sound systems. The Loews Cineplex Uptown Cinema is the jewel in the city's celluloid crown. Located on Connecticut Avenue, it's one of the few theatres left with a balcony and a spacious grand, "red-carpet-worthy" entryway. The screen doesn't just make things larger than life, it turns them into spectacles galore. Even the most mundane film becomes a magnificent (and gargantuan) experience when viewed at the Uptown. The Cinema, on upper Wisconsin Avenue, boasts a similarly sized screen and a vast auditorium, but because the theatre is located below ground, you lose out on that thrilling balcony experience.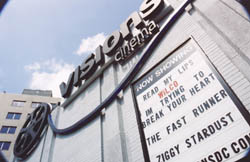 Visions
A little further up the street resides AMC's Mazza Gallerie Theatres, which feature the newer amenities found in contemporary movie venues — stadium seating, convenient cupholders, and fairly large screens in all seven houses. Unfortunately, two of the houses are off-limits to anyone under the age of 21, as they allow the partaking of alcohol to ease the dull, throbbing pain of the latest Nora Ephron flick.
For those who prefer something a little less mainstream, Visions Cinema-Bistro-Lounge fits the bill nicely, showing art house and independent films in two fairly spacious auditoriums. The bistro side of Visions specializes in Mediterranean, Middle Eastern and Indian fare, including tapas, assorted wraps and paninis. Of course, you can get popcorn and standard movie candy, if you prefer. Visions is one of the only places in town reviving that age-old tradition of the Midnight Movie, and this fall will include such cult faves as Evil Dead and Suspiria on the weekend bill.
Dorm denizens with DVDs ought check out Tower Video near the GWU campus. Video Americain in Adams Morgan has a great selection of old, hard-to-find tapes, while Potomac Video specializes mainly in the foreign and art-house film trade. And for those whose film interests lie this side of gay adult, Empire Video's P Street location is hard to beat for both volume and breadth of, er, interest.
Music
Scan the "College Music" charts at the back of Rolling Stone and you'll find a whole lotta nothin' going on. You're finally out of your parents' house, your earliest class is at eleven and your nights consist of bong hits, smooches and 17th Street antics. So why all the mopey music? Club kids should check out Yoshitoshi, the Georgetown dance music anchor owned by venerable local DJ team Deep Dish and boasting the hardest in hard-to-find. Newer arrival DJ Hut is slightly less specialized but still stocks an impressive selection. For pop music. Kemp Mill Music and Melody Records are more mainstream, but even they go well beyond MTV2.
D.C. also snags a show from any band making an East Coast tour, and the 9:30 Club plays venue to many of the best. Originally at 930 F Street (hence the name), the behemoth now resides in a semi-dodgy neighborhood, so bring a friend. Or pop into the Black Cat, where the Brit-pop dance night called "Mousetrap" comes highly recommended, especially for those with a thing for indie-boys with ironic haircuts.
Theatre
Whether you're training for a lifetime on the stage, or you just want to put some variety in your extracurricular life, you'll benefit from the fact that Washington has become one of the hottest of the nation's professional theatrical hotbeds. And the trick to getting the most out of D.C. theatre when you're on a typical student budget is not unlike the mantra of shopping for designer clothing: Never pay retail.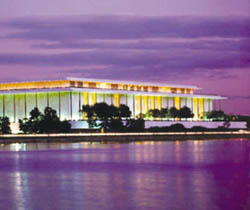 The Kennedy Center
The standard ticket prices around town can cause quite the case of sticker shock, so keep in mind that student discounts are de rigueur for virtually every theatre that charges upward of $20 or so. But why stop there? Many of the major players — Studio Theatre, Arena Stage, Shakespeare Theatre, Kennedy Center, to name a few — have been known to offer student rush tickets, usually sold one hour before curtain for half-price. So call the box office and ask lots of questions when there's something you want to see.
TICKETplace in the Old Post Office Pavilion (Pennsylvania Avenue at 12th Street NW, www.ticketplace.org) also sells half-price tickets for a variety of local theatres, mostly day-of-show but sometimes in advance. Better yet, you can even set your own price — meaning zip if you're really strapped — when theatres offer Pay-What-You-Can previews early in the run of a new production. (MW's weekly "Out on the Town" column frequently points out such discounted previews.)
Free from the get-go is the Kennedy Center's Millennium Stage, featuring daily performances at 6 p.m. in the Grand Foyer. And it's a breeze to get to the Kennedy Center if you catch a free Show Shuttle at the Foggy Bottom/GWU Metro Station. Check out the Millennium Stage performance schedule online at www.kennedy-center.org.
Finally, some of the smaller theatres with the cheapest tickets are also ones that specialize in offbeat material and young theatre artists. Notables in that category include ACTual Reality Theatre Company (www.actual-reality.com), Cherry Red Productions (www.cherryredproductions.com), Project Y Theatre Company (www.projectydc.org), Purchased Experiences Don't Count Theatre Company (www.purchasedexperiences.com), Rorschach Theatre (www.rorschachtheatre.com), and The Studio Theatre Secondstage (www.studiotheatre.org).
Architecture
If Ionic, Corinthian and Doric sound more like prehistoric eras than federal architecture, then check out the structural side of Capital City on a stroll through D.C.'s stylish shelterings. If you can get in these days, the Hall of Presidents in the Capitol Building is a great place to have across-the-room conversations with inflected echo for dramatic effect. Then lower your voice and visit the main reading room of the Library of Congress. You can get a membership card, but joining a more conventional public library is strongly recommended, since the LOC's inventory covers every book printed in America — ever — making browsing a moot point.
Losing your religion? There's plenty of architectural hot spots to find a new one, the National Cathedral being the most prominent. Adorned with gargoyles and grotesques of all types, see if you can find a certain lord of a certain evil empire carved into a certain side of the building. Also check out the Muslim Center's Mosque on Massachusetts Avenue.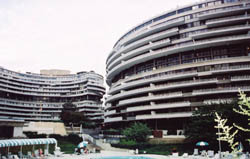 The Watergate
By now you're feeling peckish, and what better place to peck than the underground café at the National Gallery, a creation of architect I.M. Pei reached by Jetsonian moving walkway. There's also Union Station, where the trains are almost incidental to the food courts and shops, and the structure is worth checking out for its classic design alone. And for the biggest, baddest martini in town (which, of course, you, being underage, won't be sampling), there's Town and Country, located in the infamous Mayflower Hotel, D.C.'s architectural answer to Buckingham Palace.
But now that you're a true Washingtonian, you're obligated to immerse yourself in scandal, and the city's got scandalous sites aplenty, such as M Street's Wyndham Hotel, where a certain D.C. mayor who just won't go away once asserted that the "bitch set me up." Connecticut Avenue's Washington Hilton was almost former President Reagan's final resting place, and the Watergate Hotel — Washington's crowning jewel of embarrassment — needs no introduction.
Undeclared
For those who haven't figured out which direction to take in life, then the path is clear (at least temporarily): Relax and party until you've figured it out. And where better to groove than in the city's gay dance clubs, most of which enforce an 18-to-enter, 21-to-drink policy. The most obvious college spot is Thursday night at Badlands, where entry with a college I.D. is free. Badlands also has a lock on Friday night gay club scene, but those in search of the perfect rave ought to check out Buzz at Nation. While not exclusively gay, it's gay-friendly enough for us. Nation is also the site of the popular Saturday night gay party, Velvet, which plays host throughout the year to some of the country's hottest DJ's and talent. Saturdays at Badlands currently gives itself over to the lipstick lesbian crowd for "Liquid Ladies."
Velvet
Those of you from Montana, Wyoming, Texas and the like, and pining for your home, home on the range, can play with all the deer and the antelope you want at Remington's, a gay cowpoke's heaven on Capitol Hill or the neighboring Sheridan's Bar and Restaurant, which is one of the best places in the city to devour a perfectly seasoned side of beef.
Most of the city's bars are 21 and up, but a few, including Cobalt, allow entry (but no drinks) to those 18 and above on specific nights. To find out who lets in whom and when, check out our nightlife section for the 18+ sign in this (and subsequent) issues of MW.
Human Sexuality
If, like so many of your heterosexual male counterparts, your primary reason for attending college is to get laid, you may want to reconsider your efforts at higher education. Or transfer to the University of Florida.
If, however, sexual experience is simply another (albeit very exciting) aspect of the looming college experience, you're going to enjoy your time in D.C. Given your status as a college student, you'll pretty much be surrounded by all-American hunks of hormones at all hours of the day, but there will be times when you want the simplicity of stereotypically gay spaces, without the full-on pressure of a bar or nightclub.
For sidewalk cruising and cutie-watching nonpareil, head for the 17th Street strip between from P to R Streets N.W. Ages range from, well, you, all the way up to retired — meaning there's truly something for everyone. With just about every restaurant on the street offering sidewalk seating, it's easy to settle in for an afternoon or evening (or both) of prime people watching.
Of course, there's the old standby Dupont Circle, which, regardless of complaints of heterosexualization, remains an iconic location in queer D.C. For less gay-specific people watching, 18th Street N.W. south of Columbia Road in Adams Morgan can be a hot spot on the weekends, although there's always the risk of twenty-something trendoid overdose. If Sunday mornings are your thing — hey, it could happen — Capitol Hill's Eastern Market houses tons of hot guys, although it may help if you're into couples.
Before you make any jump into someone's sack, you may want to check out Whitman-Walker Clinic (www.wwc.org), where you can get safer sex information and tools, get HIV counseling and testing, learn about gay and lesbian health issues, and get yourself vaccinated for hepatitis A and B. Remember, better safe than sorry.