Photography by Todd Franson
If you have an e-mail account, chances are good you've gotten an Atlas E-mail Alert from Mark Lee.
And if you've read the e-mail's contents, you already know Lee is one of the most vocal proponents for reforming the current antiquated laws regulating D.C. nightlife — laws that, in part due to a laissez faire attitude from a part-time Alcoholic Beverage Control board, have been "abused by neighborhood groups." These groups, which are typically comprised a small number of residents in any particular neighborhood, demand that new nightlife businesses — including bars, clubs, restaurants and entertainment venues — sign "voluntary agreements" in order to be permitted to operate. Over eight hundred such agreements exist in the city proper, and they impede business growth and development, citing problems before the problems are given a chance to arise. In essence, good businesses are being punished along with the bad.
"This isn't a fight between industry and residents despite the fact that that's the way small citizen groups might want to paint it," says Lee, whose five-year-old Lizard Lounge remains a popular Sunday mainstay in the gay community. "It's about what we all lose, what the city loses. Nightlife is where we rub shoulders together, where we get to know each other and spend time together. It's about our music, our history, our culture, our traditions, how we inter-relate as a broader community."
And then, of course, there's the economic impact. Not only do such stringent agreements deter new businesses from locating in the District, but those that do exist could suffer dramatic fiscal loses, resulting in less tax revenue for the city.
"I think it's a little overwrought to say that life in Washington will somehow be harmed by allowing for a vibrant and healthy community nightlife," notes Lee. "It's important to remember that Washington is a hospitality town. The single largest private sector industry employing tens of thousands of people and contributing hundreds of millions of dollars in direct tax revenues is the hospitality industry. And so not only does it reflect our shared community life, but also it provides largely for the financial health and well-being of the city."
After a two-year hearing process, it's come down to the wire, as the D.C. Council plans a vote on the final reforms in a few weeks. Lee is hopeful that things will change in a positive manner — but he's not counting his chickens yet, and is as adamant as ever that concerned residents contact their councilmembers and make their voices heard on this matter as soon as possible.
"I respect and admire him," says Eric Little, owner of JR.'s Bar & Grill on 17th Street. "I don't know where our industry would be without him." The Green Lantern's Greg Zehnacker similarly marvels at what he calls Lee's "tireless" efforts. "His work is selfless in support of the hospitality industry."
Lee, whose own local status as a nightlife legend, through his early days at the Dakota and later at his clubgoer-acclaimed Atlas events, is modest about the motivations behind his advocacy.
"I'm inspired by the thousands of residents and consumers who have expressed their opinion to the council about how important these things are to them," he says. "And it's not about whether the business climate allows my business to grow or be successful, it's about the character and quality of life in the city of Washington and protecting that.
"People are not responding because they think this is unfair to business, it's because something is being robbed from them — something that they treasure and value and which is very important to the quality of life in this great city."
METRO WEEKLY: The fight for modernized nightlife regulations has reached the D.C. Council, and from what I understand, all could be decided upon in a few weeks. Various industry and consumer groups — including the one you're affiliated with, the Committee for a Living D.C. (CLDC) — have banded together in support of D.C. Nightlife. What are you seeking to change?
MARK LEE: We're not asking to change the rules, we just want the city to restore a sense of balance, to restore a broader perspective about these issues, and to not allow a handful of people in local communities to exercise veto power over the cultural and social amenities in their neighborhoods, in opposition to what the majority of residents really want and have expressed over and over again.
Nightlife opponents — highly organized, fairly well-funded small citizens groups and neighborhood associations who have taken advantage of an attempt to provide community input into regulatory decisions — like to characterize us as this monolithic sort of industry of nightclubs and big venues. But the truth is that nightlife is really a small business environment. Most restaurants, bars, clubs and lounges are owner-managed and usually have a single property. And in our business, we're not so much competitors as we are creators. We spend a lot of time doing what we do — and our tradition is to go it alone. We don't necessarily have a tradition here of working in coalition with one another. But we've banded together in response to very serious circumstances which affect the vitality of our businesses and the ability of small businesses to operate.
MW: Can you give me an example of how serious it's gotten?
LEE: In Mt. Pleasant, there is a long tradition of Mariachi music. But now music in all eight restaurants in Mt. Pleasant is specifically prohibited in what are called "voluntary agreements." Those are agreements imposed by a small organization called the Mt. Pleasant Neighborhood Alliance. Hundreds of neighborhood residents petitioned the ANC in Mt. Pleasant, and the ANC voted unanimously in August to request that the Alcohol Beverage Control (ABC) board remove the ["voluntary" no music] restrictions, but the ABC has not responded to that. One of the issues is that those neighborhood residents have been disempowered in the neighborhood because they don't have standing because they support those venues. The only people who have standing in these matters are people who complain. You don't have legal standing in licensing matters unless you're an opponent of it. And that's one of the inequities of the system. These small, anti-nightlife citizen groups can be composed of as few as three people. And they're able to dictate things like operating hours of a restaurant or club. In fact, it's now become common not to receive your full statutory operating hours. Hamburger Mary's is a perfect example. After negotiating for a long time with the Logan Circle Community Association and the ANC, they were allowed to open, but only under limited operating hours.
Washington has always had a long tradition that restaurant venues are dual-use venues, that they provide music and dancing. I remember last winter at the hearings held by the Council's Consumer and Regulatory Affairs (CRA) Committee, Councilmember Sharon Ambrose spoke at great length about how, when she first married her husband, they spent many an evening at Mr. Henry's on Capitol Hill — a restaurant venue — listening to Roberta Flack perform. Now [Flack] is somebody who sprang up from the local community by having the opportunity to play in local venues. Mary Chapin Carpenter, a multi-Grammy award winner and very prominent musician got her start the same way. So it's the infringement on the basic privileges or rights of having a license. It's the intrusion upon the traditions and the operation of culture, music and entertainment in our community.
MW: Do these complaints generally center around the same thing — hours, music, dancing?
LEE: It's common for there to be no DJs, no dancing, no music, no entertainment, and closing hours long before what the regulations permit. It's not uncommon at all [for the closing hours to be] two or three hours before those legally allowed. Nothing is out of the possible purview of these small groups. It's whatever they want to lay on the table. These small groups have been able to essentially rewrite the regulatory law establishment by establishment. They go and impose restrictions without cause on a preemptive, front-loaded basis before the business even opens and indirectly rewrite the law. And if you don't sign their voluntary agreement, then the threat is that you'll wait for months, if not a year or two, to get your license, if you get it at all. These are small businesses that have invested a significant amount of resources in getting ready to open and they can't continue to pay the rent while they go through this process, so they're forced to capitulate to these demands.
Clearly that's why the council wants to look at these issues more closely. They have heard from literally thousands and thousands of residents and consumers who are concerned about these issues. And it's prompted their further examination of some of the basic systemic issues involved and how we regulate our cultural life here, and how dependent the city is on the revenue that's generated on those businesses. Councilmember Jim Graham, during the CRA hearings in late November, said that we are punishing good businesses and we are going to force them to close unless we change the law.
The one thing that everybody forgets is that those of us in this business don't impose our idea of what this scenario should be. We respond to the marketplace. We respond to what people want or we're not going to be successful at what we do. So we don't make these decisions, the marketplace makes these decisions. These regulations and this regulatory process that invests so much in the hands of so few, prevents that from occurring because nobody can take that risk. We hear commercial real estate broker after commercial real estate broker say, "People ask me to find them a property in Northern Virginia because I cannot deal with doing business in the District of Columbia." Councilmembers will tell you themselves that the city doesn't operate a business-friendly environment. We're highly taxed, we're overregulated and we're unduly burdened. So the growth of our shared community life — our venues, our music, our cultural traditions — is inhibited by this whole process.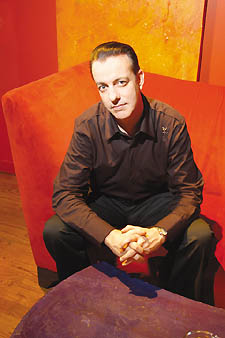 MW: Do you think that the advisory neighborhood commissions should be reformed or eliminated?
LEE: In the District, because we don't have autonomy over our own lives, our overseers on Capitol Hill can interfere with all of our laws and regulations. We cherish the democratic processes that we have in the city — so participatory democracy is not necessarily a bad thing. What I am opposed to is informal groups as small as three people being able to dictate to an entire neighborhood — a loud minority of voices that dictate the rules of the road in their area. But this is not really a war between the industry and the residents as those groups might want to paint. It's really about having common sense regulations.
An interesting aspect, for example, in Logan Circle, there's a lot of new residential development. The city is spending over a million dollars in a national marketing campaign to entice 100,000 new residents to the city. And the city touts our cultural, entertainment and nightlife scene here as one of the strong aspects or attractions to living in Washington. And there are large numbers of residents moving in from the suburbs, coming to Washington or relocating from other areas of town. And you know they are doing that because they're excited about the prospect of living in the city and enjoying all the benefits of urban life. So they move into a place like Logan Circle and they walk out their door and they can buy crack, but there aren't many options to get a good meal or to go hear good music or to enjoy hanging out in a bar and meet people.
MW: Is there a middle ground here that can be reached between those who complain and those who provide the services?
LEE: Absolutely. Businesses are good neighbors in this city.
MW: But certainly there are some bad businesses.
LEE: And there are a full range of ways to deal with problems that arise. First of all, most of the complaints about businesses — noise, trash, whatever — are governed by existing D.C. law. And there's no reason to be rewriting the laws to punish businesses or to prevent businesses from operating, flourishing, or initiating in the District. We are a responsible industry that is highly regulated, and there are penalties and infractions for problem venues. If you violate the law, there's pages of infractions and fines and penalties that assign to that.
More importantly, is it fair to, before a business even opens, consider them a bad seed from the very beginning and demand concessions about the operation of their business or the hours they can operate? Is that fair? No. Those are preemptive, presumptive restrictions on the operation of the business.
The solution to any problems that there might be should be designed to solve the problem, but in a sensible, least restrictive way. There should also be a sunset clause. When these voluntary agreements currently exist, they go on in perpetuity. There's no way to get rid of them. So there should be a sunset provision so that when the license comes up for renewal, the agreements should be reevaluated. And these agreements should not be allowed to not only supercede D.C. law, but they shouldn't be allowed to encroach in areas of First Amendment guarantees.
Basically, right now, when the ABC board gets a voluntary agreement, they don't care or know what went on. They don't know how they [harmed] the new business owner who hasn't even opened their business yet. They just know they need to show up now at the ABC board with a smile, a dream and a voluntary agreement. All they want is the so-called problem solved before they get there. They take that piece of paper and they file it in a folder and it goes away.
The other issue is that it's a race to the bottom. As far as the ABC board is concerned, there's always a problem until the most restrictive proposal by a group as small as five people is satisfied. So it's a race to the bottom to deal with the smallest, loudest group of complainers or opponents of nightlife, because until that happens, until the most extreme position is satisfied, there's a problem.
MW: That doesn't sound especially fair.
LEE: It certainly is not. Washington is a Southern town, so it's a very dichotomous town. And it's a very diverse town. One of the only ways that we come together and experience other cultures, or rub shoulders with people different from ourselves, is through our community venues — our restaurants, our taverns, our bars, our lounges, our nightclubs. That's where the melting pot of Washington happens. It doesn't happen during the day when everybody's holed up in their cubicles at work. It happens at night when people go out to relax and have a good time. But a minority of loud voices that want to control what goes on have manipulated the law in such a way as to prevent that from happening.
MW: How can people get involved?
LEE: If they haven't done so already, they can contact their councilmember or the mayor and indicate their support for regulatory reform. They can always go to the Atlas website at atlasevents.com and find our Nightlife Alert. It's an automessage. There's resources there about the issues, there's a letter to the city council and to the mayor. And you sign it and send it. And it automatically goes to all the members of the D.C. Council, the mayor and select government officials. So that's a very real thing that they can do, to continue to urge the council to restore common sense, fairness and balance to D.C. nightlife law.
MW: Let's talk about the anti-smoking measure.
LEE: Essentially a non-local political foundation has funded a recent political effort to introduce a mandatory smoking ban for all restaurants, bars, lounges, cafes, nightclubs in the district of Columbia. Legislation was introduced by several councilmembers and marathon hearings were held on December 3. Now, however you feel about smoking, we believe that it's a personal choice and we believe that the accommodations in the current law are adequate to satisfy the consumer. I can say, as I testified at the hearing, that in the sixteen years I've been in the business, I can count on one hand the number of times anyone has suggested or requested that we become a smoke-free environment. Regardless of how one feels about that issue, the reality is that it will have a devastating impact on the bar and club business. There is always, despite what you hear, there is always a negative impact, certainly in the initial phase of the first couple of years of it. That tends to lessen over time in certain business categories. Yet it always has a negative impact. We only have to look to Montgomery County to see how devastating it's been on businesses. Down thirty, forty, fifty or more percent in some cases. It affects different business categories in different parts of the country differently.
The advocates of a mandatory smoking ban are trying to find a solution where there isn't a problem. And the effect on our business would be devastating and a hospitality city like Washington, D.C. can not afford the significant loss of revenue that would entail from that.
So the council, under Carol Schwartz's leadership, has introduced a solution that other communities are looking at replicating, actually, as a sensitive, market-driven alternative, which is to offer a tax-incentive — a fifteen percent reduction in sales tax for venues who choose to go smoke free, or who ban smoking. So if there is a marketplace demand for this, there will be encouragement to do so. And it will happen.
MW: It puts the choice in the hands of the business.
LEE: Yes. Again, I can only say that we're in the business of customer service and customer satisfaction, and if there was a popular demand among our customer base for a non-smoking policy, we would be the first to implement it. The reality is that there is not a demand for it.
MW: Would you agree that less smoking is good overall for public health?
LEE: Smoking is a personal choice and we believe that it should be a personal choice of our customers.
MW: Spoken like a true smoker.
LEE: Whether I smoke or not is irrelevant. I don't approach this out of personal convenience. I approach this as a businessperson. And as a businessperson it would be devastating to our industry — and particularly gay venues — if a mandatory smoking ban were to be implemented. This alternative proposal that carol schwartz has proposed has the support of eight councilmemmbers. Three are supporting the ban. I do not believe councilmember Sharon Ambrose ahs announced a position and councilmember Jim Graham has announced that he is currently undecided.
MW: What about the health concern of employees who work in smoking environments?
LEE: The overwhelming majority of employees are not raising that question.
MW: What would happen to Lizard Lounge if you were forced to ban smoking?
LEE: It would be devastating. I don't know whether it would be financially viable for me to continue in the business if we had a mandatory smoking ban. It's that serious.
Again, this is a solution in search of a problem. We don't have complaints about this. This is not an issue that's emanating largely from the employees of our businesses or the patrons of our businesses. It's a political effort funded from outside the area to the tune of hundreds of thousands of dollars to attempt to introduce a mandatory smoking ban in the nation's capital because of the political impact that will have in other parts of the country. Plain and simple. That's what it's about. It's not about worker's health. It's not about the District of Columbia. It's about national campaign to have a mandatory smoking bans in restaurants bars and nightclubs. We're the big prize.
MW: You've been involved in local nightlife for over fifteen years now.
LEE: December 6, 1987 was my first commercial event.
MW: How different is the scene now from fifteen years ago?
LEE: I still love it as much. That's stayed the same. But there have been a lot of differences in nightlife in gay Washington. We have fewer venues. And there are a lot of reasons for that. We've been through a health crisis, which has had an impact on our social and entertainment lives. Our community has found its own measure of stability and comfort and place here in the metropolitan area. We've spread out geographically partly through economic issues, or people like to live in different environments. And I would say to many of the small, loud complainers about nightlife in Washington that perhaps they're living in the wrong place.
We're a serious town. We work long and hard, and we have serious responsibilities. And that doesn't necessarily lend itself to having fun all the time. So our nightlife is reflective of that in some ways. People go out with less frequency, per week, per month, per year. At the same time, our cultural institutions, our nightlife institutions in the gay community, will always play a very significant role as a place where people go to discover our community, where they go to find their comfort with their identity, and where they meet their friends. And for many people it's a way to introduce themselves, to get their feet wet in a new place where they have moved and they might not know a lot of people. It's an important element of our community and how our community builds itself and rejuvenates itself.
Nightlife is a fifty-fifty process. All of us in the business, we decide what our priorities are, what our service standards are, we set the stage, we open the door, and what happens after that is largely a reflection of the people who are our guests. And our guests contribute as much to who we are as we do in creating it.
For more information on these issues, visit www.atlasevents.com, committeeforalivingdc.org or dcnc.org.