It must have seemed like a good idea to someone, somewhere, in some altered state: Combine Universal's three biggest movie monster properties — Dracula, Frankenstein and Wolfman — give them an action-adventure adrenaline boost and a significant CGI overload, and let director Stephen Sommers, responsible for blockbusterizing the studio's Mummy property, have his way with them.
The Sommers way results in Van Helsing, an over-produced, uninvolving, numbingly dull, essentially soulless affair. Despite the plethora of fanged, bloodthirsty creatures on constant display, Van Helsing is hardly a fright fest. The only thing likely to have you gasping in terror is how extraordinarily inept it is.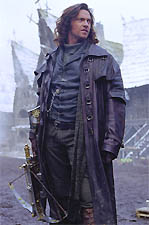 Hugh Jackman, who has done such sterling work as the loveably gruff Wolverine in the X-Men series, tarnishes his rising star as legendary monster hunter Gabriel Van Helsing. This is no doddering old man with a cross and some garlic cloves, but a long-haired, fedora-sporting fearless vampire killer. He's in the covert employ of a covert order within the Vatican and his covert mission (which he has no choice but to accept): destroy all monsters. He's a 19th century James Bond, a point driven home during a scene in which Van Helsing is escorted through a gadgetorium, and offered things like — ooh, ahh — grappling hooks attached to really long glide-wires and — ooh, ahh, ooh — a bomb that replicates a blast of sunlight which, incidentally, comes in pretty handy when you're confronting a ballroom full of waltzing vampires and you feel like dispatching them without much of a fight. (Of course, no one told Van Helsing that a visit from the Brady Bunch singing "It's a Sunshine Day " has pretty much the same effect.)
A tortured soul, Van Helsing has no memory of a mysterious past that reaches back some four hundred years, and is similarly without a clue as to the secret of his apparent immortality. Is he a vampire? A zombie? One of the long lost Gabor sisters? Or is he, as Dracula calls him, "the Left Hand of God. " Or is that the right?
No matter, Count Dracula (Richard Roxburgh) seems to know the answer. And he's taking the answer with him to his grave, despite the fact that he's already dead. Since nothing meaningful is answered in Van Helsing, it's safe to assume that the rumors are true about the Van Helsing TV series currently in development.
Frankly, Van Helsing's angst-ridden search for his true identity comes off as a holy-watered-down version of Wolverine's trek of self-discover. It's odd that Jackman so readily took on a role so similar to the one that ushered him before the moviegoing public. Does he have that little faith in himself — or his audience? In any case, Jackman does very little with the role other than to point his automatic stake-shooter and fire off round after round at a trio of soaring, swooping Transylvanian vampire babes, hoping to hit one squarely in the heart. He eventually does and she crumbles to dust. Big deal.
The reason Van Helsing has been dispatched to Transylvania in the first place is to protect from Count Dracula the remaining member of its royal family — the anything-but-helpless Anna Valerious (Kate Beckinsale, who should get an Oscar for her ability to move gracefully in what must be the tightest corset ever designed). Once there, he learns of the Count's dipped-in-evil plans to unleash thousands of his as yet unborn and undead offspring upon the world. (They're hanging in little squishy, slimy cocoons, waiting to burst free.) To bring his little treasures to life, Dracula needs Frankenstein's monster to act as a conduit. The monster, presumed dead, has been hiding out for a hundred years in an underground cavern with nothing but a Holy Bible for entertainment and rodents for food, which is pretty much how Jerry Falwell spends the better part of his days, and yet he speaks with the eloquence of a British lord and looks fit as a fiddle, despite the fact that his brains and heart are exposed and appear to be in a perpetual state of electro-magnetic buzz-a-bizz.
How the Wolfman enters into all this is best left a secret. Let's just say fang meets claw in the film's climactic battle.
Sommers attempts to introduces snappy dialogue into the fray, but his efforts prove futile. It's as if he ran out of Snapple, not to mention Crackle and Pop.
"Why do you torment that thing so, " Dracula asks his disfigured servant Igor (Kevin J. O'Connor).
"It's what I do, " replies the pasty skinned hunchback.
Later, Van Helsing plays master of the obvious and warns Anna that her brother, a werewolf, is "going to kill people! "
"He can't help it, " she barks back. "It's not his fault! "
Finally, there's this unforgettable exchange.
"Do you have no heart? " asks Dracula's bride of her master.
"No! I have no heart! " he wails.
The movie opens up with a promising black and white sequence that seems lifted directly out of the monster movies of yore. And then, remarkably and steadily, it decomposes before our very eyes. There's no fun, unless you include the movie's final scene, which involves a face and some clouds and is, without doubt, one of the most absurdly laughable moments ever to find its way into a major studio release.
The movie's scale is ridiculously over-the-top. A little discretion — and a dose of atmosphere and not just the muddy, midnightish blue caste provided by cinematographer Alan Daviau — might have produced a more rewarding film. But this is summer blockbuster season, and god knows there's no room for subtlety — at least not in the opening few weeks. It's a grab for cash, quality be damned.
Van Helsing
Starring Hugh Jackman, Kate Beckinsale and Richard Roxdale
Rated PG-13
145 minutes
Area theatres

Most of that cash is going to come from 13-year-old males, who generally regard such fare with the kind of reverence usually reserved for Citizen Kane. Lucky for those boys, then, that the movie's rated PG-13, a rating that insures the violence is relentless but harmless in a cartoony sort of way (there's nothing grim or sinister). It also ensures that Dracula's three brides in their true form as naked, winged furies have breasts that are completely devoid of nipples. That, and the Wolfman's ability to transform back to human form wearing a pair of stretch chinos.
The real crime here is that Universal didn't feel any need whatsoever to protect its valuable monster icons from bloated travesty. There's no quiet menace to Van Helsing, no class or coherency, no shadowy horror chill, no thrill. It's all special effects bombast, a garish, dumbed-down creature feature that offers up none of the moral complexity of the original films. In short, it's a monster hash.