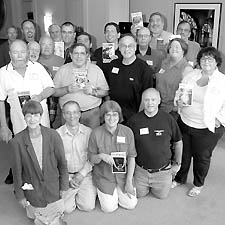 The Ushers
Mission: This theater-going group provides both ushers and audience members for small theaters throughout the Washington metropolitan area.
Founded: 1990
Number of Members: Approximately 750 members.
How to Join: Visit the Ushers web site at www.ushers.us to fill out a membership form. Dues are $25 for an individual or $35 for a couple.
Background: Joel Markowitz, founder and current director of The Ushers, says theater has always been important to him. When he first arrived in D.C. he didn't know anyone else who shared his interest in all things thespian. "I thought there must be others," he says. "Nobody wants to go to the theater alone." He placed an ad in a local paper to start a group of theatergoers. "Within four days I had over 150 people." Since then the group has developed quite a reputation. "The theatres really appreciate us," says Markowitz. "They tell us we are the best audience ever."
Contact: E-mail ushers@zzapp.org.
Next Event: The group will meet July 10 to attend Mahalia: A Gospel Musical at Metro Stage, 1201 North Royal Street, Alexandria, Va.