"I can die happy now!"
It's Sunday afternoon, the first day of August, and Michael Mayer is on the phone waxing enthusiastic about a moment in his life he himself can hardly believe. Two nights prior, on Friday, July 30, the acclaimed Broadway director, who first made a name for himself a decade ago with his sublime work on the national tour of Angels in America, stood next to legendary playwright Arthur Miller on the stage of Broadway's American Airlines Theatre, and took a bow.
"He took my hand in front of a thousand people," says Mayer, his voice pitched with excitement, "Oh, my God!"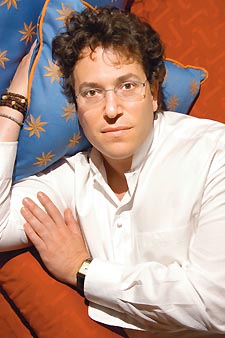 Mayer
The occasion was the opening of After the Fall, Miller's most deeply personal work, the current Broadway revival of which was directed by Mayer.
But Friday was an extraordinary day for Mayer for another reason. It was the day A Home at the End of the World — his film directing debut — opened in select cities across the country, including his hometown of Washington, D.C.
The tender, understated drama, set in the early seventies and eighties, stars Colin Farrell as Bobby, a sensually-driven yet sexually ambivalent young man torn between his love for a free-spirited woman named Clare and his gay childhood friend, Jonathan. It's based on the novel by Michael Cunningham, who, like Mayer, is gay, and who achieved mass recognition after winning the Pulitzer Prize for The Hours, his masterfully complex tale of three spiritually conjoined women from different eras. The movie adaptation of The Hours, directed by Stephen Daldry, received nine Oscar nominations, winning a statue for Nicole Kidman's bracing portrayal of chronically despondent British author Virginia Woolf.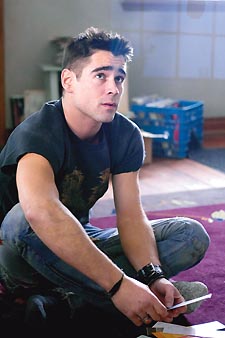 Farrell
"I have been insanely lucky in the two separate bodies of people who have made my books into movies," says Cunningham from his home in New York.
Cunningham, who had known Mayer only peripherally, was approached by producer Tom Hulce, who held the option to Home, and Mayer to adapt the novel for the screen. He declined.
"I didn't want to do it," Cunningham recalls. "It's my general feeling that the novelist should never adapt his or her own work. I really think it's best to bring another writer in and see what he or she might bring to the story that you the original writer just can't see."
But after a year of working with someone whose adaptation Cunningham calls "lovely" but which "didn't feel right" to the filmmakers, Cunningham was once again approached by Mayer.
"He called me and said, 'Here's the thing: I really can't see spending another year with another writer who may or may not be able to wrestle this material into some kind of acceptable form. If you don't do it, I think we're just going to have to let it go.'"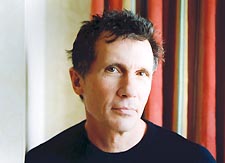 Cunningham
Says Mayer, "Michael said to me, 'I've got to think about it, I'm going to need some time. I'll get back to you.' He called me the very next day. 'Okay, I want to do it.'"
Cunningham's first draft exceeded 400 pages. "It was longer than the novel," laughs Cunningham. "I actually added scenes. And Michael, who is very good with crazy people of all kinds, said very calmly to me, 'You've done beautiful work here, but let's see if we can cut it down a little bit.'"
Mayer spent a year casting the movie — he snagged Robin Wright Penn for the role of Clare and Sissy Spacek for the part of Jonathan's mother Alice, who becomes a surrogate mother for Bobby and serves as a sort of guidepost for his life. But the biggest casting surprise came from a movie star who phoned in of his own accord: Colin Farrell.
Recalls Mayer, "Colin said, 'I want to be in this movie. I love it.'"
Farrell's performance is remarkably astute, sensitive and delicate, not at all in league with his usual tough guy action persona. It is, for the first time in the handsome Irish actor's film career that he gives a fully realized performance.
"Colin shows that he's got a lot of stuff as an actor that people haven't yet seen," says Mayer.
Cunningham agrees. "Before this, he's never had the chance to show what he's capable of doing. He's really only just aimed guns at people."
Asked if the stories about Farrell's rambunctious personality and legendary foul mouth are true, Cunningham laughs.
"All the stories are true. What you don't get from the stories is the fact that he is hugely compassionate and deep and terrified and insecure and all those things that most artists are.
"Colin was just heroic on the set," he continues. "He was fearless and really willing to take the character any place it needed to go."
Much media fuss — everyone from gay publications to Access Hollywood — has been made about a full-frontal nude scene that appeared in early cuts of the film. It created such a distraction, it was subsequently cut from the final product.
"The shot was a distraction in the sense that Colin Farrell is a big movie star, and in one scene he gets out of bed naked, walks down the hall and gets into another bed," says Mayer. "Colin felt that because so much of the press [who had seen the movie] were asking him about that, he started to feel like 'I didn't do this movie so that people could see my dick. I could have done that in any movie.' The reason he did this movie was to play this character and tell this particular story that he connected so strongly to.
"So he called me and said, 'I think we should use a different take' — we'd shot the scene five different ways, and his dick was visible in only a couple — so I just picked a different take.
"I think he's dead on," concludes Mayer. "It wasn't about his shame or his modesty. He was there. He shot it. He was happy to have it in there. But I think he was absolutely right to suggest that it go."
"I'm sorry that the dick story has taken on the proportion that it has," groans Cunningham.
Mayer shrugs off the experience with a resigned, "I guess it's buzz, but it's not the kind of buzz we wanted."
Still, Cunningham notes that if the prospect of a naked Colin Farrell gets people into the theatres, that's fine by him.
"Our gay brothers love dick," he says. "And if a few of our boyfriends walk into the movie at the hope of seeing Colin naked and end up having another experience altogether, one that they hadn't expected, that's great."
"I think it's pathetic," counters Mayer. "The gay world has really changed in that way — and that's one of the things I think is unfortunate about where we are right now. It's a response, I think, to this progressively repressive environment of the larger body politic. But the truth is, it's a very phallus-centric community. Issues of vanity have become too significant. It wasn't quite the same thing when I was coming out."
On the other hand, a few important scenes originally cut were returned to the film, including a rooftop kiss between Farrell's Bobby and Jonathan, played by screen newcomer Dallas Roberts.
"I fought to get that kiss back in," says Mayer. "When you've got a movie that's going to be distributed by a big company like Warner Bros., there's a kind of hierarchy of power. And I think because I was a first-time filmmaker and because the material is sensitive, there were some people who were afraid of what that scene was going to be communicating. Fortunately, the powers that be chose to respect my position and trust that I really knew what story I wanted to tell. They got behind me, and for that I'm grateful."
Mayer wasn't a complete neophyte. He utilized a few sly tricks to ensure the integrity of several scenes pivotal to the film, including one in which the teenage Bobby and Jonathan — played by Erik Smith and Harris Allan — awkwardly engage a life-altering moment of mutual masturbation. Mayer shot the sequence without cuts, resulting in a single four and a half minute take. "I didn't want anyone to fuck with it," he says, defiantly. The result is one of the movie's most erotically charged — and affectionately innocent — moments, one that should stir memories in audience members, straight or gay.
"I've talked to so many straight guys who had their first experience of love with another boy," says the 51-year-old Cunningham. "Though they may both have grown up to be card-carrying practicing heterosexuals, there was still that moment with their best friend when they were fourteen."
The writer and the director forged a strong friendship during the of making of Home. "Michael and I became like blood brothers," says Cunningham. "If we were women, we would have been menstruating together." They're planning to collaborate on another film, this time from an original screenplay by Cunningham. "Our pretend title," laughs Mayer, "is Bad Fish That Walk."
Cunningham's second novel, Flesh and Blood, is currently being developed into a miniseries for Showtime, and the author is polishing his latest novel, Specimen Days, due out next spring. Mayer, meanwhile, is creating a new rock musical about teenage sexuality. Entitled Spring Awakening, it features a musical score by indie pop darling Duncan Sheik, who also provided the score for Home.
Cunningham, who was born in Cincinnati, Ohio, but raised in Los Angeles, and Mayer, who grew up in Rockville, Md., have had their romantic ups and downs. But both are currently in long term relationships — Cunningham for 17 years, Mayer for seven. And both have been out for decades. Cunningham's fame, however, turned out to be difficult for his parents in ways he never could have envisioned.
"They had a hard time about my being so publicly gay," he says. "I had been out to them for a long time, but when I started to publish, I knew it was morally incumbent on me to make it very clear that I was gay to anybody that I talked to. My parents sort of felt 'Oh great, not only do we have to know you're gay, the people of Japan have to know you're gay?' It was almost like a second coming out. And it was difficult for them for a while.
"I also began to understand," he continues, "that they were upset to realize that they had raised a child who was, according to their view of things, unhappy enough to write novels. In a novel — at least in the novels I write — you expose your acquaintance with heartbreak and all the darkness in the world. Most people don't ever have to tell their parents about your nameless sorrows you're your disappointments in love. My parents read all about it."
As for Mayer, an engaging, youthful 44-year-old with a massive bird's nest of hair, "I've been out since I was nineteen. Coming out is the single most significant political action that a homosexual can do. For me it's always been a non-issue. And if my being gay is a problem for anyone [in the entertainment industry], then that's someone I have no interest in working with."
Mayer is not worried about being typecast as a gay film director. On the contrary, he welcomes the cause to make movies that speak to a gay audience.
"I think the only work that I would ever do is work that speaks to me, and that I feel I can get behind from an artistic and political perspective. I don't wear my politics on my sleeve so much, but if you look at my work you'll know that I've never done anything that doesn't, at the end of the day, communicate something that I can stand behind.
"To me, there's politics in everything that you do, in every work that you make, and in every choice that you make in creating the work. So it's inconceivable for me to do something that doesn't communicate my own political agenda.
"I have to tell you," he continues, his voice lowering to a confidante's whisper, "[a movie script] came across my desk — a gay Austin powers type of thing. And my agent said, 'You should read it.' And I said, 'I'm not going to read it. I don't want to read it.' And he said, 'What if it's good?' I said, 'It can't be good — the concept is awful. I won't do it. That's not me. I won't even spend time on those things.'
"I don't want to come off like I'm holier than thou at all," he continues. "It's just that I know what I'm capable of — and doing a satirical version of gay stereotypes? I can't do it. Even if it's all in fun, I can't do it."
A Home at the End of the World is now playing at the Loews Cineplex Dupont and the Landmark Cinema in Bethesda, Md.
Related Articles
Man of the Hours –
Michael Cunningham's Unlikely Runaway Smash (January 23, 2003)