Washingtonians have plenty of reasons to feel anxious, looking at the city through Code Orange-tinted lenses. An errant airplane causes the frenzied evacuation of Congress. Roadblocks close off streets in sensitive areas. A tree may grow in Brooklyn, but in August 2004, D.C. is sprouting a bumper crop of barriers.
Within the fortress walls, pondering dirty bombs and anthrax, the targets of one side of the "War on Terror" may be excused if they begin to find the day-to-day tragedies of urban society as downright mundane. But in the heart of the city's gay community, a recent wave of violent attacks has illustrated that terror can be entirely homegrown.
A series of recent muggings came to a head early Monday, Aug. 23. An assailant shot and killed gay Dupont resident Adrien Alstad, 55, as he walked a few blocks home from his Sunday night shift waiting tables at Annie's Paramount Steakhouse. Witnesses say they heard a man screaming that he had no money shortly before they heard the gunshot that killed him.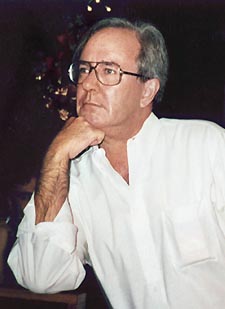 Adrien Alstad was shot and killed while walking home from his Sunday night shift at Annie's.
"The word I heard from cops [and] detectives was 'Damn, these guys are bold!,'" said Sgt. Brett Parson of the Washington D.C. Metropolitan Police Department's Gay & Lesbian Liaison Unit, describing suspects arrested Wednesday, Aug. 25.
The three — Kurt Williams, 19, and two juveniles — were picked up for a robbery that night near 16th and R streets, NW. The next day, police announced that Williams would be charged with killing Alstad.
Violent street crime is certainly not new to Washington. A mugging outside a gay club in Southeast D.C. would not likely get the same attention as a mugging in Dupont. Homicide in a neighborhood filled with embassies and flower boxes, on the other hand, can take people by surprise.
"These crimes occur all over the city," offered Parson. "Trust me, Dupont Circle doesn't have a monopoly on violent crime.
"I think why this has been so sought after in the media and otherwise is because it was a big spike, and it's a relatively safe area."
The spike — characterized by its boldness as much as by the numbers — has had the Dupont and Logan circle neighborhoods on edge for weeks. Though no exact pattern, statistics or pronouncement of "case closed" for all violent street crime in the area exists, there is no doubt that some of they city's most gay-identified streets have been much meaner during the past month.
"We've seen an increase over the last 30 days," Commander Larry McCoy of the city's Third Police District said last week, referring to violent street crimes in the Dupont-Logan area. "This week alone we've made six arrests."
The number of arrests suggests only a loose affiliation between assailants, if any.
Rob Halligan, a member of the Dupont Circle Advisory Neighborhood Commission, described the increase with a bit more intensity. "There is obviously someone preying on our community right now," Halligan told reporters last Wednesday in front of Annie's Paramount Steakhouse, where Alstad worked.
Halligan theorized that people may be coming into the Dupont-Logan area from other areas, such as Maryland or Southeast Washington, to commit robberies. McCoy answered that that may happen on occasion, but that this crime wave is likely homegrown.
"Probably a majority of the cases we close are with suspects living in the Third District," McCoy said.
The Third Police District straddles 16th Street, NW, from Piney Branch Parkway in the north, to Pennsylvania Avenue in the south; from First Street, NW, in the east, to Rock Creek and Potomac Parkway in the west.
Kurt Williams's address on the 200 block of R Street, NW, falls inside the Third District.
MONDAY MORNING
Alstad, who had worked as a waiter at Annie's for more than a decade, ended the Sunday evening shift a bit after 2 a.m. on Aug. 23. As had happened on hundreds of early Monday mornings, Alstad left with bartender J.J. Engbert.
"That was our Sunday night routine. We would yak, sometimes for an hour," Engbert recalled. That night, however, they kept things brief. The pair walked from Annie's at 1609 17th St., NW, to where Engbert's truck was parked at the intersection of 18th and R streets, just two blocks from the restaurant.
Engbert offered Alstad a ride to his apartment near 20th and R streets, but Alstad declined. He liked to enjoy his last cigarette of the evening during that short walk, Engbert said. Continuing their tradition, Engbert drove away alone, headed for her home near Annapolis, Md.
Beyond witnesses' accounts of hearing a man shouting that he had no money, followed by a gunshot, it's likely only Alstad's attacker knows exactly what happened next.
The police report offers only the starkest details:
Around 2:24 a.m., Aug. 23, police received a call that someone had been shot in front of 1839 R St., NW. Doctors at George Washington University Hospital pronounced Alstad dead at 3:29 a.m.
By midday, the degree of this current crime wave was obvious along 17th Street. From the uniformed police, to the television news crews, to the flowers being delivered to Annie's with notes of sympathy, Alstad's murder demanded attention. And action.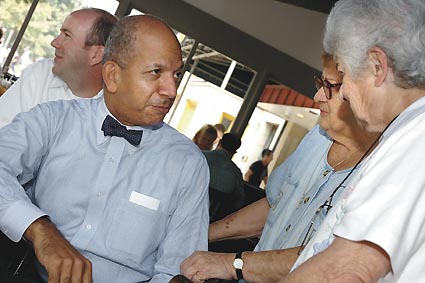 D.C. Mayor Anthony Williams, left, talks with Annie's Steakhouse owner Annie Kaylor, at right with glasses.
A SPIKE IN CRIME?
Prior to Alstad's death, the Dupont and Logan neighborhoods were being hit by violent street crimes. People have been mugged in the area before, but there was a sense among residents that there was an upswing. Local gossip more often included news of someone being robbed at gunpoint on a nearby street.
It was happening too quickly, however, for police to spot any obvious rhythm to the crimes — if one ever existed at all.
McCoy explained that spikes in crime are a fact in all jurisdictions, and that police begin every day by trying to identify them.
"You see patterns. Every morning you go down for meetings…and this is what we discuss every day at 10 o'clock," Mcoy explained.
Parson added to that, saying two days after Williams's arrest, "It's a little early for us to know when the spike is. Initially it doesn't seem like a spike. That's why we keep telling people we're still investigating. I think it's safe to say in the last four weeks we've seen a significant spike."
The statistics for the Third District didn't point to a significant increase in violent street crime. The Third District, however, is a large swath in the center of the city encompassing a number of neighborhoods.
While not dismissing the crime spike in the Dupont-Logan area, Mayor Anthony Williams, McCoy, Parson and others have pointed out that the data do not illustrate a crime wave.
"The robbery rate over the past few years is down," Halligan said shortly before the announcement of Williams's arrest. "Some people are getting the impression that there have been up to 20 robberies, but I only know of six.Â… There's a little bit of hysteria in the numbers."
Mayor Williams, speaking with Halligan in front on Annie's on Aug. 25, emphasized, however, that statistics are meaningless to the victims of violent crimes.
ONE VICTIM'S VOICE
One recent victim is Todd Metcalf, 33, a gay resident of Adams Morgan. He was robbed Saturday, Aug. 14, in Dupont Circle.
"I'd just come from the Bank of America ATM on Dupont Circle, about 11 at night," Metcalf recalled. "I'd gotten most of the way through the circle, to an area less well lit. One young man rode up on a bicycle and crossed my path. He pointed a gun at me and asked me to give him my money, and told me to keep quiet. I complied…. He fled."
The gun-toting bicyclist peddled north out of the circle, toward New Hampshire Avenue. An accomplice who had been standing behind Metcalf ran alongside the bicyclist. During the robbery, Metcalf had had no idea that a second person had been involved.
"Using a gun is a brilliant way not to be identified because you're focused entirely on the gun," Metcalf said. "Obviously, you're sort of conscious that you're in a city, so you pay attention. I'm sure I was not as circumspect as I am now. Generally, when I walk around I don't go through alleys. I stick to the main streets. But I was mugged in the middle of Dupont Circle. I'm more cautious now."
Metcalf's Dupont mugging is similar to other crimes recently reported in the area. For example, three men walking along 16th Street shortly after midnight Wednesday, Aug. 25, were robbed at gunpoint, according to police. One victim was struck in the head with the assailant's gun. Perhaps because this is not the first time Metcalf has been robbed in Washington, or perhaps it's just a matter of demeanor, he seems only mildly phased.
"I was robbed in a similar fashion four years ago, on the 1800 block of T Street [NW] at 7:30 in the morning" Metcalf said. "It was a similar sort of situation. Curiously, it was almost the same 'm.o.' — a kid on a bicycle who pulled a gun out of his jacket.Â… Intuitively, I'm shocked by the brazenness, but I suppose I shouldn't be, based on my own experience."
Though shocked, Metcalf's first call after the Aug. 14 robbery was not to 911, but to his bank. He needed to cancel his credit cards.
As with so many who live in or frequent the Dupont-Logan areas, it was Alstad's death that seems to have gotten Metcalf's attention in a way nothing else could.
"I knew [Alstad] in the sense that I'd been waited on by him many, many times" Metcalf said. "It was pretty shocking. At one level, before that, I was thinking, 'Woe is me, I was robbed.' In the wake of that, you realizeÂ…they didn't kill me, and they could have. It hits home in multiple ways. It scares you that they're doing this. That humans can be that craven for so petty a reason is shocking to most peopleÂ…but that motivation is out there. It's scary."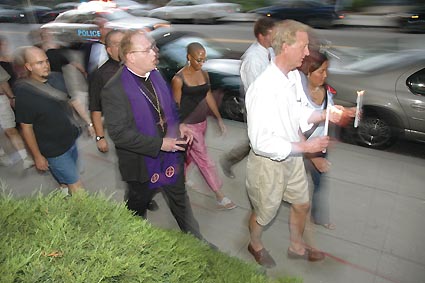 Ward 2 councilmember Jack Evans joins a candlelight march last Friday organized in response to the murder of Adrien Alstad and increased crime in Dupont Circle.
ARREST, RELIEF & REMEMBRANCE
The obvious antidote for the fear caused by Alstad's murder would be to capture a suspect for the crime. With Williams's arraignment Aug. 27, the police and high-ranking members of the D.C. government seem confident they've got their man.
"The Metropolitan Police Department has closed the case," Council member Jack Evans told reporters at the Aug. 26 press conference announcing Williams arrest. "They've arrested the perpetrator of the crime in an expeditious fashion. We in the neighborhood, in Dupont Circle, are very pleased to have this done so quickly."
Beyond official pronouncements, Parson gauged a similar reaction on the streets. "Everyone I talked to last night seemed to breathe a sigh of relief," said Parson, referring to the crowds on 17th Street after the arrest announcement. "It's always great to know we've gotten a murderer off the street."
Regardless of the arrest, two weekend vigils went ahead as planned. The first, held Friday, Aug. 27, drew about 150 people to Dupont Circle. "My friends were the victims affected by the crime, all within days of each other," said vigil organizer Chris Kohatsu. "It was too shocking to be apathetic."
Kohatsu, a Dupont-area resident, is a friend of Metcalf's, and others who have been mugged recently.
"The goal was to bring together concerned citizens, especially people who may not be active in the community, but would like to be," Kohatsu said. "To find out who our leaders are, what they were doing, and what we, as citizens, could do to move forward as a stronger and safer neighborhood.Â… I was very satisfied with the turnout. Overwhelmed, actually."
The Saturday night vigil was organized by the Cathedral of St. John the Beloved, and started at St. Thomas Episcopal Church at 18th and R streets, NW.
"We must demonstrate to those who are committing these acts against their sisters and brothers that we as a community are not afraid," said Archbishop Michael Seneco, associate rector of the cathedral, in a prepared statement. "The Dupont Circle community is too vibrant and too vital to allow fear to shutter us in our homes."
Both vigils included candlelit marches to Annie's.
"They were both well attended," said Parson, who was a prominent presence at each. "There was a combination of feelings. Sadness about the death of Mr. Alstad, and relief that more people weren't hurt."
Metcalf attended the Friday vigil. "I think it was useful for Evans and others from the police department and U.S. attorney's office to make themselves available," Metcalf said, describing the event. "There was good information. I felt reassured they're doing all they can."
Assurance is something Metcalf needed. Though he lives in Adams Morgan and is used to walking home after an evening out on 17th Street, he said his recent attack pushed him to rely more on taxis. He took one home Friday night.
"It's unfortunate that this happens," Metcalf concluded. "We need to ensure that we're vigilant and keep the city honest, make sure they're doing the full job we expect of them. The message we heard on Friday left me assured that they are."
Friday's messages marked the crest of another wave in the area — the wave of pronouncements, press conferences, and media coverage.
Evans, who represents Ward 2 where Dupont and Logan are situated, seems to have taken the highest profile, joining the mayor for the lunch at Annie's, joining McCoy for the announcement of Williams's arrest, and attending vigils. At-Large Council member Harold Brazil put in an appearance as well. Brazil joined prominent D.C. gay nightlife promoter Mark Lee on Thursday evening, a few hours after the arrest announcement. Brazil walked 17th Street with a group of supporters, hitting the bars and restaurants, and leaving a trail of Brazil campaign stickers in their wake.
Local television and print media have eagerly covered the story as well, making Annie's at times look like a branch of the National Press Club.
COMMUNITY VS. COMPLACENCY
Since Williams's arrest and the vigils, the heightened tension in the Dupont-Logan area is lessening. That may be a mixed blessing.
"It's back to a normal pace within the Dupont Circle area with regard to crime," Parson said. "We're not seeing the same frequency [of crimes] we were seeing prior to the these arrests…. You can feel a collective sigh of relief."
Despite Friday's prudent cab ride home, Metcalf said he returned to his old pattern of walking home after an evening out Saturday.
Halligan said he worries that the community's sigh of relief may not be a good sign when it comes to keeping the neighborhood safe in the future.
"This is the thing that really flabbergasts me: The community often forgets about things that happened two weeks ago," Halligan said. "You bring attention to problems by going to vigils, but you don't fix them. You have to go to policy meetings…. I'm happy that this new group has popped up to run this Friday night vigil. I'm hoping that the sort of 'club crowd' that seems to have started this will get involved."
For her part, Kohatsu said that while things might appear to be getting back to normal, these new wounds will take some time to heal.
"I don't think we'll be back to 'normal,' that is care-free in our surroundings," she said. "The dynamic of Dupont is that we do look around, we look for friends and colleagues so that we can say 'hello' and stop for a chat. I think we'll keep on with this type of friendly atmosphere, except now we'll be even more aware. Instead of just looking for our friends, we'll be looking out for each other, especially when suspicious outsiders are around."
The day after police announced Williams's arrest, McCoy offered an example of why people should not be too quick to let down their guard.
"We had one last night, a robbery where someone tried to steal a purse on 17th Street," McCoy said. At a restaurant he did not name, but did say was near to Annie's, a woman sat outside at a table near the edge of the restaurant's sidewalk patio. On the other side of the railing that separated her from 17th Street foot traffic, a man appeared to be unlocking his bike. But it wasn't his bike, and he had no interest in its lock. It was a diversion for him to reach through the railing to steal the patron's purse, which sat near her feet.
"It would be good if we could get the word out for people to secure their belongings," McCoy advised. While not violent, the attempted purse-snatching was certainly brazen.
McCoy said that he hopes arresting Williams will go a long way toward lessening violent crimes in the area by illustrating his police force's efficiency.
"[The arrest] is going to go a long way," McCoy insisted. "Folks see that we're serious about cracking down on crime. It's just not going to pay. [Williams] is probably going to go to jail for life. Hopefully other young adults would see that and it will be a deterrent in that way. Hopefully."
McCoy added that he'll be assigning an "increased police presence" to the neighborhood for the near future, but that no neighborhood can ever be absolutely secure.
"Who wouldn't like to have a police officer on every corner?" McCoy asked. "That's not going to happen in any city. And crime can occur anywhere."
Parson, seemingly pleased that city's gay community is more relaxed also offered a caution, directing everyone to visit the Gay & Lesbian Liaison Unit's online guide to personal safety. "I would beg people to go to the site," he said. "That's a good start."
Like Halligan, Engbert said that she is a little dispirited by a too rapid return to business as usual.
"I don't think business has been affected. It was actually a little busier than normal," said Engbert, pointing to the first weekend since Alstad's murder. "When one of the busboys walked me across the street to my car last night, there was a girl, apparently drunk, just walking down 17th Street. She was just loaded and stumbling down the street.
"This is another thing making me think I'm through with D.C. It's just such a waste, such a shame."
The Gay and Lesbian Liaison Unit's online guide to personal safety can be found at www.gaydc.net/gllu/publications/index.htm.