Every state in the nation has an attorney general serving as top lawyer. So do American Samoa, Guam, the Northern Mariana Islands, Puerto Rico and the Virgin Islands. It seems everybody had an attorney general serving its state's (or commonweatlh's, or territory's) legal interests but the District of Columbia. At least, that's the way it was until last May.
That's when D.C. Mayor Anthony Williams made a slight change to the city's bureaucracy, renaming the Office of the Corporation Counsel of the District of Columbia to the Office of the Attorney General for the District of Columbia. With that stroke of the pen, the city joined the rest of the country in enjoying the services of an attorney general.
These services happen to be exactly the same as those offered by the corporation counsel. The change is in name only. Of more interest is the man behind the title. As the city's corporation counsel for the year prior to the name change, and still serving as the district's newly-minted attorney general, Robert J. Spagnoletti is a valuable asset. His impressive legal background aside, gay and lesbian residents may be pleased to know that the history books will have to note that the first attorney general of the nation's capital was an openly gay man.
"I came out late in life," Spagnoletti says. "I was 26-years-old. I'd dated women for a long time. One longtime girlfriend and I talked about getting married, but the relationship never worked out at the end of the day. At 26, I came out to myself, then to my parents. They've been wonderful."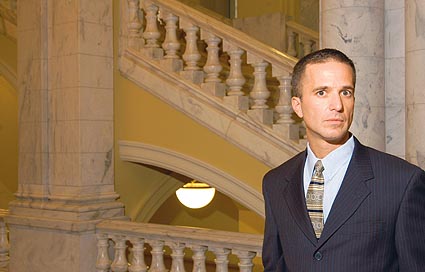 Spagnoletti
D.C. Councilmember Jim Graham (D-Ward 1), who is also gay, says that having a gay D.C. attorney general is of particular importance at this point in the evolution of civil rights for GLBT Americans. Spagnoletti, after all, is the attorney general who, at Williams' request, has penned a memo offering his legal opinion on whether the District should recognize same-sex marriages performed in Massachusetts or other jurisdictions. The mayor's office has not yet released the opinion.
"From the beginning, I can remember his [confirmation] hearing, which had a historic quality," Graham recalls. "His partner was there, his son was there, and here he was being selected. It is a very significant note on all of this that someday we're going to get a legal opinion on the validity of same-sex marriages conducted elsewhere. Some day we're going to get that opinion, and it's going to come from a gay man in a committed relationship. And I think that's hugely significant."
Spagnoletti, living up to the apparent integrity with which so many credit him, insists his sexual orientation does not color his legal interpretations.
"My sexual orientation has not played an overt part, but it's part of who I am," he says. "I would make the same decisions even if I was a straight man. I don't want anyone to think any decisions are being made based on my sexual orientation."
Spagnoletti adds that as far as his memo to the mayor, that's protected by attorney-client confidentiality.
"The mayor asked the Office of the Attorney General to provide him with legal advice on the following question: whether the District of Columbia government should recognize valid same-sex marriages from other states," Spagnoletti explains. "This is an important question because same-sex married couples may come to the district and seek benefits and privileges that the district affords to heterosexual married couples. Because the District of Columbia Court of Appeals was not faced with, and did not answer, that question, I provided the mayor with legal analysis on what a court would likely do when presented with that question.
"I recognize that many people in the district are interested in my advice to the mayor. However, the mayor in his role of Chief Executive Officer for the District, is my client. We have an attorney-client relationship that only the mayor can waive. If he chooses to waive that privilege, he is certainly free to release all, or part of, that legal advice memo."
That said, there is still quite a bit Spagnoletti is free to talk about. It may not have much to do with the memo, but it offers D.C. residents the opportunity to get to know their first attorney general.
On the surface, Spagnoletti appears to have his family life and professional life well in order. Dig a little deeper and the appearance doesn't change a bit.
"I have to say that I know Bob extremely well, and I have yet to see a flaw," concludes Deborah Epstein, who has known Spagnoletti for a decade. "He has integrity, he's intellectually engaged, a great friend, extremely professional, organized. Â… He's perfect."
Epstein confesses that she had reservations about Spagnoletti before meeting him in 1994. Both Spagnoletti and Epstein, a law professor at Georgetown University, are involved in a number of domestic violence projects, committees and councils. When Spagnoletti was named chief of the domestic violence unit for the United States Attorney of the District of Columbia, Epstein says she requested a meeting with him. After all, she says, she knew people who were qualified, yet were passed over. Just who was this Spagnoletti character?
"I had some trepidation because I'd never heard of him," says Epstein, admitting that she was won over immediately. "My first impression of him remains my current impression. I was immediately, incredibly impressed with Bob. He was intellectually open, charming, and extremely smart."
Evidence of Spagnoletti's intelligence surfaces repeatedly when he retraces the parabola of his career, starting with childhood. In telling his story, he graciously offers some humility, countering his brains with a lack of brawn.
"When I was very young, I got into a lot of trouble. I settled down in junior high, and became more of the straight-A type in high school. I was the 'Best Little Boy in the World' by the time I got to high school," says Spagnoletti, making reference to the memoir of a bright, well-behaved model student out of touch with his sexuality.
"There were athletics. I just wasn't very good at them," Spagnoletti laughs, recalling time spent as a youth playing soccer and tennis, and running track. "I even wrestled for about 20 minutes. Â… I sang in a lot of groups, did the whole drama thing. That's where my extracurricular interests were. Since I had so many younger siblings, I had a lot of responsibility. It was a combination of family and school."
Spagnoletti describes his family as a traditional Italian-American New Jersey family. He is the second oldest of six children. When he was growing up, his father was a teacher and his mother was a homemaker. Spagnoletti reckons that his family, particularly his father, may have had more to do with his becoming a lawyer than any direction he got from school.
"I didn't know any lawyers growing up," Spagnoletti says, adding that teaching was the most common profession in his family tree. His father ensured that learning was always part of the Spagnoletti's domestic life. "Debating issues and having long discussions were front and center at my house. My father was sort of a lawyer wannabe. Everything was a discussion or an argument — a good-natured argument. Early on, I knew that kind of debate and discussion was fun."
With his course set, it was just a matter of application. Spagnoletti continued the straight-A style he learned in high school as he went off to Lafayette College in Easton, Pa. There, he majored in both mathematics and history. It's not that Spagnoletti planned for a career in either field, he says, but that he'd been advised to get good grades in college so that he would be accepted into a good law school. History and mathematics turned out to be his key to graduating summa cum laude, the top of his class.
"I came to the district from Easton, Pa. — it's a very small, safe community — to living in a city for the first time," says Spagnoletti of his entry into Georgetown University Law Center in the early 1980s. "My first night in the district, a police officer showed up at my door asking me if I'd witnessed the murder that occurred under my window the week before."
This initial exposure to the mean streets of D.C. was a taste of things to come. Following his graduation from Georgetown — "in the top five or 10 of the class" — Spagnoletti spent time in the private sector, including a stint in New York with Skadden, Arps, Slate, Meagher & Flom, the largest law firm in the United States. Spagnoletti returned to D.C. in the early '90s and settled into the Office of the United States Attorney for the District of Columbia.
By 1994, Spagnoletti was a tried and true attorney whose career was moving along nicely. It seems that Spagnoletti's goals have no end-point, however. There is an evident gusto in his pursuits. Moving forward in his career didn't mean climbing to a cushy office with a league of assistants. Instead, Spagnoletti found himself with enough career security to start a family.
"I have a son. His name is Hunter. I've had him since he was three months old," Spagnoletti says with pride. His son, he says, was born in D.C. and abandoned by his mother immediately afterward. "Hunter is 10. He's doing terrific. Hunter can throw and kick like no one I've ever seen. With an athletic kid, you really have to keep up."
With plenty of help from his partner, Bernard, Spagnoletti says he does manage to keep up. Balancing parenting with managing the district's legal affairs, though, it is not a schedule for the slothful.
Spagnoletti explains that Bernard has morning duties, which include preparing Hunter's breakfast, getting him dressed, and getting him to school. That leaves Spagnoletti able to "get up early and frontload the days, work-wise." Then he takes the evening shift with his son, running Hunter to soccer or baseball practice and taking responsibility for dinner.
Whether Spagnoletti cooks dinner or not remains a mystery. Epstein, Spagnoletti's friend and fan, has to admit that she's never seen him whip up dinner for the family. "I don't want to go on record, but I've not seen any evidence that he can cook," she admits, jokingly.
She counters with quick praise of Spagnoletti's parenting. "They're a very close family, and Bob is an incredibly engaged parent. Typically, the first several minutes of any meeting with Bob would be spent talking about something he was proud of what Hunter had done, or how to be a better parent. He's much more engaged than most fathers."
It's a good bet he's more tired than most fathers, too. As a diversion, Spagnoletti and his partner run marathons. Hunter joins them for practice runs on his bike.
"I have no athletic ability whatsoever," Spagnoletti insists without irony. "I run marathons now. I do weight lifting, but no one would ever confuse me for an athlete. Â… Between the two of us, we really balance out the day. On the weekends, we spend time together as a family. Lord knows we have our challenges. Any 10-year-old boy demands a lot of attention. My job eats up a lot of time. To try to balance that between home and family means I don't get a lot of sleep. But who needs sleep? It's overrated!"
Between home and work, Spagnoletti gives the impression of being a dynamo.
"I'm usually in the office or running or working out by 5 or 5:30 [a.m.]," Spagnoletti says, explaining the daily routine. "Typically I'll look at the Metro section of the Washington Post to see the hot issues, because that will sort of drive the day."
After making his morning commute from D.C.'s Shepard Park neighborhood to his office in the John A. Wilson Building downtown, the only constant, says Spagnoletti, is the pace.
"I do a lot of meetings, as you would expect. I review a lot of high-level policy, offer views and opinions on legislation and rule making. And deal with the crisis of the day, whatever it happens to be," says Spagnoletti, of all his typically atypical days. "There are some days where I have eight to nine meetings in a row. There's no lunch, no breakfast, no anything. You just go. It's an unusual day when I'm at my desk working for more than half an hour at a clip."
Spagnoletti says that altering the name of the office to "attorney general" from "corporation counsel" has not changed his duties in any way, but he nevertheless points out that the change has been wonderful for his office.
"It didn't change the routine, but certainly changed the public perception of the office itself," he says. "The number of applicants to the office has skyrocketed. The quality of applicants has dramatically improved."
He adds that changed perceptions that may lead to better staffing in the office are crucial, as his is one of the nation's largest attorney general offices.
"We actually have more jurisdiction than most attorneys general across the country," offers Spagnoletti, who sits on the executive board of the National Association of Attorneys General. "We're city, county and state attorneys general all rolled into one. We're the ninth or tenth largest in the country in terms of staff. If you add up everyone who reports to me at the end of the day, it's 540."
Obviously, that's quite a bit of responsibility on Spagnoletti's shoulders. With a home-life that includes a partner and young son, it may seem that Spagnoletti is at the top of his game. He's quick to shoot down any inference that he's been able to achieve his goals effortlessly. Spagnoletti may be a "golden boy" to some degree, but not everyone is cheering him along.
"I will point out, without trying to politicize, my name was sent to the White House for judgeship at the very beginning of the George W. Bush term, and I was not appointed for reasons known only to him and his White House counsel," he offers. "Sometimes he says thumbs up, sometimes he says thumbs down. Sometimes things don't work out."
Graham says he hopes any of judicial aspirations Spagnoletti may harbor continue not to work out, at least for the time being.
"I think he's a superb lawyer. I only hope he won't become a judge right away," says Graham. "I hope we can keep him as attorney general. I don't know if this president would appoint him a judge, but a President Kerry Â…."
Spagnoletti says he has promised Mayor Williams that he will stay put through the end of the mayor's term in 2006. Should there be a shot at the bench after that, Epstein, who has also seen Spagnoletti in action as an adjunct professor at Georgetown Law Center, says the robe would fit.
"Based on what I have seen, he's incredibly charismatic. He puts an enormous amount of energy into preparing classes that are entertaining and educational. The students have a great time and learn an enormous amount. The amount you can learn per minute in Bob's class is extremely high," observes Epstein. "I will be very disappointed if he doesn't [become a judge]. I think he'd be a wonderful judge for the District of Columbia."
In the meantime, Spagnoletti will be left to raise Hunter, run marathons with his partner, teach trial practice at Georgetown, and represent the legal interests of the District of Columbia: "I'm the chief legal officer of the District of Columbia. The district is my client."