Peter Stebbins remembers meeting David Jamieson when the two entered the University of Vermont as freshman in 1983. "I came home to find a gathering of suitemates and other students discussing art," Stebbins recalls. "Jamieson was talking about Les Demoisselles d'Avignon and cubism. I had just purchased a postcard of that Picasso painting. The coincidence brought us together."
Art still holds the two together. While Jamieson died of AIDS-related illness in 1992, Stebbins is the caretaker of the D.C. native's artwork. Some of his late partner's work will help provide emotion to "Our Heroes: A 20-Year Journey of AIDS Through Our Eyes."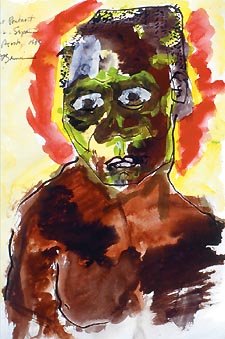 Self Portrait
The exhibit, sponsored by the Max Robinson Center of Whitman-Walker Clinic, opened on Wednesday, Dec. 1, World AIDS Day. The Rainbow History Project is contributing historical context to the exhibit, including a timeline that follows the progression of HIV/AIDS in the district. The organization Brother to Brother, Sister to Sister United is also lending support. The exhibit will continue through December, featuring artwork, photography and poetry.
While the exhibit is housed primarily in the Martin Luther King Jr. Memorial Library at Ninth and G streets NW, a number of other venues have been recruited for an array of presentations. Offerings range from a screening of Angels in America at Phish Tea Café, to a special brunch reception at Ella's Coffee & Fine Art on Dec. 5. Ellington's on Eighth and Mimi's American Bistro will also house related exhibits.
"From idea, to paper, to people, it's a soup that took forever to cook," says Wallace Corbett, chairperson of the exhibit, vice president of the Max Robinson Center Community Advisory Board, and BBSSU chairperson. He's also the person who initially decided that Washington needed an exhibit like "Heroes."
"The question was, what are we celebrating and who are we celebrating?" Corbett says, sharing the process he went through before making his proposal. "Washington is known for statistics, not people. But these are people, thousands of people who have passed. Who were they? What are we missing? 'Heroes' gives a chance for those who haven't spoken to speak."
Like Stebbins, Corbett also has a very personal stake in the exhibit. His partner, Myron Maye, died in 2003. "He loves art," Corbett shares, adding that Maye is "mixed in the soup" of the creativity that allowed the exhibit to take shape over the course of the past two years. "He was a pianist at Metropolitan Community Church. He would be proud."
Corbett explains that a loose test was used in choosing what to include in the exhibit. Included artists — about 300 — range from those infected with HIV, to those simply affected by the pandemic, he says.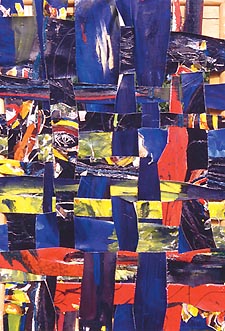 Untitled Woven Canvas I
Tying it all together is Jarvis DuBois, one of two curators for the exhibit. "This is the most challenging, and ultimately the most satisfying, project I've worked on," offers DuBois, whose career has included an internship at the University of California, Los Angeles, Armand Hammer Museum of Art and Culture Center, and the California African American Museum. DuBois currently works as a museum technician at the Smithsonian's National Museum of American History.
"It's sort of a mixed blessing," DuBois says of his work with the exhibit. "We have to commemorate an event like this. It's reality. Coming from L.A., I know a lot of people who have passed or who are dealing with this disease. It's a blessing to me to be able to help in this fight, the help educate people, to get them to protect themselves. It's an honor for me to be a part of this, to do my part in fighting this disease."
Beyond the meaning and the emotion, there is still a job to do, however. "As curator, I'm in charge of all the artwork submissions — painting, photography, dolls, jewelry," DuBois explains, ticking off an exhaustive list. "I'm planning out where the artwork goes, how it's displayed. We wanted a large field of works. We've got paintings, multimedia, drawings, sculpture. It's a lot of work. It is a lot to keep me busy. I enjoy the challenges. I'm not one to have less than two jobs at a time."
Corbett echoes a similar attitude, evidence that for many involved with "Heroes," the exhibit is a labor of love.
"If I'm going to volunteer to do something, it's just as important as coming to my job every day," Corbett insists. "You've got to surround yourself with people who have the same attitude. There is a committee of about 15 people. There are 30 volunteers, if not more, and the huge amount of people who have volunteered services. We need to make this happen, and we need to make sure it happens right."
To that end, Stebbins is doing more than simply offering Jamieson's work for the exhibit. He will be offering a gallery talk Dec. 21 at 6 p.m. at the library to explain Jamieson's pieces to visitors. He will also introduce them to all the other works in the exhibit as well. "I'll put it all into context," Stebbins assures, adding that he will be available throughout December for gallery talks by appointment, too.
With years of intimacy between them, Stebbins is obviously in a unique position to help viewers understand Jamieson's work and life. Together, the couple is a metaphor for the entire exhibit. Jamieson is the Washingtonian who died prematurely of AIDS-related illness. Stebbins is the survivor helping to give voice to what was lost.
"During Jamieson's brief lifetime, virtually all his family relationships were temporary — the nature of being a ward of the District of Columbia," Stebbins offers, sharing some of his insight about Jamieson, who was raised in the city's foster and group homes. "Self portraiture is a dominant theme in his works, which are deeply psychological…. The 45 chalk drawings on black paper [in the exhibit] are the last formal series of works by the artist. They were produced in solitude in the fall of 1991 and early 1992 during a period of self-imposed isolation as Jamieson feared death."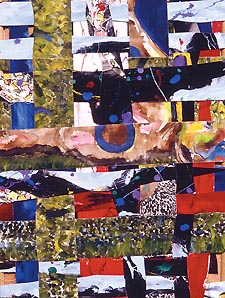 Untitled Woven Canvas II
Today, Jamieson's works are in several collections, including the Corcoran Gallery of Art, the Carter G. Woodson Institute for African and African American Studies at the University of Virginia, and the Provincetown Art Association and Museum.
Stebbins says Jamieson absolutely is the sort of "hero" evoked by the exhibit's title.
"He had a voice very early on," Stebbins says. "Jamieson was always active and engaged in protests and demonstrations, standing up for the rights of others, for freedom, fighting apartheid, fighting institutional racism. I think he would hope 'Heroes' would be an inspiration to others; that it would educate and bring inclusiveness. I think it will."
"I think it's important to give a face to the so-called AIDS experience," Stebbins continues, adding that art is one avenue for doing it. "It's really vital that we recognize that we're all affected by it. Things made by people carry the most spiritual significance."
Corbett says he is hopeful that visitors to the exhibit will get a post-mortem, yet personal, introduction to some of the thousands of D.C. residents who have died of AIDS-related illnesses, like Jamieson.
"I want people to take away that these are great people that they should've known," says Corbett. "That they're not just statistics. They're photographers, quilters, artists. They got me and my friends to where we are today."
While the exhibit's organizers may be hoping for poetry, paintings, sculpture and other artworks to carry the bulk of that message, DuBois says he's certain that another installation may be the most powerful single piece of "Heroes."
A panel, roughly 36 feet long, will carry the names of all the official AIDS-related deaths in the district. The names, compiled by the Rainbow History Project, will be exhibited with the Project's timeline of HIV/AIDS political, social and medical impact at both the national and local levels.
"Seeing how many people have passed, that will be the most moving piece," says DuBois. "It's a very simple depiction."
While DuBois estimates the exhibit will be roughly 85 percent art, in various media, the remainder will be purely informative. Along with the list of names and the Project's timeline, visitors will also find a thorough collection of news clippings and photos marking the history of HIV/AIDS in the district. Organizers say it will be one of the country's largest displays on the history of the disease.
"We want it to be really a multimedia experience, not just portraits or a timeline," DuBois explains. "Some is serious, some is more satirical. We want to bring life to the subject, to get people to think about what this is."
Though everyone who views any part of "Heroes" is bound to experience a unique interpretation, Corbett says he is confident there will ever visitor will find something that speaks to him or her.
"[Gay visitors] will see where they came from," says Corbett. "For youth, it allows them to look at their history. HIV/AIDS is part of history, like the plague, like slavery, like the Holocaust. It's how it began, where we're going. Where did it come from? How many children are orphaned in the district because of this epidemic? And we'll see people we haven't seen before: the homeless, writers, photographers. People sacrificed a lot back then — their lives, their reputations."
Both Corbett and DuBois says they are hopeful that "Heroes" will become a blueprint for other communities that want to explore the local impact of HIV/AIDS over the years.
"We hope other cities, states, will recognize and acknowledge and that people with AIDS existed, that they had something to offer," says Corbett. "They were writers, poets, doctors, designers,…great people."
Regardless of whether or not other communities follow the "Heroes" model, Corbett promises that portions of the exhibit will find a permanent home at the Max Robinson Center.
"Years from now, when AIDS is gone, people can pull out this collection and say these are the people who were there," says Corbett. "How did AIDS affect Washington? This is our history. This is who we are. Back in the early days, many were afraid to say good-bye publicly. 'Heroes' is a chance for some people to say good-bye."