Bad news travels fast. And it shot across town like lightning last Wednesday, March 16, as news spread that Wanda Alston, 45, cabinet member and liaison to the gay, lesbian, bisexual and transgender community for Mayor Anthony Williams, had been found murdered in her home.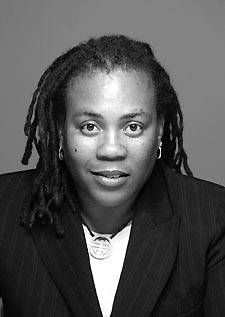 Wanda Alston
Photo courtesy of D.C. Government
"I was driving to the Wilson Building," recalls Sgt. Brett A. Parson, head of the D.C. Metropolitan Police Department's Gay and Lesbian Liaison Unit. "I had a meeting with Wanda scheduled for six o'clock. I got a page from communications, reference to a homicide. So I called on my cell phone. They said, 'You're needed at 3808 East Capitol Street NE, [there's] an unconscious female and lots of blood.' I hung up the phone, and the first call I made was to Wanda, because I knew I wasn't going to make it to the meeting. I said, 'Hey Wanda, it's Brett. I've got a homicide workin'. I'm not gonna be at the meeting.'" Parson's voice grows quiet.
"And I hung up the phone and started to figure out how I was going to get there. And I realized, 'That's fuckin' Wanda's address.'"
"I was on my way to the Urban League Dinner, and I got a callÂ…from the police," says Councilmember Jim Graham (D-Ward 1), who was instrumental in helping get Alston appointed as the director of the Mayor's Office for Lesbian, Gay, Bisexual and Transgender Affairs. "And the police, I know they were well-intentioned, but they gave me a blow-by-blow description of what [had] happened.
"I felt like I'd been kicked in the stomach."
"It's almost embarrassing," recalls community leader and activist Carlene Cheatham, "but I was at Bingo when I got a call from Darren Buckner. He was crying all over the place.
"The news was unreal," she says, soberly.
The scene quickly played out on local television news outlets and on the front pages of newspapers, with friends, family and co-workers stunned by the loss.
"We're all still in shock," says councilmember David Catania (I-At Large), "because none of us can wrap our minds around something so violent and graphic and horrible. It's unbelievable."
Questions of "why" appeared to be answered quickly, when the following day police arrested Alston's neighbor from two doors down, 38-year-old William Parrot.
Police say Parrot stabbed Alston to death, took her credit cards and car, and used them to raise money to buy crack. Alston was found that evening by her partner, Stacey Long.
"As absolutely crazy as it sounds, you almost wish it were a hate crime," says Parson. "Then there would be an explanation, and we'd have someplace to focus our anger. You cannot place rational thought with irrational behavior. It's impossible."
"It's a really senseless death," says Ron Simmons, executive director of Us Helping Us. "To have Wanda snatched like that shakes your whole spiritual foundation down to the core. Why on earth, Lord, would you take Wanda?"
---
It was only last September that one of Alston's biggest goals — the creation of the Mayor's Office for LGBT Affairs — was achieved.
"Our community is looking beyond hate crimes [and] gender identity," Alston said at the time. "We still have homophobia and internalized homophobia, but I believe that the work the mayor has done in creating this office is a test of our ability to reach out to our community. I can't do this without strong community support."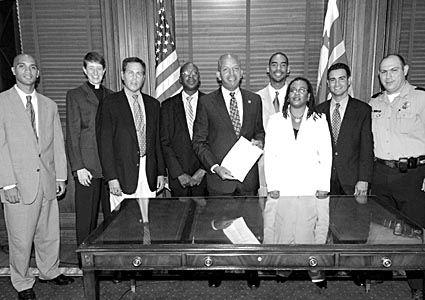 Alston, third from right, at a signing ceremony in September 2004, creating the Mayor's Office of Lesbian, Gay, Bisexual and Transgender Affairs
Photo courtesy Office of the Mayor
In truth, she probably could have done it all on her own. A strong personality with a persuasive demeanor and a passion for political activism, Alston believed people should put up or shut up, particularly when it came to the areas of LGBT rights. Her strong, serious, deeply caring personality was shaped by events from her past. Raised in Newport News, Va., she had endured a difficult childhood, overcome an addiction to cocaine as a young adult, and just four years ago buried a sister, Valerie, a victim of a brutal rape and murder.
"A lot of the people that go through some of the crises Wanda went through, get lost," says Peter Rosenstein, a local activist and member of the mayor's LGBT advisory committee. "She went through all these things and, in the end, turned out to be this amazing, fantastic woman who, rather than feeling bitter, said, 'I'm going to help other people.'"
"She was dedicated to keeping other people from experiencing the same pain she had been through," says Kathleen DeBold, executive director of The Mautner Project for Lesbians with Cancer and a friend of Alston's.
"She was very helpful to getting people into treatment," agrees Phillip Pannell, Alston's predecessor as LGBT advisor to the mayor. "It's just so ironically tragic that she would be murdered by someone who was high on crack."
"When I first met Wanda she was active in the recovery movement," says Patricia Ireland. In the 1990s, Alston worked as an executive assistant to Ireland, then-president of the National Organization of Women. "She had gotten herself clean and sober, and was figuring out where she was headed. Over the years, I'd seen such incredible, positive changes in her. And the final improvement — the final perfection for me — was that she'd found someone that she could love and make a commitment to.
"So she lived a very full and wonderful life. I think she really completed a full development as a human being."
---
The community has been mourning Alston's loss since news of the murder broke. Her funeral on Monday, March 21, at the All Souls Unitarian Church in Columbia Heights drew more than 1,000 people, including nearly all of the District's political leadership. Alston was buried the next day in her hometown of Newport News, Va.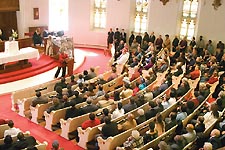 Saturday's memorial service at Luther Place Memorial Church
Last Saturday, March 19, members of the various LGBT communities Alston served gathered at Thomas Circle's Luther Place Memorial Church for a celebration of her life. If there is a leadership class within the LGBT community, nearly every one of them seemed to be present. Normally, you would expect to see many of these folks pressing flesh at fundraisers and rallies. Here they were sharing memories, shedding tears, ushering friends and families, offering a shoulder or an ear to someone in need.
The mood at the church felt like a large family gathering to mourn a shared loss. The multi-cultural, multi-ethnic, multi-religious crowd was a testament to Alston's position at the nexus of the different communities she worked with, communities that looked to her as an advocate, both politically and personally.
"She was always conscious of representing everybody who was a citizen of the city," says Lisbeth Melendez Rivera, D.C. representative for the organization Freedom to Marry and one of many helping Alston organize the Mayor's first LGBT summit in April.
Before an eclectic crowd, bound by a unifying sense of loss, nearly 30 friends and colleagues of Alston's shared their memories, often noting the void left behind by her sudden absence. Cheatham marveled at the enormous turnout for the service, claiming it as a testament to how closely Alston was tied to the community. "Most of us couldn't be anyplace else today," she said.
Many who spoke recalled Alston as someone unafraid to argue and disagree with others in order to accomplish her specific goals.
"Wanda was a fighter, [she was] unforgiving. And I loved that about her," Catania said from the podium. "I know that [she] had a soft side. Of course, I had to leave the Republican Party to see her soft side."
Earlier that day, Catania recalled being asked by a reporter whether there was a silver lining to be found in the tragedy.
"I don't want to look for a silver lining right now," he says, a note of anger in his voice. "I want to mourn a person we all cared about, a person who cared about the city."
"That's the dumbest question I ever heard — there is no silver lining to this," D.C. Board of Education President Peggy Cooper Cafritz remarked while addressing the crowd. "We do not need brutal tragedy to bring us together. We don't need martyrs."
Standing before the pew where Alston's mother, Arabelle, and partner, Stacey Long, were seated, Cafritz offered a poignant reminder of the abruptness of the loss: She had recently spoken with Alston about using her home to host Alston and Long's wedding ceremony next year.
Earline Budd, founder and executive director of Transgender Health Empowerment, fought back tears as she spoke of Alston's support and encouragement of her own work helping transgender persons in the district. At one point, Budd said, she felt she was too tired to continue. Alston wouldn't hear of Budd's departure. "You have to continue doing what you do," Budd said Alston told her, "because who else will?"
"She insisted that you put forth your best in all you could," said UHU's Ron Simmons following Alston's funeral. "She didn't take no for an answer. She didn't take the half-assed excuses. She would look you dead in the eye and say 'I need you to do this.' And what could you say? I'm not gonna do it? You'd go, 'OK, Wanda. What else is there that you need me to do?'
Sheila Reid, a founder of Women in the Life, attributed much of her magazine and group's growth in serving African American lesbians to Alston's prodding. "I was a pawn on her chess board," Reid said to the crowd at Saturday's service.
Reid noted that Alston's murder had made her momentarily reconsider her opposition to the death penalty. Then she realized, "Wanda wouldn't want that."
"If you ever walked with Wanda when she was going someplace," says Graham, "you had to be prepared to kind of gallop. She walked the way she thought, because her mind moved very rapidly. She had a real determination."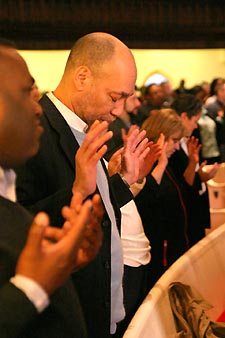 Phillip Pannell at Saturday's memorial service
"When it came to her beliefs, Wanda was an uncompromising activist," says Pannell. "She was high energy. She generally felt that people who really care about causes should show the same type of zeal and professionalism, commitment and resolve that they do in their professional jobs. She was an activist's activist."
Pannell, whose friendship with Alston went through a difficult period due to some political differences, says Alston could be "brutally honest."
"She was the type of person who could really dress you down and make you feel awful about something, but then be one of the first to embrace you in your time of need and pain.
"She wasn't an easy friend," he continues, "but she was a good friend. Wanda was a blessing to have on your side and a demon to be on your ass."
Pannell says that while no community can claim Alston completely as their own, the loss for the black gay community is especially devastating.
"We don't have too many politically involved African American GLBT people," he says, adding that "the black gay community loved her so much because she would stand up to the homophobic elements in the African American community," particularly black pastors who would claim that homosexuality was "a white thing and not relevant to the black community."
Says Pannell, "Wanda would say, 'Hey, here I am. An open black lesbian. Deal with it."
The Mautner Project's DeBold says the community has lost someone who could bring people together for an honest exchange.
"People talk about [Wanda] as being a great politician," says DeBold. "But she really was the anti-politician because she broke through all the political bullshit to get people together, to get the job done.
"This is becoming a very selfish culture and society," DeBold continues, "and Wanda was a model of what things could be. If we follow her lead, it will be."
---
"Wanda wasn't really that talkative," says Simmons, "but when she did speak — particularly when she took you to the side and started talking to you — you realized what a brilliant woman she was, what a great political strategist.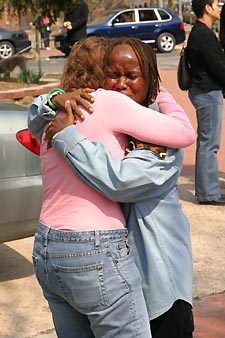 Friends share their grief outside Saturday's memorial service
"Wanda was a very genuine, feeling, caring kind of person," he continues. "And what stood out about her for me was that she got the job done. Some would have called her aggressive and some would have said she was pushy, but she got the job done. She not only did it herself, but she made sure others joined her in doing it. She made the connections. She always understood how everything connected to everything else. And she would explain to you why it was important for you to get involved because of the bigger picture."
"She was a catalyst," says Ireland. "She had incredibly high energy. And that kind of a person can also be excruciatingly irritating to people who are too comfortable.
"The injustice of what has happened here reminds me of why Wanda was an activist, why I'm an activist. You can't just sit still. You have to get up and do something. And that was very much who she was. She was the one who came in and stirred things — and people — up."
Robert York, director of Capital Pride, who worked with Alston on the LGBT advisory committee, says she was "always courageous, vibrant and dedicated to fighting for everyone."
"[I'll miss] her fire, her passion, and her ultimate love of what she was doing," he says.
"I worked with Wanda," says Rosenstein, "and working with Wanda was debating with her — screaming at her and having her scream at you. But you never left Wanda after that without a hug and her saying 'I'll call you in the morning, we gotta talk.'"
"Unlike some people who have shared that they found her to be difficult, I didn't find her to be difficult," says Graham. "Though we sometimes had vigorous conversations.
"She was a very striking human being," he says. "She impacted people by her presence. I know that sounds a little strange, but there are people who impact you by their presence and she was one of them. She was a remarkable person, there's no question about it. I think there's a hero here. I really do."
Graham says he plans to "introduce the legislation to make her office statutory" because "that's something she wanted very much. She was disappointed that it kind of ran aground a bit politically."
"We were way too much alike," chuckles Parson. "It was scary how much alike we were. And I think that's why we got along so well. We were both loud, opinionated, vulgar. She was a butch lesbian. I'm a butch gay guy. And we were both the only two people in this city who were paid to be gay."
His voice noticeably cracks.
"I think as the time goes by people will realize how much her death will serve as an impetus for the things that some people said will never happen."
"Wanda was a real force," says Catania. "She got up every day and had a purpose. And she was a dedicated servant, not only of the gay and lesbian community, but for the entire city."
"I don't think spirits die," says Cheatham. "We will always have the pressure of Wanda on us."
"We have lost someone who was so vital to it all," concludes Simmons. "But for us to cry and have memorials and ceremonies and then not to do the work, that would be an injustice to what Wanda stood for."