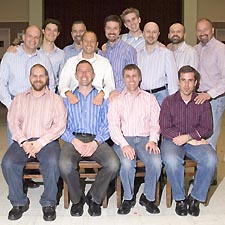 Members of Potomac Fever
MISSION: Founded in 1983, Potomac Fever is a men's a cappella ensemble, upholding the highest musical performance standards through the presentation of a diverse repertoire of quality music. Affiliated with the Gay Men's Chorus of Washington (GMCW), the 13-member ensemble has a special commitment to community outreach, specifically to HIV/AIDS charities and organizations that support and uplift gays and lesbians.
ACTIVITIES: Potomac Fever performs about 20 concerts per year, usually for community groups.
HOW TO JOIN: When openings arise, Potomac Fever invites select members of the GMCW to audition.
BACKGROUND: "It's certainly a more intimate experience with a small group," says Jeff Buhrman, comparing Potomac Fever to the GMCW. He serves as the director of the former and the artistic director of the latter. "When a small group enjoys one another, it shows in the performances. You can see it from the audiences when the singers care about one another. That comes with a small ensemble like this." The size also allows them to perform in settings too small for the GMCW. But for anyone hoping to join in the camaraderie, there may be a bit of a wait. Buhrman says the current cast of 13 is set for the foreseeable future.
CONTACT: E-mail JeffGMCW@aol.com, or visit the group on-line at www.gmcw.org/potomacfever/.