MEOW MIX… Did they take too long? Months after "Don't Cha" started dominating every DJ's peak-hour set list, A&M Records has now finally released the dance remixes of the Pussycat Dolls' cross-the-board hit. But really, it's not too late. Even if you're already tired of the nearly uncontested song of the summer (sorry, Gwen, "Don't Cha" is just slightly bigger in clubland than "Hollaback Girl," especially given its saucy lyrics), Ralphi Rosario's Hot Freak Vox Mix is a track you need to have in your library, to look back on fondly in years to come. Too bad there are no plans to release a lyrically altered version or, even better, two. One in which lead singer Nicole Scherzinger says "shit" instead of "shh" in the bridge to the song: "Look at me, shit, you ain't blind." And one in which the Dolls change the lyrics to better suit the gays, as they did when they headlined the New York Pride Pier Dance last month. "Don't cha wish your boyfriend was hot like him?" they sang to wild applause.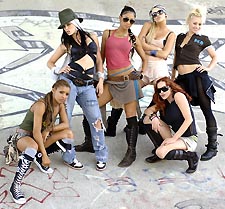 Pussycat Dolls
The song's original hip-hop form, featuring a rap from Busta Rhymes, is very close to topping Billboard's Hot 100 chart. So it's time to dish the dirt. Entertainment Weekly reports on how the song came to be. It was originally recorded by a former OutKast backup singer, but apparently it wasn't stankonia enough: It barely charted, and the label dropped Tori Alamaze before her full-length debut could see daylight. She now calls them the "Copycat Dolls," but there's no chance they'll copy her trajectory. The Dolls' debut is on track for release Sept. 13, and little could possibly stop them….
JANET'S RHYTHM RETURNS… Janet Jackson is returning to her Rhythm Nation days, both literally and figuratively, on two projects. First up will be a mash-up style cover of Sly & The Family Stone's "Thank You (Falettinme Be Mice Elf Agin)." Jackson is said to have recorded new vocals of both her 1989 hit "Rhythm Nation" and the Stone classic, to create "Thank You Nation 1814." It'll be just one Stone cover among many to appear on Different Strokes by Different Folks, set for release Sept. 27 from Epic. Also covering Stone classics, including "Everyday People" and "Dance to the Music," will be Maroon 5, OutKast's Big Boi, the Black Eyed Peas' Will.I.Am, and Moby.
Next year, Jackson will release her latest, as-yet-untitled album, for which she has worked with star producers Jimmy Jam and Terry Lewis to a degree she hasn't in at least a decade — and possibly to an extent not seen since 1989's Rhythm Nation 1814. Jackson co-wrote only about half the tracks on that album with Jam and Lewis, and it was the last time she wasn't an executive producer. "It used to be a lot of involvement from all of us, and at some point when Janet became more confident with her writing ability, she [did] the bulk of the writing," Jam told Billboard. "And it's kind of back full circle." Of course, it's back full circle because of 2004's Damita Jo, her first album not to reach platinum status in the U.S., or sales of at least one million copies. Jackson's boyfriend, Virgin Urban label president Jermaine Dupri, was that album's executive producer. And unfortunately, he will be so again, so it's not exactly clear just how different the new album will end up sounding. But we're hopeful it will be a return to her dance-pop days, as earlier reports indicated it would be….
RAY OF ORBIT… Also said to be returning to the dance-pop she essentially left behind is Madonna, who is reportedly doing so because of poor sales of her last album, American Life. That 2003 album just barely managed U.S. platinum-level sales, a new career low. Earlier reports put her next set out later this year, but we haven't been able to confirm that. Her former production partner, William Orbit, will release a still-untitled set Sept. 20. It is being promoted as "a deeply ambient and soulful mix of downtempo songs that will be the perfect soundtrack to come down from summer"….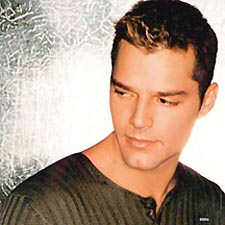 Ricky Martin
HE BANGS, HE'S BACK… After several years in hiding, Ricky Martin is practically tripping over himself as he runs toward the spotlight. He's planning to release in October the overdue follow-up to his first English-language album, 2000's Sound Loaded. And he's enlisted several chart-topping producers and artists to make sure the still-untitled set packs as much of a pop-cultural punch as possible. Billboard reports that he's working with, among others, the producers The Matrix, best known for giving us Avril Lavigne, as well as the Black Eyed Peas' Will.I.Am and Luny Toons. And it will be led off by first single "I Don't Care," which features rapper Fat Joe and high-pitched R&B chanteuse Amerie ("1 Thing"). You can hear the song at www.rickymartin.com.
There's nothing distinctive about either of the guest stars' performances here, and there's not much to the rest of it either, just mournful strings and a crisp, tropical-shaded but still overexposed hip-hop beat. It adds up to be nothing more than crunk-lite and word-heavy. In all three rounds Martin rushes out the chorus as if worrying, with good reason, that he won't spit out the lyrics in time. "I don't care, I just want to be yours," he starts out casually enough, though in a whiny voice. And then, he's off: "I know I told you I'd never love you the way that I did again, after all that you did to me." He's begging for us to love him again, after all the hype and the rampant is-he-or-isn't-he questioning of his sexuality – questioning that was only answered, essentially, with a "no comment." But apart from the fact that he hasn't really done anything to deserve our love again — like answer questions definitively — if this first single is any sign, he still hasn't figured out, musically, in English, how to make us all that excited, either….
THE SHAPE OF WHAT'S TO COME… "Don't Cha" will probably be too overplayed by the time 2005 is done. So what might the song of the year be? Well, here comes a contender. Remember last year's "Lola's Theme"? It was the biggest dance hit across Europe last year, and nearly as big here. Based on a sample from an early '80s R&B hit, the main lyric to the disco-dipped hit from Shape:UK, sung by London Community Gospel Choir's Cookie, goes, "I'm a different person, yeah, turned my world around." It's still getting plenty of club play, especially the Victor Calderone remix. But the British duo's follow-up track, "Back to Basics," was just released commercially, along with remixes of it, and it's now quickly tearing up the dance charts. The track is even more disco-fied than "Lola's," believe it or not, with its funky mid-tempo beat, swirling strings propelling the melody and Cookie "eye-e-yi-e-yi"ing about her new love. "Back to Basics" is a bit more traditional pop, and its chorus is even more anthemic — you never know, that just might help it become a crossover pop hit. Plus, it's further burnished by an undeniably fun, if a little silly, video. An orchestra plays on a dimly lit but brightly colored stage under at least a dozen disco balls, and out front the gap-toothed Cookie busts a move as she sings.
You can see it, and listen to the song, at www.astralwerks.com/shape_uk. Early next year Astralwerks will release the debut album from the duo, which has the makings to be at least as fun as what we can expect from the Pussycat Dolls….